Gloves off? A tale of two grumbling countries as seen in author's view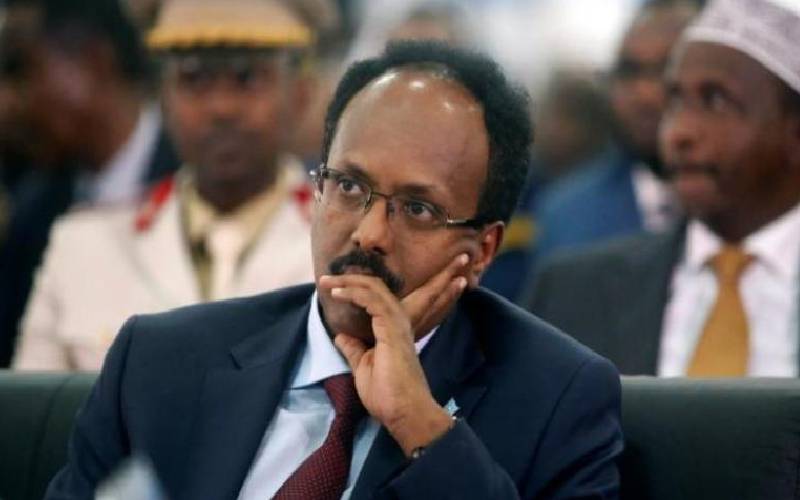 The Kenya-Somalia legal sea borderline battle has taken social media by storm, causing a diplomatic tsunami in Nairobi and Mogadishu as the quarrel over a believed oil rich triangle of ocean blows onshore onto both Eastern African capitals.
Yet the storm has long been in the brewing.
Attorney General Githu Muigai was many times at The Hague in the November of 2016 to defend Kenya's territorial maritime borders in a case filed at the International Court of Justice (ICJ) by Somalia's Foreign Affairs' ministry two years ago. Weirdly enough, Queen's Counsel Karim Khan, who represented Deputy President William Ruto at The Hague, was back again as Kenya's border defence lawyer, alongside a galaxy of attorneys that include Amy Sanders.
Miss Sanders is as British as the fictional lawyer Paula Shackleton, the lead protagonist of Michela Wrong's 2017 book Borderlines, that is also about two countries that have taken their border dispute to The Hague for resolution. Let us not be vague here.
In the past, Ms Wrong has written factual books on Africa, including 'It's our turn to Eat' the one about Kenya that sounds like fiction for the unbelievable corruption in them.
Borderlines is about a border dispute between two African countries at The Hague that, just this week, has become our diplomatic tussle reality following a supposed speculative auction of ocean blocks.
Border disputes
Then there is Eritrea, which for the longest time had serious border disputes with its giant neighbour, Ethiopia.
Wrong explored that conflict in her wonderful non-fiction book, I didn't do it for you.
Paula Shackleton, a youngish British lawyer, is the protagonist in this novel and she lands in the fictional nation North Darrar to represent it at The Hague in a border brawl with its gigantic neighbour, the State of Darrar.
"By 2.00am, the glare was really beginning to bother me. African airports don't, on the whole, go for soft lighting, and Lira International was no exception," she writes.
Lira is, of course, the capital of North Darrar.
Already, Michela's 'African eye' for ambience and detail is evident right from the start of this 343-page tome. And that tone for observation is kept up throughout the book. Borderlines isn't one of those books that blur out of reality. It is all hard in three D imagery, and as solid as the real world.
What gives the book a softer, sentimental side is a 'mpango wa kando' (clandestine lover) love story between Jake Wentworth, whom our lawyer heroine meets when he accidentally bumps into her left breast at a skating rink, a story told entirely in flashback of a furtive if fantastic love affair.
There are lots of interesting insights in the novel on nationalistic attitudes and the platitudes of patriotism, such as when Paula's boss, Winston Peabody, dryly says: "Well, imperial powers are like one's parents, aren't they? The satisfaction of criticising them just never wears off." Something AG Githu was quite capable of delivering in repartee as a law professor at the University of Nairobi.
Think of all the anti-American bashing, the whacking of Western 'powers', the current criticism of the Chinese and even the nostalgic knocking of the Colonialists that old men like Ngugi wa Thiongo still indulge in, and the rush we "small countries" still get from it, however un/justified it may be.
Then there are institutions like the United Nations, which Philippines President Rodrigo Duterte insulted as being run by SOBs. The UNHCR, as well as IDPs (a terminology that is now part of our national lexicon since the PEV) all make an appearance in Borderlines.
As does that patriotic, well-meaning do-gooder from the diaspora who has returned to help a desperate situation in his country.
In this case a medical doctor called George, who is way too passionate in a dangerous country like North Darrar that is run like a police state, in the same way as Eritrea (as this writer found out, first hand, from a young woman called Leah Tesfamariam).
"You know," George tells Paula, "I gave up a position at Liverpool's best hospital, I gave it up for my country, and you think you are coming 'home' … only to be treated like shit!"
George, of course, is a volunteer at an IDP camp – and, like a lot of doctors in Africa, he feels not only unappreciated but undermined by the State. That State is the one that Paula is representing, and Kenyan readers of this book who have followed our great quarrel with Somalia this past week will have a wry smile on their faces as the lawyers fly, one mid-December to go and file counter-Memorials at The Hague.
But this is not a courtroom drama in the way Louis Moreno Ocampo and Fatou Bensouda were in the ICC cases against our President, his deputy and the little man on the side, Joshua Arap Sang. It is a more technical arbitration theatre; not that it is not thoroughly enjoyable, especially if the reader appreciates the finer points of the law.
The Hague battle over the border town of Sanasa is a cartographer's fantasy; and the research Ms Wrong has put into it also makes one feel like Sanasa's history is real.
Borderlines is a must read for every Kenyan interested in understanding the finer points in our fight against Somalia at the ICJ (the book to make us understand our war in Somalia is yet to be written, perhaps by Rasna Warah?)
Clearly, the factual strengths seen in her famous non-fiction book In the Footsteps of Mr Kurtz help Wrong 'factualise' this novel, with not a foot wrong.
Then there are the local elements and personalities that add great colour to Borderlines.
There is Dawit, a drinking buddy and local wit and maverick at a bar called Sumbi in Lira, where Paula goes to escape her suffocating or mildly malevolent fellow expatriates in their 'foreign' compound.
UN force in sex ring scandal
Dawit relishes headlines like this one, and says stuff like "our pure local girls are being despoiled by our UN guests, who have been behaving like piggish swine. No orifice has been spared, Paula. Not one."
Wrong has her funny 'Kikuyu Valley' moments in the book, like when she has a minor character called 'Bosire wa Bosire' as head of some UN delegation, when it is a well-known universal fact that Kisii like Bosire are 'bwa' and not 'wa.' (That's a joke – not the 'bwa' but the 'well known universal fact.').
When It Is Our Turn To Eat came out, the local PEN chapter had to do guerilla readings and sales of it in Nairobi and Kisumu. Borderlines may go guerilla in Eritrea, but here, it is a book every Kenyan reader ought to get (it is available at Prestige Bookshop on Mama Ngina street) and should be smuggled in with Meru miraa for discerning border scholars in Somalia.