Focus shifts on CSs after State and contractors hold talks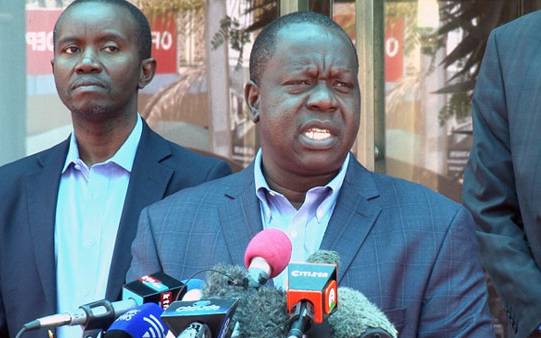 A planned high-level meeting with Jubilee government's major contractors next week is expected to expose the rot underlying the unofficial 10 per cent kickback policy that has stalled major infrastructural projects for the administration. The meeting between the contractors and top government officials running President Uhuru Kenyatta's anti-corruption purge is also expected to re-direct the war to the top echelons of the government.
A Thursday meeting between the team and major donors set the pace with complaints being raised that their funded projects were running into headwinds of graft and stalling in the process. The Sunday Standard has also established from within top government officials there is a proposal to set up a central complaints unit, where contractors and Kenyans can lodge their complaints regarding the various projects.
"We have scheduled a series of meetings at Kenya School of Monetary Studies with major contractors of big projects, regulatory authorities, accounting officers and a few Cabinet secretaries whom are running projects to go and look at issues around them," Interior and National Coordination Principal Secretary (PS) Kibicho Karanja said.
Karanja however denied there ever was any such meeting with donors and also cautioned against misapprehending the import of next week's meeting. He said the meeting will be open, not closed to the public. "These are routine things of putting projects back to track, do not read too much into routine government operations." Unconfirmed reports place number of unabsorbed international loans and donor funding of the last four years at Sh1.5 trillion.
In some of the projects, the government has paid processing fees, repayments are on course but there is no movement on the ground. "People do not implement projects where there are no kickbacks," said an officer privy to the happenings. A number of CSs and PSs contacted said there is a general feeling that the runaway corruption perpetuated by some individuals within the ministries, department and agencies is responsible for the stalling of these projects. "It is not a lie that mistakes may be happened. We cannot hold onto the past.
The president wants results and we must ensure all projects and programmes under him are actualised," said a CS who did not want to be named. Across the country Others CS's we spoke to said they had inherited the mess of their predecessors while others flatly denied their projects had stalled. For instance, a survey done on 24 dams that were commissioned across the country established only three are in progress Some of the dams include Sh19 billion Thiba Dam project in Kirinyaga County, the Sh25 billion Kithino dam, Sh15 billion Maara, Sh7 billion Kianjuri while Nathan/Ura and Thingithu will cost Sh5 billion each.
Also, the Sh63billion Kimwarer and Arror dams laying ground for construction of the hydro-electric and irrigation projects in Elgeyo/ Marakwet County by Kerio Valley Development Authority (KVDA) funded by Italian government among others. The Jubilee administration's other ?agship project dubbed 'Digital Literacy project" where all class one kids were to be supplied with laptops appeared to have ?opped despite billions allocated, Free Maternity (Linda mama) program and multibillion Medical Leasing Equipment (MES) project.
This week, Matiangi is said to have told donors and organisations to be candid and speak freely about the behind the scene happenings. It emerged that projects and programmes with kickbacks delay while those with lucrative offers are commissioned immediately.
Last week, the ?rst comprehensive meeting bringing together 17 CSs to review and appraise the status of Jubilee government projects and programmes generated heat among the attendees as the president seeks to know why they have delayed. President Kenyatta's administration has come under sharp criticism, with many leaders faulting him for much talk but no action in his ?rst term in office.