Police probe death at Mudavadi house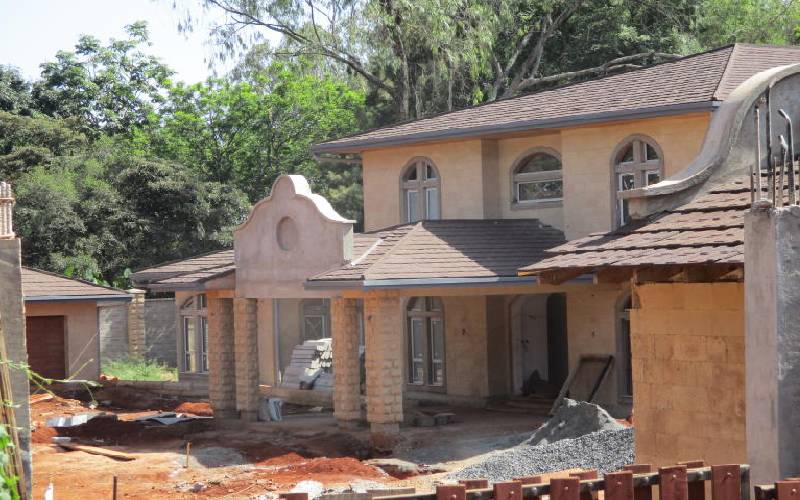 A dalliance with a strange concoction at a construction site associated with Amani National Congress (ANC) leader Musalia Mudavadi triggered a chain of events that left three workers dead in different city hospitals.
Despite the fact that the bizarre deaths involved people working at a site belonging to a prominent politician, a former vice president, it was not until 3am yesterday morning that the news -- controlled to the core -- began filtering out.
As the reports began to emerge on social media, the ANC leader owned up his association with the site of death. And despite admitting that the house in question was his, it appears there had been an attempt to hide the ownership of the property as Sunday Standard discovered in a visit to the site.
A signboard that is mandatory for construction sites and which contains details of the project, including ownership, had been partly defaced, making it impossible to know who the developer was. Mr Mudavadi has another house in Riverside, Nairobi, where he resides.
"On Thursday, seven workers on a construction project in which I've partnered drank an unknown concoction. Sadly, three lost their lives but four have been discharged," tweeted Mudavadi.
Stomach ache
"The matter has been reported to the police for further investigation. I'm out of the country but will do my best to assist affected parties," he said.
The Sunday Standard team that visited the site had difficulties piecing together events leading to the sudden deaths of the workers, one of whom is said to be a caretaker in the employ of the politician.
Those available at the site were generally uncooperative while survivors had switched off their phones. Nevertheless, one theory to the incident as told to Sunday Standard is that one of the workers who had just travelled back from his rural home was complaining of severe stomach ache at around noon on Thursday.
On informing his coworkers, one of them claimed to have knowledge on traditional medicine and offered his 'healing' skills. He then rushed to the nearby Kandisi River and returned with barks of a tree whose identity we were unable to establish and Aloe vera.
He then boiled the concoction and gave it to the sick comrade before the rest of the men joined in gulping the remainder after they were assured it would also improve their immunity.
An official statement from Mudavadi's ANC party confirmed it was a concoction that felled the men. However, the statement only said that two men -- Geoffrey Mutai and Edmond Echesa -- arrived at the site with several bottles containing unspecified liquids and which they claimed to have "certain beneficial potential."
"The two of them and a number of others orally and voluntarily administered the liquid on themselves. The impact of the substances in the liquid was adverse and instant," the statement signed by Secretary General Barrack Muluka said.
Sunday Standard learnt that soon thereafter, the men were all sprawled on the floor writhing in pain and calling out for help. And since the construction site is in an isolated area within Karen, help took long to arrive.
It was also not clear how the victims of the concoction ended up in different hospitals. Mutai passed away in Karen Hospital while Echesa succumbed at St Odillia's in Karen. The other victim, identified as Nicholas, passed on at St Mary's Hospital in Lang'ata while survivors ended up at Kenyatta National Hospital.
"We have recorded statements from survivors including those who refused to take the concoction," Karen OCPD Said Salo said.
"A postmortem will be conducted on Monday to establish the cause of death," he said.
At Umash Funeral Home where the bodies were taken, management initially agreed that they had received the deceased but changed their minds a few minutes later.
In the dark
At Embulbul, Kajiado County Edmond Mumia's family was lost for words about the sudden demise of their son. He had a wife and two children.
"My son was a disciplined man who loved his family," said his father Mark Omenga.
He said he was informed that his son had died on Thursday evening by his wife. They then heard that some workers had died at construction site.
They found his lifeless body lying on a stretcher at Umash Funeral home.
"It is now the third day we have been told nothing. We are in the dark. We have been talking to some of his colleagues but now their phones are switched off," said Omenga.