New bag of tricks that fuel Nairobi's vehicle theft syndicate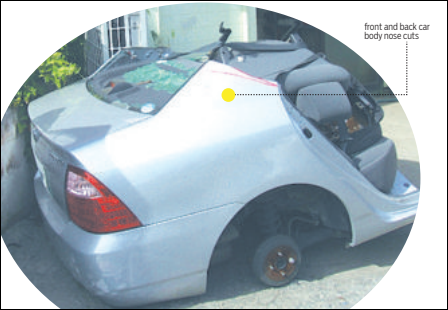 It was already 11.30am and John Ndumba knew he was running late for Mass as he raced his Toyota Premio out of the University Way roundabout into State House Road.
As was the norm every Sunday, the parking lot at St Paul's Catholic Church, which can take five cars, was reserved. Everyone else was required to park along State House Road -- also used by worshippers at the nearby St Andrews Church -- and the road that leads to the University of Nairobi pavillion.
And so, Ndumba parked his car like he had always done and rushed to join the Mass half way. Nothing seemed out of the ordinary.
But on returning to where he had parked his car at the end of Mass, it wasn't there.
"Everyone found their cars apart from me," he recalls. "There are street cameras on that stretch and the police would have at least told me which road my car was driven to, but all they asked is whether I had comprehensive insurance," he says.
And just like that, Ndumba became a statistic. Another victim of Kenya's thriving car theft syndicates. That was March 20 last year, and he never recovered his car. He was lucky his insurance paid his compensation.
By the time Ndumba got home to try and digest the news of the loss, his car probably no longer existed.
The busting of a number plate-cloning ring at the headquarters of the National Transport and Safety Authority (NTSA) on Wednesday exposed the latest of what is inside the endless bag of tricksbeing employed by Kenya's ever increasing car thieves.
By all standards, NTSA is the most digitised Government department and almost every transaction is done on their online portal. How some of their employees managed to provide cloned number plates for so long without being arrested is still an unanswered question.
Investigations by Saturday Standard show that for as little as Sh2,000, a 30-minute wait and even without connections, you can get a duplicate number plate for a vehicle that normally operates in another town. The trick is to prevent car owners with similar number plates from ever encountering each other.
Criminal underworld
It is such shameless collusion between State officials motivated by greed and the criminal underworld that is increasingly fuelling the theft of motor vehicles in the country.
The result of this greed came to a head when it emerged that the car used by terrorists to attack the dusitD2 complex last month had fake plates.
Even as manufacturers improve the security systems of cars, like the introduction of keyless entry and ignition designed to make cars impenetrable, thieves are also improving their skills and technology in tandem.
In older cars whose doors are opened and ignitions switched on by key, gaining entry using a wire and hotwiring the ignition are the most preferred ways of stealing.
Most modern cars, however, have a fob instead of a key which can be detected automatically even when in the driver's pocket. Every car has a unique program code installed in the vehicles on board computer system which makes it harder for thieves to get around like they can do in mechanical locks.
In theory this looks difficult. However, for as little as Sh5,000 Saturday Standard understands that a thief can buy a jammer in the back streets or rent one for just Sh500 per job. Typically, the thief will be loitering around a parking lot waiting for cars to pull in.
As the driver walks away the thief presses the jammer just before the driver presses his fob to lock the car.
"The car's alarm will make its usual sound but the car will not lock," a man familiar with how cars are stolen says.
"The thief is then free to enter the car and decode the system with a duplicate remote and power the ignition. It is very easy," he says.
Once stolen, a GPS jammer which costs about Sh2,000 online is activated. As so long as the jammer is on, the car cannot be tracked until it reaches its destination where it is torn down for spare parts and re-assembled for sale or just sold the way it is but with a different number plate.
With the help of border brokers, some of the stolen vehicles end up in neighbouring countries through back routes, but at times through official ones.
At the Kenya-Tanzania border of Namanga, Saturday Standard witnessed how brokers get necessary approvals for vehicles going in or out of the country for less than Sh1,000.
The person driving drops and uses the pedestrian entrance and exits where one is not asked for identification while the broker uses their connection to drive through the official crossing. It takes less than 30 minutes to cross, and once on the other side, tracking the car becomes an uphill task.
A leading media house in the country found out about tracking jammers the hard way when one of their cars was stolen. It could only be traced to the railway line between Dandora Phase One and Baraka estate. To date, the car has never been found.
Twelve kilometres east of the CBD in Kariobangi's Light Industry, a booming spare parts industry goes on day and night. Everywhere you look, there are rows and rows of shells of wrecked vehiclesthat partly hide the shops.
Here, you can get anything from a rear light of the latest Land Rover or the side mirror of a 1950's Volkswagen.
If Nairobi's Industrial Area is Kenya's capital of manufacturing, then Kariobangi sits at the apex of the spare parts industry. Those who are familiar with the workings of this residential cum semi industrial zone say there is nothing under the sun that cannot be found in Kariobangi, whether counterfeit, legal or illegal.
Dozens of brokers call out to anyone they think is looking for something and shoppers are easy to spot.
Spare parts
"I have good prices on whatever you are looking for," one of the men shouts.
"Don't go there because their spare parts have been stolen," he says.
Behind the façade of spare parts, however, cars get dismantled by the minute and on a 24-hour basis. A stolen car here is bought for about Sh80,000 and then broken down to spare parts within two hours.
When you add the one hour it takes to get to the location from its point of stealing if it is within Nairobi, then it means that your car ceases to exist within three hours of getting stolen.
By this time you would probably be still at the police station writing a statement or trying to get the company that tracks your car.
The Association of Kenya Insurers (AKI) approximates that at least 100 cars are reported as stolen to insurance companies per month. The numbers are probably higher when you consider the fact that those who inform their insurers about their lost vehicles have comprehensive insurance and hence qualify for compensation.
The rest end their cases at the police station where they get the standard "we will circulate the number plate" answer. Others post their stolen cars on social media with the hope that the vehicles will be recovered.
According to data from AKI, the more expensive your car is, the less likely it is to be stolen. Cars with an engine capacity of above 2000cc and whose origin is Europe or the US are also unattractive to thieves.
"Seventy one percent of vehicles reported stolen in the country are Toyotas followed by Isuzu (seven per cent) and Nissan (five per cent). The rest constitute 17 per cent cumulatively," says AKI.
Additionally, insurers say white remains the favourite colour for thieves (50 per cent), followed by silver (21 per cent). They also add that 66 per cent of cars are stolen while parked, especially in public places like entertainment joints and churches, while 13 per cent are hijacked.
White Toyotas
"Kenya is a third world country where most people can only afford either second hand cars or second hand spare parts. As so long as the demand is there, it will be difficult to deal with car theft," says Tom Gichuhi, the chief executive AKI.
"White Toyotas are attractive to thieves because even if you tell the police you have lost your white Toyota, how many of them are on the road?" asks Gichuhi.
For a car to be stolen while parked, there is a likelihood that there has been collusion between the people who are supposed to guard it and the thieves, he says.
Dan Kabira suspects that the people who stole his Toyota Premio used to follow him from the Jomo Kenyatta International Airport (JKIA) after he delivered miraa for export.
"The watchmen at Mugoya Estate where I was staying at that time told me they saw a woman drive away with the car and thought it was my wife," he recalls.
CCTV footage at the estate shows another car being stolen through collusion between night guards and the thief.