Nyumba Kumi's hits and misses as Kaguthi's term come to an end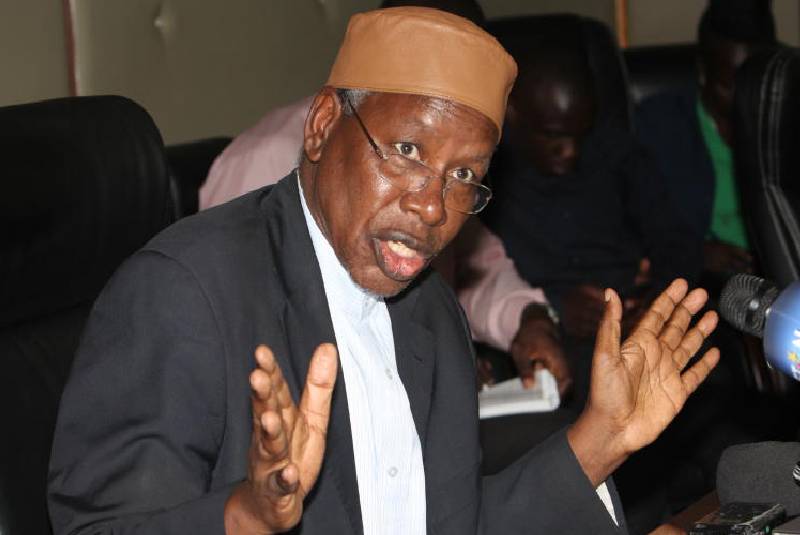 President Uhuru Kenyatta's attempt to make millions of Kenyans take charge of their own security instead of leaving it to State agents has been undermined by Government bureaucracy.
Consequently, the country's experimentation with foreign concepts and introduction of Nyumba Kumi — to have millions of ears and eyes on guard against insecurity — has encountered a number of bottlenecks.
For the past three years, veteran administrator Joseph Kaguthi has been at the helm of the National Committee on Implementation of Citizen Participation in Security popularly known as Nyumba Kumi.
He recently took stock of his tenure which expired last month.
Kaguthi is unhappy that although his committee oversaw the establishment of 387,000 clusters of Nyumba Kumi, where households or groups came together because of shared interests, this is just a drop in the ocean.
According to Kaguthi, there ought to be over 600,000 cluster groups in the country but there are regions which have not established a single cluster.
"The region leading in terms of forming the cluster groups is Meru where there are 39,501 groups. Sadly, Nairobi has only 3,838 groups and there are some areas like in Northeastern Kenya where there are none," he said.
He explained that this is a big drawback to the country's ambition of involving every Kenyan in owning security issues, arguing this was the future of consolidating the country's future.
Past attempts to approach security from the perspective of community policing had failed in some region as members of such communities had been targeted by terrorists and killed.
"Three officials were killed in Kilfi and one in Old Town, Mombasa. There were also killings in Mt Elgon because community policing officials were treated as spies. That is why we came up with the concept of Nyumba Kumi clusters," Kaguthi added
The Nyumba Kumi clusters, the chairman explained, were not supposed to be under the police or any Government department because security is not just about crime but any event which may bring disharmony in society.
"When children are not going to school or there is a burst sewer line in an estate, no crime has been committed but this may compromise security when the children come of age. Sewerage will cause diseases which can kill," Kaguthi explained.
Despite the unwillingness of elites and residents in upmarket areas across the country to form Nyumba Kumi because of privacy issues, social media has revolutionalised the concept.
The establishment of WhatsApp groups, based on shared needs where members post issues affecting them, became effective as they were picked by relevant security and Government officers who were at times added as members.
It is against this background that Nyumba Kumi has partnered with Nakuru-based Grace Wanjohi to use her social media platform, Mulika, which has a shortcode and an app where Kenyans send their concerns anonymously.
"The shortcode 22068 has become very popular. We have somehow established a virtual police station where 176,00 reports have been made in two years. This outnumbers reports made in police stations," Wanjohi explained.
The reports, which are made anonymously and are at times posted in vernacular, are received by county commissioners and police bosses and chiefs in all the 47 counties.
This initiative, just like that of Francis Kariuki, the tweeting chief from Nakuru, has experienced some licensing and bureaucratic challenges which have hampered their work.
As Kaguthi's term comes to an end, he said although the Sh43 million set for a quarter year was adequate, its disbursement was slow, making it difficult to initiate programmes on time.
"Some of the committee members quit because they did not like working as casuals. There was a time some money meant for Nyumba Kumi was reallocated although we had cash flow problems," he added.
According to Kaguthi, the Government should adopt the crusade approach to sell the mantra of "security starts with you."
He added that all county governments, media , clerics should be involved in promoting Nyuma Kumi and use of technology to enhance security and nationhood.
Kaguthi at the same time challenged conservative technocrats to embrace change and technology to win people's confidence arguing that police stations should be opened up for public so that Kenyans can understand what takes place there.
"All Government departments should have open days so that they can explain to the people their functions and receive feedback on issues," said Kaguthi.
He, however, warned Kenya not to blindly copy models from other country's observing that residents adoption of a police station or introduction roadside booths would not solve security issues.
"If every Kenyan is patriotic and reports whatever they see or hear or smell wherever they are, it will be easier to deal with terrorism and other crimes as planning and executing attacks would be reported in real time," the chairman explained.
The Nyumba Kumi concept was announced on October 10, 2013 by President Uhuru Kenyatta who named Kaguthi as the chair of the six-member team whose mandate was to combine the gains of community policing started by retired President Mwai Kibaki through police reforms.
From the onset, there was confusion as there were no guidelines in the formation of Nyumba Kumi committee and some regions adopted the Tanzanian model while others opted for Uganda's NRM type.
In other areas such as Kikuyu, Rongai and Ruai, the residents borrowed the Swedish model where citizens under the chairmanship of the OCS constituted the clusters.
When the committee's term expired in 2015, its mandate was expanded and it was renamed the National Committee on Implementation of Citizen Participation in Security.