CoG protests withdrawal of governor's security detail, says it was an ambush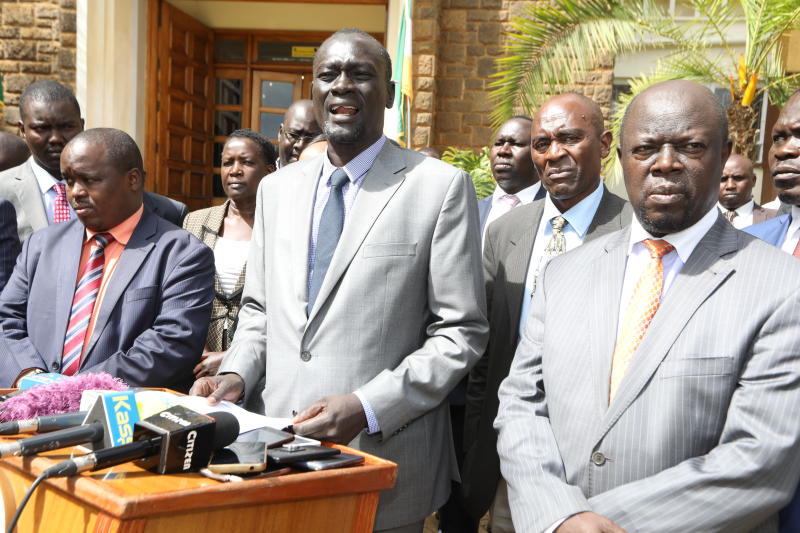 The Council of Governors (CoG) has demanded immediate restoration of the security detail attached to West Pokot Governor John Lonyangapuo.
CoG Chairman Josephat Nanok Sunday condemned the withdrawal of Governor Lonyangapuo's security, saying the action was taken without notice or formal communication to the governor.
The security attached to the governor was withdrawn after he was involved in a scuffle with police at a road block on Kitale-Kainuk highway.
"The Council of Governors strongly condemns the recent withdrawal of security detail attached to Prof. John Lonyagapuo. We note that the Governors body guards have been withdrawn from his official residence without notice. To this moment, no explanation of the same has been communicated," said Nanok.
Nanok said withdrawal of the Governor's security personnel demonstrates a clear conflict between discharge of public duties and fulfillment of personal interests, whether directly or indirectly.
"The Inspector-General must take action in this matter, and seek to formally communicate to the Governor and immediately replace the officers. The actions witnessed must not be repeated ever again."
Lonyangapuo's bodyguards were recalled after he stormed a police roadblock and dramatically freed a boda boda rider who had been arrested for allegedly flouting traffic rules.
West Pokot County Police Commandant Mathews Kuto said police are investigating the November 28 incident to ascertain what exactly happened at the roadblock.
A senior police officer in Nairobi said the governor is under investigations and action will be taken on him soon over the drama.
During the incident, a visibly angry Lonyangapuo tossed aside the metal spikes that were placed at the roadblock and ordered the police to leave, accusing them of harassing the youth.