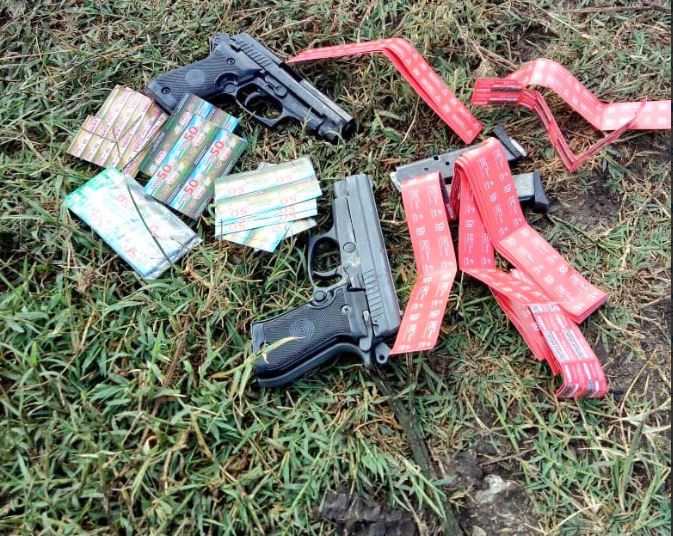 A police officer was on Sunday evening shot and injured in a clash with suspected thugs in Ruaka area, Nairobi.
The officer was in the company of three others and had responded to a distress call when they came under fire.
Police say the officer was shot and injured in the thigh as the suspected thugs escaped on foot.
He is recuperating in hospital.
Meanwhile, seven suspected thugs were at the weekend shot dead by police in two separate incidents of crime in the city.
Read More
The victims are all aged between 19 and 25, police who attended the scenes said.
The first incident happened in Mwiki area in Kasarani, Nairobi where three suspects were killed after a chase by police. A pistol with four bullets was recovered from them.
Nairobi Police boss Joseph Ole Tito said they also recovered a police uniform from the men. The suspects had earlier on committed a robbery in Hacco area and escaped with the officers from Special Crimes Prevention Unit in their pursuit on Sunday at 1 am.
Four others were Sunday killed in Umoja area, Nairobi in a botched robbery and two pistols found on them.
Police say the men had been attacking and robbing locals when they were alerted.
Witnesses said the shooting happened near Double M yard. This increases to more than 30, the number of suspects killed in the past month alone in the war on crime in the city.
Police said the men were in a group of six and had been attacking and robbing pedestrians when an alarm was raised.
This alerted police who were on patrol. Tito said they recovered two pistols from the slain men. He added two other suspects managed to escape on foot.
The bodies were moved to the mortuary.