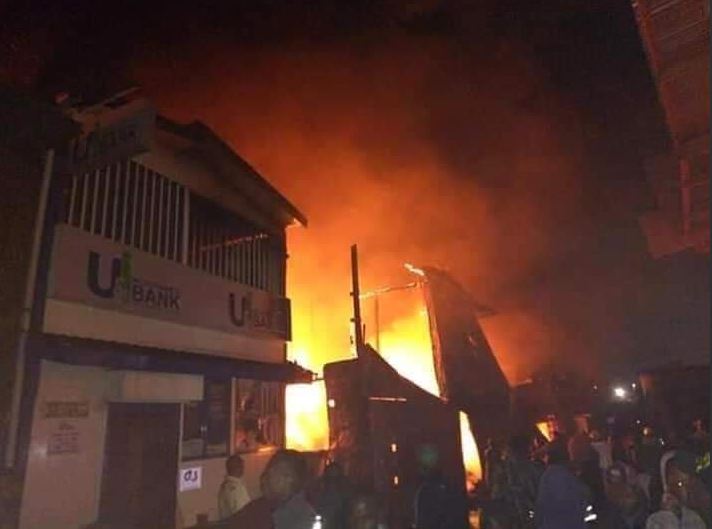 Several stalls at Gikomba market, Nairobi were razed when a fire broke out early Wednesday morning.
Reports reaching the Standard Digital desk say there are no casualties.
The Kenya Red Cross said it had dispatched responders to the scene immediately it was alerted.
"The fire has been contained thanks to Nairobi City County fire brigade. The team will carry out an assessment," Kenya Red Cross said in a tweet.
However, traders are counting losses with some expressing fear over the state of their businesses as property of unknown value was destroyed.
The cause of the inferno is yet to be established.
Gikomba market fires.
Past Gikomba fires have been invariably met with promises to improve safety at the open-air market which are forgotten days later.
In June of this year, 15 people died while 60 others sustained serious injuries after a huge fire razed several stalls at the Kwa Mbao section.
Nairobi Governor Mike Sonko then promised that a multi-agency team would be formed to investigate the cause of the fire and that the county government would also work closely with DCI to unearth the cause of perennial fire incidents.
No information or solutions have been forthcoming since his promise to look into ways of averting similar incidents in the future.
September 10, 2017: Another blaze: Traders say the fire is suspected to have started from one of the stores before spreading to others.
October 6, 2017: The Friday morning inferno destroys property worth millions of shillings and displaces many traders.
June 23, 2015: Another fire.The inferno, which started at around 1am, leaves traders in tears. Nairobi police boss Benson Kibui says preliminary investigations indicate that the fire was caused by arsonists.
October 2014: The second inferno in a year.
May 2015: Gikomba razed.
May 2014: Another fire strikes the market, stalls destroyed.