Court freezes former PS Lillian Omollo's accounts over Sh467 million theft at NYS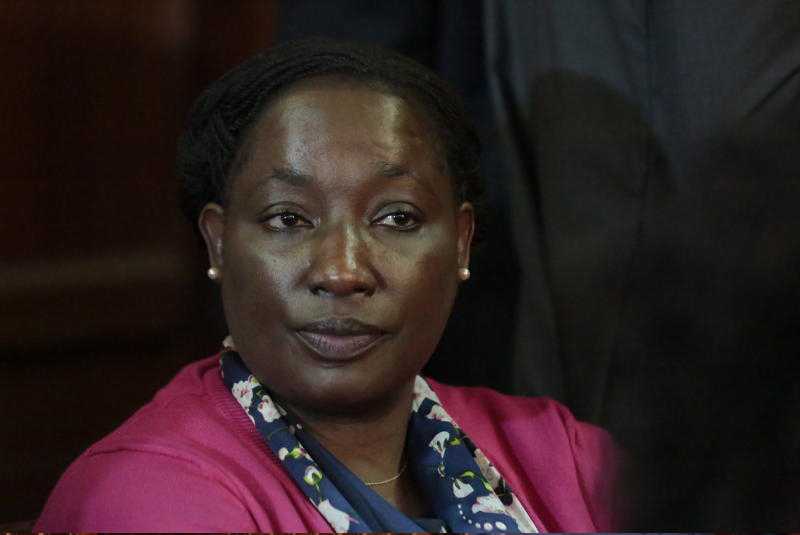 Former Youth and Gender Affairs PS Lillian Omollo's woes deepened after the court ordered Sh32.8 million distributed in ten accounts linked to her frozen.
Lady Justice Hedwig Ong'udi yesterday issued the orders freezing ten accounts belonging to Ms Omollo, her three companies and her three children as the Assets Recovery Agency stepped up the fight to recover millions of taxpayers' money suspected to have been stolen from the National Youth Service (NYS).
"A preservation order is issued prohibiting the respondents or their agents from transferring, withdrawing or using any other dealings in respect of funds held in the listed accounts for a period of 90 days," ruled Ong'udi.
Frozen accounts
The frozen ten accounts had a total of Sh32.8 million and registered in the names of Lillian Wanja Muthoni Mbogo trading as Sahara Consultants, Lidi Holdings Ltd, Lidi Estates Ltd, Stephanie Marigu Mbogo, Sheela Wangari Mbogo and Shalom Malaika Mbogo.
This came a day after Ms Omollo was charged afresh alongside 37 other suspects with 82 counts of theft, money laundering, abuse of office and making illegal payments to companies that did not supply any services to NYS.
Lawyer Mohammed Adow for the agency told the court that since Ms Omollo and other suspects were charged in relation to Sh467,896,993 theft at NYS, investigations have revealed a systematic fraud and siphoning of public funds which must be recovered and returned to state coffers.
"There is reasonable reason to believe that money deposited in her accounts was unlawfully acquired," the court was told.
Adow argued that the agency has established that funds stolen from NYS were transferred to various suppliers who supplied fictitious goods and services to justify the payments running into millions of shillings.
In his affidavit, Fredrick Musyoki, an investigator attached to the Assets Recovery Agency detailed how the former PS made suspicious deposits in various accounts using her companies and her children as a cover up.
According to the investigator, all ten accounts received huge deposits between 2016 and 2018 at the time Ms Omollo was the PS, which suggested acts of money laundering.
Between May and August 2017 alone, he swore that the former PS deposited a total of Sh10.8 million in three accounts.
"Our investigations revealed that she made the deposits in tranches of below Sh1 million to avoid the reporting threshold as per the Central Bank of Kenya," said Musyoki.
He stated that Ms Omollo told investigators that the money in dispute was given to her by her husband who is a co-director in their companies. She also claimed that the money was proceeds of farming that she jointly did with her husband in Siaya County.
Produce proof
"She did not produce any proof of the existence of farm business such as trade permits, tax returns, compliance certificate or anything to support the claims," swore Musyoki.
According to the investigator, Ms Omollo contradicted what her husband had told the commission on the sources of their wealth.
He stated that Omollo's husband, Dick Achieng Oneko, had said the cash he gave his wife to deposit in the accounts were earnings from a company known as Nile International in Southern Sudan where he offered consultancy services.
Musyoki further stated that Ms Omollo failed to offer a satisfactory explanation of how the accounts of their children, some of who are still minors, reflected huge transactions.