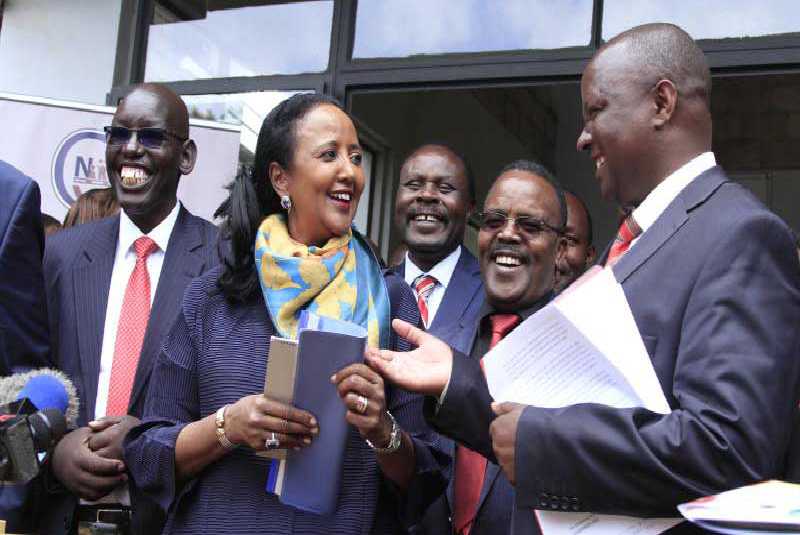 National examination candidates in areas affected with clashes will be transferred to neighbouring institutions, the Education CS has said.
Cabinet Secretary Amina Mohamed on Tuesday appeared before the National Assembly Education Committee chaired by Tinderet MP Julius Melly.
CS Mohamed said details on the transfers will be available at the region education offices.
The Education CS on Monday said all is set ahead of the national exams which start in three weeks.
The ministry has finalised plans to deliver materials to examination centres countrywide.
Some of the 1,800 candidates affected are in Nakuru, Narok and Nairobi.
In Narok South Sub County, twenty-seven (27) Primary Schools with a total enrolment of 13,476 students, including 1,087 candidates, are affected.
Three schools in Kibera were demolished in July to make way for construction of the Ngong Road-Kibera-Kiungu Karumba-Langata Link Road. The schools are Egesa Primary, Makina Self Help Primary and Mashimoni Primary Old Nation Church.
In Maasai Mau Forest, 15 schools have been closed as the Government evicts residents from forest land.
The Kenya Certificate of Primary Education exam will start on October 29, with 1,759,000 expected to write the exam.
The Kenya Certificate of Secondary Education exam will start on November 5, with 664,586 expected.
The CS further warned against cheating.
"Parents whose children will be found with mobile phones in school will be held responsible. Their children will be suspended and such candidates will not be allowed to sit the examinations," Mohammed told journalists at the Centre for Mathematics, Science and Technology.
Reports indicate parents pay up to Sh30,000 to buy exam papers. National Parents Association chairman Nicholas Maiyo cautioned against buying examination leakage saying, "National examination performance should not overshadow the child's aspiration in life."
Kenya National Examination Council chairman George Magoha said Sh25 million was used to protect last year's national exams.
Education PS Belio Kipsang said it was regrettable that the ministry spends a lot of resources to protect exams.
"Exams should be done in the best way possible yet we release so much resources to protect our kids from parents, teachers and cheating."