Time finally runs out for Ruai land owners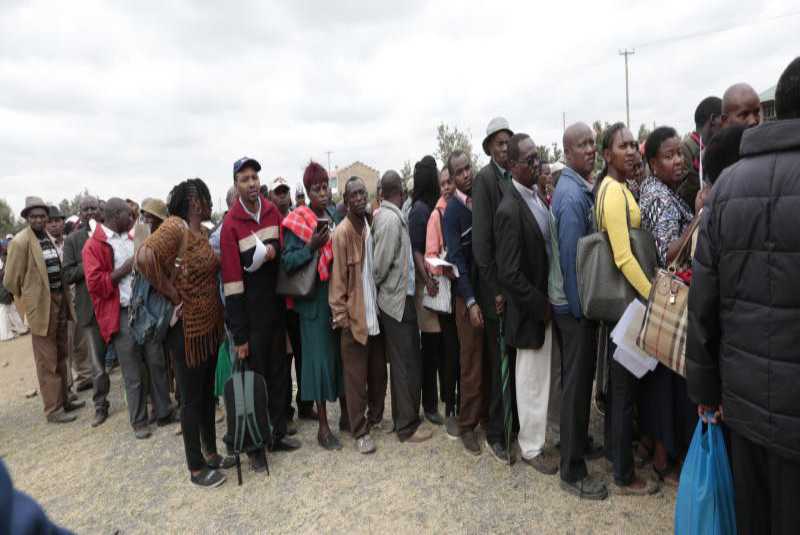 Those who bought land from Embakasi Ranching Company have only today to verify their parcels's documents before the titling process begins.
The Ministry of Lands on Monday extended the September 3 deadline for verification by two days.
"Two more days for verification of land ownership documents for shareholders of Embakasi Ranching Company. Lands Cabinet Administrative Secretary Gideon Munga'aro announced the two-day extension on Monday after the expiry of the five-day deadline," said the Lands ministry communications office.
Some owners of the land had complained that the process was tedious and that it could not be completed by Monday.
On Monday, the ministry released more officers to assist in the verification process. However, some feel the time is inadequate to address their grievances.
One such is Ndung'u Kigamba, 83, who bought a parcel in 1978 but has never been shown the plot.
Green certificate
"Every time I come here I am just taken round and round yet I have this green certificate to show that I purchased land," said Mr Ndung'u, who bought the land when he was only 43.
Beatrice Njoki is in the same predicament. Her sister died in 2012, and she has since been trying to trace the land that she bought from Embakasi Ranching Company.
According to the papers in Ms Njoki's hands, her sister Margaret Guchu was allocated plot number T344 on March 7, 1992.
"We don't know where the land is. The piece is not even entered in the map. I am sent from one surveyor to another every time we plan a site visit," she said.
Others complained the exercise was time consuming. "We are just being told to wait. We need more time. For someone like me, my father is very old and sickly and cannot survive queuing here," said an angry Joyce Mugure.
Her father David Mburu bought land in the 1970s and according to the agreement, he was to be issued with a bonus (an extra parcel).
"Strangely, we got the bonus which we are fighting for to get a title but we have never seen the actual parcel that gave us this bonus," she said.
In May, President Uhuru Kenyatta directed the ministry and Embakasi Ranching Company to ensure those allotted land get their titles in three months.