Plot owner cry foul in city tilting plan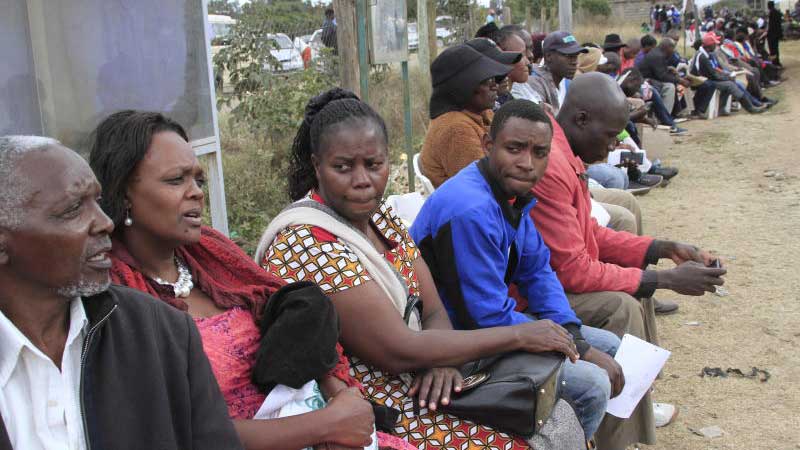 "If I get the person who issued my land to someone else, I will not hesitate to behead him. I will not," he said.
For almost a week, Mr Wainaina has been camping at the deputy county commissioner's (DCC) office in Ruai to see whether the land can be reverted to his name.
How the land was handed to another person is a puzzle he has yet to comprehend.
"It is just these company officials. I am not surprised people have been killing each other over land. Imagine spending Sh1 million to purchase land and finding out you do not own it," he said.
Wainaina was among hundreds of frustrated people who queued at the Embakasi Ranching Company and DCC offices in Ruai yesterday, ahead of today's deadline for the verification exercise that seeks to separate genuine land owners from frauds.
The end of the exercise will pave the way for the printing of title deeds as ordered by President Uhuru Kenyatta. The President is expected to issue the documents to their owners at a later date.
But as the deadline loomed yesterday, it was clear that many people, perhaps running into thousands, had yet to be cleared by the two offices. They wanted the deadline extended.
Confusion reigned as most people were not sure about the process to follow. Some showed receipts and certificates of land they had bought but had not been issued with land parcel numbers. Others had yet to be cleared by the firm's board, which they blamed for the many hurdles in their way. Many of those queuing at the offices and grasping their papers, like Wainaina, wore gloomy faces.
Last week the Ministry of Lands released a list of owners which the stakeholders claimed was marred with errors. Some land owners claimed their names were not in the list while others found out that their land had been allocated to strangers.
Some of those at the Embaksi Ranching office complained that they were being charged exorbitant land transfer and 'top-up' fees of up to Sh100,000.
Jane Wangari, who said she bought her land in 1975, claimed she was one of the original shareholders of the land buying company. However, in 2001, she was shocked when she found someone putting up a building on her land.
"So tell me, even if you add us seven days to verify our land, will that change my situation?" she said.
Most people pleaded for an extension of the deadline. "You know everyone is struggling to be in the first batch that the President will issue because if you are not, you may never see your land again," said a man who declined to give his name.
The Lands ministry said it was considering extending the deadline for the verification exercise and also increasing the number of surveyors to speed up the process. The decision will be announced today, according to Joseph Mwangi, the ministry's head of public communications.