Chebukati: Why commissioners cannot resume their positions
IEBC Commissioners who resigned in April cannot resume office because they did so irrevocably by following legal and official procedures, the commission's chair Wafula Chebukati says.
In his statement sent to newsrooms, Mr Chebukati has rejected the resumption of office by former vice chair Consolata Maina and Commissioner Margaret Mwachanya pointing to their adherence to IEBC resignation procedures and the constitution.
Below, his statement: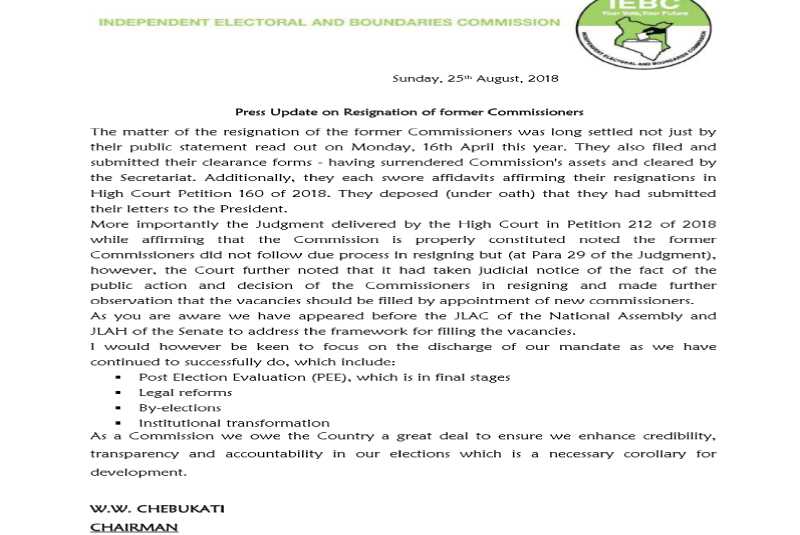 Ms Maina and Ms Mwachanya resumed duty by taking advantage of a High Court ruling, obiter dictum, which stipulated that they did not follow the due process in resignation.
Justice Wilfrida Okwany asserted that what the trio did was just tender resignation via the press, and that they did not notify the appointing authority.
To this regard, Justice Okwany's ruling in petition No 212 2018 was that the three are valid IEBC commissioners who should undertake the duties.
Chebukati plays hard ball
"IEBC does not have offices for former commissioners. You cannot come here and say I am a former commissioner, give me space to work from here. As far as we are concerned, they are not supposed to be working from here, this has to be made very clear to the country," said Chebukati while addressing the press at IEBC offices at Anniversary Towers, Nairobi.
Botched meeting
After Chebukati refused the two, he also asked them to put in writing the subject they wanted to discuss with him.
Asked whether he can read mischief in the return of the commissioners, he has explained that the law stipulated that commissioners can only serve once, and that once one resigns, there is no formula for return.
Just a day ago, Amani National Congress party leader Musalia Mudavadi condemned the duo's resumption of duty as breach of law. Mudavadi called for the two to be charged with absconding duty during the four months they had been away.
The commissioners resigned on April 16, 2018 citing incompetence of the chair of the commission Wafula Chebukati.
They even pegged their decision on the premise that they had no faith in Chebukati's leadership.
To fight drought, involve communities
According to the latest information from the Meteorological Department, rainfall will be poorly distributed in April, May and June, and this will have a serious impact on agriculture