84-year-old man seeks to break Guinness World Record in Matiba's honour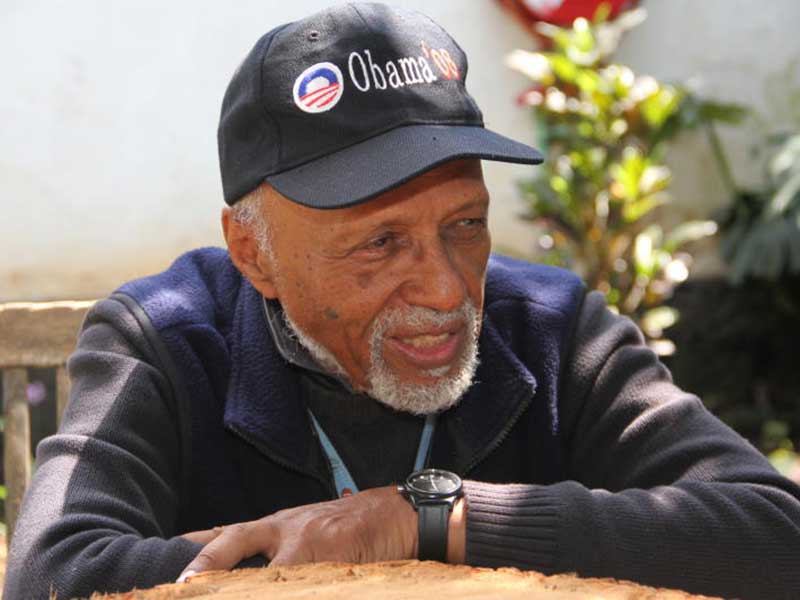 A unique calibre of climber plans to attempt to scale Mount Kenya and book his slot in the record books.
Naigzy Gebremedhin, 84, plans to scale the mountain between August 11 and 12 for the 13th time, a feat few can hope to best.
But Gebremedhin's trek to the rarefied air of Lenana Peak has a grander purpose; to honour his long-time friend, Kenneth Matiba.
Gebremedhin has many recollections of his dear friend. Most of them are beautiful, like the time in the late 1980s when he met Matiba for the first time at the former Cabinet minister's office along University Way.
Back then, Gebremedhin worked for the United Nations Environmental Programme in Nairobi after fleeing the dictatorial regime of Mengistu Haile Mariam in Ethiopia in the late 1970s.
Other memories, particularly those of the meetings they had as Matiba approached the end of his life, are nothing short of heartbreaking.
"I met Matiba around this time last year here," Gebremedhin says, staring pensively at the lush green grass in the expansive garden of the Westlands offices of the Naro Moru River Lodge, which Matiba owned.
Painful memory
The other painful memory is of the day in the early 2000s, when Gebremedhin met Matiba and his wife Edith at Lillian Towers in Nairobi.
"He was very weak and diminished. It was clear that detention had damaged him. He could not even feed himself properly; his wife had to do it. It really broke my heart," Gebremedhin narrates.
But rather than get caught up in the agonising memories, Gebremedhin has chosen to celebrate Matiba's heroic and extraordinary life.
In 2015 and 2016, as Matiba's health deteriorated, Gebremedhin hiked to Lenana Peak, where he said he prayed for Matiba's well-being.
Gebremedhin's decision to honour his departed friend by climbing Mt Kenya holds deep meaning.
On the day the two first met, Matiba mentioned that he was planning a hike up Mt Kilimanjaro with a group of Kenyans.
Although Gebremedhin expressed an interest in joining the climbing party, Matiba did not invite him.
It was several years later, in 1991, that Matiba invited Gebremedhin for a hike up Mount Kenya.
"Matiba and I were very similar. He recognised that I was overly aggressive, like him, and that I was going faster than the other 45 climbers. When we reached Makindas Base, he called me aside and told me to take it easy because the climb was a team effort," Gebremedhin recalls.
The two struck up a fast friendship that endured over the years even as Gebremedhin's love for climbing bloomed.
Next month, when Gebremedhin attempts to climb the mountain again, he and his team will follow the route he has used the last dozen times.
He elaborates: "We will first camp at the lodge, then drive or make the two-to-three-hour walk to the gate. From the gate we will walk to the Met Station and walk up Teleki's Valley for six to seven hours before resting at Makinda's Base. From there we will climb until we reach the Austrian Hut. From there, Lenana Peak is only an hour away."
Gebremedhin is optimistic that he will complete the climb and perhaps even go on another major hike next year.
But one record may well elude him: Matiba climbed Mt Kenya 18 times.