New laws: Inmates staring at death, life sentences poised for smiles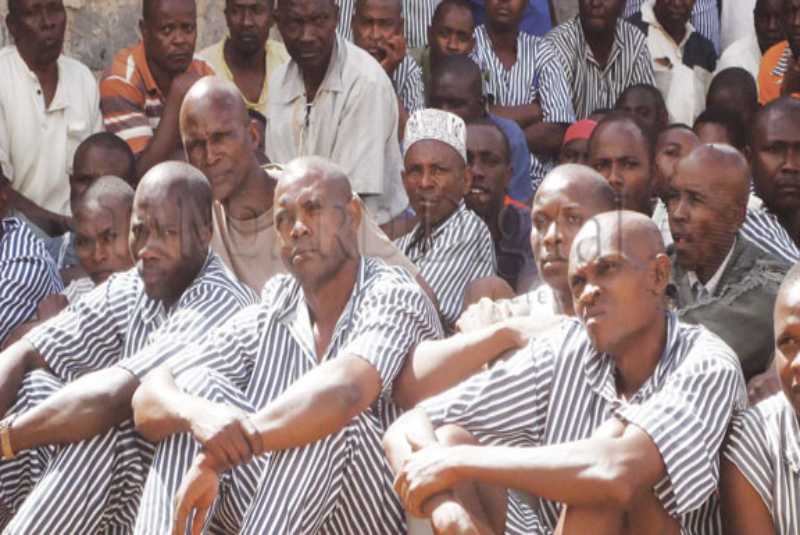 A team reviewing criminal laws has made recommendations that, if implemented, would see an overhaul of death and life sentences.
The task force chaired by the secretary of justice and constitutional affairs, Maryann Njau, wants the law on capital offences changed so that convicts can be given a second chance after serving a number of years in jail.
According to the recommendations, only the masterminds and those who have committed aggravated crimes should be handed a jail term without the option of an early release.
The recommendations, seen by The Standard, say the new conviction regime would include a convict serving between 15 and 30 years before being considered for parole.
In addition, the team recommends that all those who are on death row, and those whose sentences were commuted to life, should have their cases heard afresh and their sentences either affirmed or reduced.
The Supreme Court last year declared that mandatory death sentence was unconstitutional, paving the way for a review of Kenya's capital offences law, which was drawn from the colonial master.
The team was formed in March this year and is expected to give its report to the Attorney General in October.
The AG will then file it in the Supreme Court by December.
As at March this year, there were 838 persons on death row - 789 men and 129 women.
No person has been executed in Kenya since 1987.
The last convicts to be hanged at Kamiti Maximum Prison were Kenya Air Force Senior Private Hezekiah Ochuka and Pancras Okumu, who were punished for treason.
The task force has also recommended that the Government form an inter-agency team to review the sentences of those already in jail for robbery with violence and murder, and also convicts who are over 60 years old, disabled, terminally ill, women and the longest serving prisoners.
"It is, therefore, our proposal that all prisoners subject to the death penalty, including those serving commuted sentences, be eligible to apply," the report reads.
The task force also made a startling discovery on those who are incarcerated for murder, robbery with violence and attempted robbery with violence.
The report says more poor people than the rich are convicted.
In murder, they found that majority of the men and women on death row for murder were convicted when aged between 26 and 35 years. Men were convicted when they were aged from 36 to 45 years.
There is also a higher likelihood of a woman over 55 years to kill as they rank second, after those aged 26 and 35.
A majority of women (70 per cent) lived in an urban setting at the time of conviction and a majority of men (51 per cent) lived in a rural setting.
Of those interviewed, a majority - 38 per cent - went to school up to Cass Eight while 33 per cent dropped out of school at primary level. Another 27 per cent completed Form Four. They found no one with a university or technical school qualification.
Another revelation, according to the report, is that majority of murder convicts are casual labourers, followed by low-income earners.
The group of those convicted for robbery with violence, again, consist those aged between 26 and 35 years.
There is no woman above 26 who was in jail for robbery with violence.
The report shows that 99 per cent of robbery with violence male convicts and 100 per cent of women convicts did no go beyond secondary school.
Casual labourers again dominated the group at 46 per cent men and 60 per cent women.
Majority of men convicted for robbery with violence earned between Sh10,000 and Sh14,000, while no woman earning above Sh9,999 was jailed for robbery with violence.
Murder categories
The task force also proposed that murder be categorised into aggravated, simple, second degree and manslaughter.
They defined aggravated murder as one committed willingly or is premeditated. Also killing a child, an elderly person or a person with disability, and a public officer in the course of duty will be considered aggravated murder.
It also applies to deaths due to religious conflicts, sexual orientation, race or ethnicity conflicts, terrorism and genocide.
Instances where the murder is planned and intentional but not aggravated, for example abortion and aiding suicide, will be classified as simple murder (first degree).
First degree murder convicts would only qualify for parole after 25 years.
Second degree murder includes intentional deaths which were not premediated and female genital mutilation that results in death and torture.
After serving 20 years for second degree murder, one would be qualified to apply for parole.
Manslaughter is the fourth category and a convict would be considered for early release after serving two-thirds of their sentence.
"A reading of the judgement by the team points to the possibility of a life sentence being the recommended sentence for a majority of the very serious offences (death sentence being discretionary and, therefore, likely to be applied as a rarity)," the report by the committee reads.
Those convicted of defilement, gang rape, incest, sexual assault while using a weapon or physically harming a victim or raping a disabled person or intended to transmit HIV would be eligible for parole after serving 30 years.
Convicts serving jail for other sexual offences - for example exploitation of prostitution and child sex tourism - will have to serve two-thirds of the sentence before being considered for release.
Any civilian convicted of masterminding treason, treasonable felony, treachery, promoting war, inciting mutiny, aiding prisoners of war to escape and administering unlawful oaths to commit a capital offence and where deaths occurred, will serve the full sentence.
Those who directly participate can only be eligible for parole after 20 years and those who aid or abet the crimes have to serve 15 years before being considered for parole.