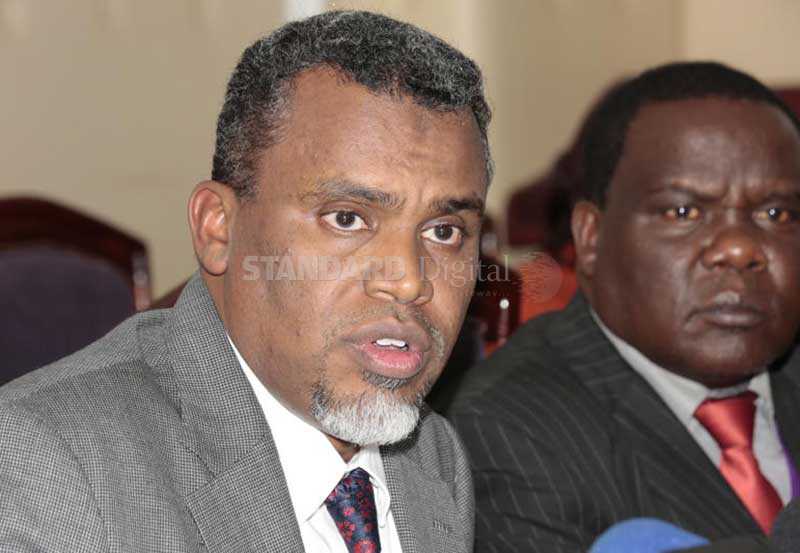 Director of Public Prosecutions Noordin Haji has said he has enough evidence to nail 54 suspects set to be charged in court today over the Sh9 billion National Youth Service (NYS) scandal.
According to Mr Haji, his office has sealed all the loopholes that have led to the collapse of previous corruption cases in which several individuals accused of stealing billions in taxpayers' money get acquitted for lack of evidence.
"We have sealed the loopholes to ensure it doesn't happen again. The evidence is overwhelming in this case. We will prove to the court that no procurement took place, no goods were supplied and there was no documentation of how the money was paid out," said Mr Haji.
He said the 54 were the first batch of suspects in the second phase of investigations into the plunder of public funds at NYS, where he said Sh468 million was paid out to 10 companies in fraudulent deals.
Appoint team
Read More
To ensure that the cases are successfully prosecuted, the DPP said he would appoint a team of four special prosecutors to work with a team from other agencies in efforts to have the looted money returned to the public.
He said it would not be business as usual involving tough talk but little action against corruption, and that the public would soon see people being jailed for stealing State funds.
"We know Kenyans are tired and frustrated over the lack of conviction of those implicated in corruption.
"We have learnt the mistakes we made in previous cases and have come up with watertight evidence that will prove our case," said Haji.
Those expected to be charged with several counts ranging from stealing, conspiracy to defraud the public and abuse of office include 40 staff from NYS and 14 directors and proprietors of companies said to have colluded and benefited from the loot.
Among them are Public Works, Youth and Gender Affairs Principal Secretary Lillian Mbogo-Omollo, NYS Director General Richard Ndubai and former acting NYS Director General Sammy Michuki.
Others are Senior Deputy Director Nicholas Ahere, Finance Director Wellington Lubira and former head of Mechanical and Transport Branch Evans Kundu.
Company directors
The directors of companies include Anne Ngirita, Phylis Njeri, Catherine Mwai, Anthony Wamiti, Peter Kimani, James Thuita, Yvonne Mgugi, Jeremiah Ngirita, Lucy Ngirita, Andrine Nyambura, Catherine Kamuyu, Serah Muguru, Samuel Kanai and James Katululu.
Their companies - Annwar Investment, Njewanga Investments, Arkroad Holdings Ltd, Kunjiwa Enterprises, Ameri Trade Ltd, Ngiwacho Entreprises, Jerrycathy Enterprises, Firstling Supplies Ltd, Kalabash Food Supplies and Ersatz Enterprises are also listed for charges.
The DPP also stated that the next focus would be on banks being used by the cartels to channel the looted cash.
"In phase two of the investigations, the DCI will focus on additional areas, including more companies that benefited from the fraudulent payments and banks that were complicit to the offences.
"We have already got orders freezing several bank accounts used to channel the funds," said Haji.
He added that they were looking into ways of recovering corruption proceeds and establishing the tax status of the companies and individuals involved in the crimes to ensure that all public funds were recovered.
Volunteer information
He warned those implicated in the scandal but had gone into hiding to surrender to the police and urged any persons with information that could assist in investigations to volunteer and report to his office.
The suspects will be charged with conspiracy to commit an offence of corruption, failing to comply with procurement rules, breach of trust, wilful failure to perform official duties, abuse of office, fraudulent acquisition of public property and making payments for goods not supplied.