Focus turns on foreign policy as US, China send new envoys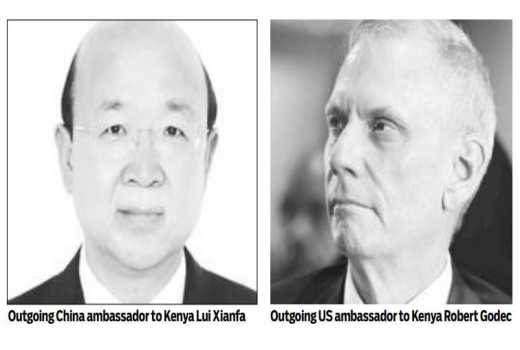 Kenya's foreign policy is headed for interesting times as the world's two most powerful nations, the United States and China post new ambassadors to Nairobi.
Observers are keen to see how it pans out since the two countries have in recent weeks renewed their interest in out-muscling each other on who is more influential in Nairobi, a key strategic ally for Washington and Beijing in the region.
And although the timing of the recalling of their representatives in Nairobi could be coincidental, the fact that they are sending new envoys at the same time has sparked debate in diplomatic and political circles.
The Kenyan government has welcomed the change in ambassadors saying it hopes this will open a new chapter of new diplomatic relationships.
"Our relationship with the two countries continues to grow from strength to strength," Foreign Affairs Principal Secretary Macharia Kamau said.
"We therefore expect continued diplomatic relationship, nothing changes," he said.
Robert Godec, a career diplomat picked by former US President Barack Obama is set to be replaced by Kyle McCarter, a politician who previously worked in Kenya for 30 years running a charity. China is yet to name a replacement for Lui Xianfa who flew out of Nairobi last Saturday.
Xianfa spent his last few weeks in Nairobi engaging in war of words with the US but struck a soft tone in his farewell letter to Kenyans. He chose the occasion to remind Kenyans of the strides the China-Kenya relationship has achieved in the last four years he has been ambassador.
"I am proud to see that the China-Kenya political trust has been further strengthened with frequent high-level contacts. Since 2013, President Xi Jinping has met with President Uhuru Kenyatta three times," he said.
"I have experienced the Kenya Speed and Kenya Miracle along the Mombasa-Nairobi standard gauge railway and seen the flourishing socio-economic development. I have visited over 100 geothermal wells drilled by Chinese companies in the Great Rift Valley that brought not just electricity, but also heat for China-Kenya cooperation," he said.
Meanwhile, his American counterpart, Godec has been on a goodies dishing spree announcing aid worth Sh12.1 billion in just 30 days since the announcement of his recalling. This week he launched a Sh650 million public complaint platform funded by the US.
Good talk
This is on top of a Sh11.5 billion food security programme announced last week and a Sh20 million grant for establishment of a Social Media Lab in Nairobi, the first of its kind in Africa designed to study social media in the continent.
"Together, we have reached nearly 900,000 Kenyan farmers. We helped them grow better crops and increase milk production, and then get those products to market. Working with partners we leveraged over Sh22 billion in new assistance to the agriculture sector," said Amb Godec while announcing the food security programme.
But away from the good talk and listing of achievements by the ambassadors of the two super powers, their replacements will be thrown into a cut throat competition for influence between the US and China.
They would also have to navigate a push by Russia to increase its influence in East Africa that is building quietly away from the attention given to the US-China competition. Of particular interest to Russia are natural gas deposits and the plan to generate electricity using nuclear energy by Kenya.
The Sunday Standard has been made aware that Russia's state owned Rosatam has placed a bid to design and build Kenya's first nuclear plant after bagging a similar deal in Uganda last year.
The US which is jittery about China's expanding economic and political influence in Africa, has gone full throttle on a damage control mode and is trying to mend its relationship with the continent. China is not taking things while lying low and has ramped up its cheque book diplomacy while advancing its non-interference policy.
During his state of the nation address President Uhuru Kenyatta announced that the government has begun negotiations for the Sh549 billion phase 2B of the standard gauge railway from Naivasha to Malaba. Last week China pledged to support Kenyatta's Big Four agenda by investing Sh18 billion to two manufacturing plants as a show of confidence in Thika and Kajiado.
Some of its biggest companies operating in the country including Huawei Technologies, Twyford Ceramics, China Road and Bridge Corporation (CRBC) and AVIC International also signed the pledge to increase jobs.
Last year, China exported goods worth Sh390 billion to Kenya. This was 20 per cent of our total imports and six times the Sh57 billion worth of goods that the US sold to Kenya. Nevertheless, the US remains the leading aid donor to Kenya although China surpassed it as a trade partner in 2010.
And although data for American assistance to Kenya for last year is yet to be made available, Washington advanced $1.1 billion to Nairobi as foreign aid in 2016. In total the US has given Kenya assistance worth $4.8 billion (Sh480 billion) in the last five years. Out of this, Sh432 billion has been developmental aid while the rest has been spent on the military.
"Kenya's geographic location on the continent is strategic which makes Nairobi of key interest to any developed nation that has interests in Africa. It would however be interesting to see how Trump's pick for Nairobi navigates his way given the US president's indifference towards Africa," said Patrick Kamau, who teaches International Diplomacy at USIU.