Why a united Kenya tops Uhuru's legacy dream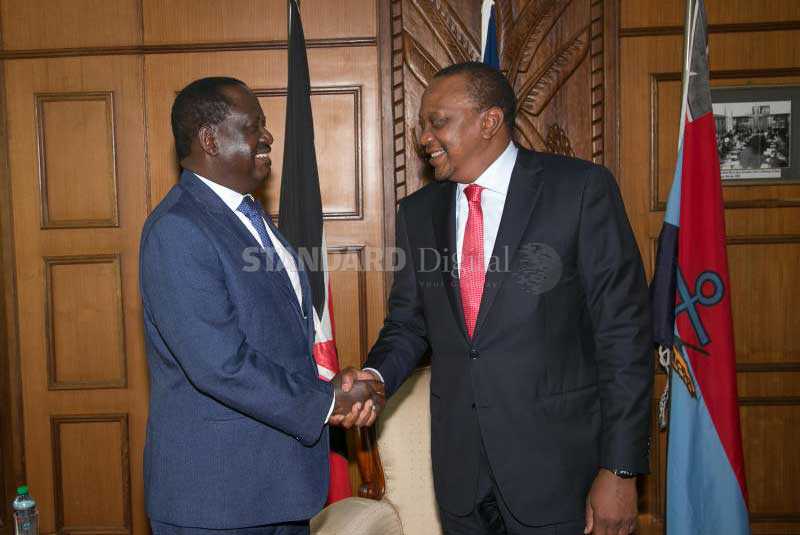 President Uhuru Kenyatta has one less political battle to fight as he gets into his second and final term as Head of State following a public meeting with Opposition chief Raila Odinga.
Yesterday, the two men essentially agreed to give Kenyans a break from negative politics and pledged to engage in a more constructive and patriotic manner.
President Kenyatta -- who had vowed not to have a dialogue with the Opposition following the October 26 repeat polls -- has consistently said it was time to work and focus on what is his much-touted big Four Agenda.
"It is time to work, not engage in talk. I am requesting leaders, whether in Government or not, to end politics and unite to work for Kenyans," he said in December.
After all the posturing, yesterday, the President shared the podium with his biggest political nemesis who has, ironically, been a close childhood friend.
Fledgling economy
But even as the 56-year-old settles into the life of a statesman, he will look back at a first term which was riddled with the pressures of the ICC case and a second term that got off on the wrong footing because of a questionable victory and a fledgling economy.
After all the rhetoric, Uhuru has a future to mull over. From his favourite seat at State House, the future has been looking greyer than the recent rainy Nairobi days.
Tribal undertones, amplified by the differences between him and Raila, have taken over the discourse in the country.
The economy is at its worst since 2002. The wave of optimism and possibility that he campaigned on during his second assault on the presidency have all but evaporated from the eyes of Kenyans.
In its 2016 report on perceptions of corruption, Transparency International ranked Kenya at 145 out of 176 countries. It blamed Kenya's ranking on the incompetence and ineffectiveness of anti-corruption agencies, saying the failure to punish individuals implicated in graft had been a stumbling block.
Uhuru has openly spoken out on the levels of corruption within his own Government. Even as he tries to bring the country back from the red, he has perhaps realised that for him to achieve all his ambitious goals, Raila's support might as well be a mandatory option.
A successful and positive Uhuru legacy as President hinges entirely on goodwill from Raila, a man who has since 2013 been a thorn in the president's flesh.
Ostracising a man who controls half of the country's electorate would mean Uhuru dedicating a huge part of his last five years fighting fires, almost literally, because Raila's supporters can start them at any time, on any road, when they feel disenchanted.
And then there is the little matter of international pressure.
Mid last month, 11 foreign envoys asked the Raila-led NASA coalition to recognise the election of President Kenyatta and his deputy William Ruto as a legitimate expression of the people's will before dialogue can take place.
As they did this, they also tore into the Government's continuous subversion of the law and warned it against the continuous muzzling of various freedoms, including that of the press.
For the diplomats -- people who have mastered the art of thinking twice before saying nothing -- dialogue between Uhuru and Raila was a necessity, especially at a time when the country is staring at a cash deficit and hoping that the second Eurobond will offer some reprieve and European markets will be won over. Eventually, something had to give.
In recent weeks, Uhuru's supporters have toned down their acerbic rhetoric against Raila and there has been a slow burning softening towards sections of the Opposition.
Uhuru's recent introspection has made him lock out former right hand men from key decisions. Just a fraction of his inner circle knew of his meeting with Raila. Perhaps a sign of how the son of Jomo will rule in his second term.
He, like many who have come before him, wants to see his name in lights as one of the best presidents Kenya ever had.
He has just under five years to win over millions of his critics. And perhaps the first step for him, away from the political ramifications that his olive branch might portend for his Jubilee Party, was to stand shoulder to shoulder with Raila and assure the world that the mess Kenya is in can be fixed.