South B residents decry recent series of attacks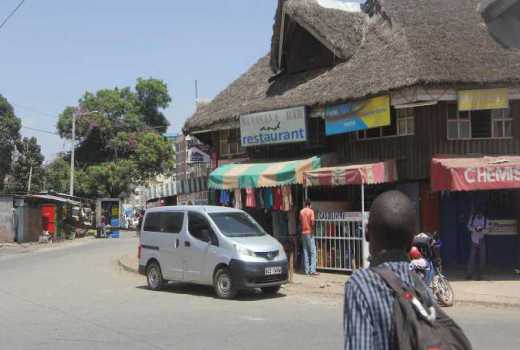 A first-time visitor to Sana Sana shopping centre, located a few metres off Mombasa Road in the South B will instantly feel the welcoming environment of the quiet estate.
But those who know the small centre well will tell you a different of story. They will tell you of residents who live in fear of muggings and criminal activities in broad daylight. Cases of attacks on shop operators by gun-toting robbers are common around Sana Sana club.
According to the residents, the robbers do not hesitate to shoot at an individual who fails to cooperate. The fear is so real that few want to talk about it.
"We do not know what you are talking about. No one has ever been attacked here," a young man dismisses us, not lifting his eyes from the shoe he is mending. We make as if to walk away and he calls us back.
"Go and ask those taxi drivers over there. They were there when a young man was robbed and shot," he says.
However, he declines to tell us his name, saying he fears for his life. He says the thugs know everyone at the small shopping centre.
John Mwangi, a taxi operator, says he watched as the thugs attacked a man, only identified as Ndichu, who was carrying a laptop bag.
Suffering in silence
"There was another man in front of him. A man who was holding a gun ordered him to give him his laptop and he obliged. He was allowed to go. Ndichu was asked to hand over his, but he refused. That was when he was shot," Mwangi says.
According to Mary Mwangi, also a taxi operator who took Ndichu to hospital, the victim was shot and left for dead.
"He had bled a lot and we never thought he could make it."
A woman who was attacked only a week ago recounts how residents watched from a distance as she and her husband suffered at the hands of the thugs.
"It all happened so fast we had no time to even check the motorbike's number plate. Passersby just watched as this happened. There was nothing much they could do, I guess," narrates Julian Wanjiru, a resident.
The thugs, who she says appear to be in their 20s, sped off on a motorbike after they snatched the couple's laptop, mobile phones, money, and her handbag.
According to Mwangi, residents have every reason to be afraid.
"I tried saving a lady who was robbed in her M-Pesa stall over there and almost got myself killed. That is why I helplessly watch from a distance when such attacks happen," Mwangi says.
Blaming slums
Residents say that so far, at least three M-Pesa shops less than 20 metres apart have been robbed and their owners have fled. Maureen Murigi, an M-Pesa attendant, says she took over the stall from a woman who was robbed of Sh30,000 by armed men on a motorbike.
"The thugs don't care whether it is day or night. They know people will do nothing," Ms Murigi says.
The residents blame the increase in crime to the area's proximity to slums such as Fuata Nyayo, Marigoine, and Mukuru Kayaba. However, the area member of county assembly, Waithera Chege, said criminals from other places come to steal from South B residents.
"From intelligence gathered, we have established that those who come to steal in South B on motorbikes come from other places including Huruma and Jogoo Road," Ms Chege said.