Police investigate shooting of female fan at Wizkid concert in Nairobi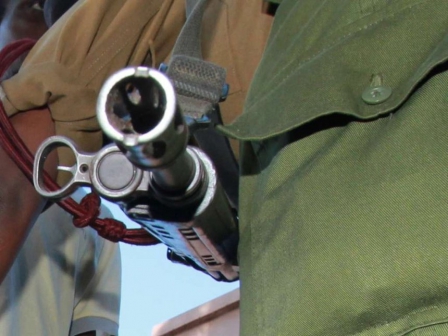 Police authorities are investigating an incident in which a female fan was shot and injured during a concert staged by Nigerian musician Wizkid.
Ann Wairimu, 23 and a student in a local university was shot in the hand and left thigh which fractured. She is admitted in hospital after the shooting incident that happened outside the Kenyatta International Convention Centre (KICC) Sunday morning.
Police claim the fan was shot and wounded after her driver grabbed an AK 47 rifle that the shooting officer had.
According to police, a team of officers assigned to cover the event were clearing traffic along City Hall when the incident happened. The officer involved in the shooting told his seniors he had confronted the driver where Wairimu was and ordered him to clear the road. But the driver allegedly grabbed the gun by his nozzle and extended his hand to the trigger which caused the shooting.
But the driver denied the claims and said the officer went to where he had parked and was ready to leave with Wairimu in the passenger seat and shot at them unprovoked.
After the shooting, the driver sped off to hospital with the woman bleeding in a bid to save her life. Other pedestrians who witnessed the incident confronted the officer involved and demanded to know why he had shot the woman.
One witness shot a video of the shooting officer leaving the place while shouting at him demanding to know why he had to shoot the victim.
The clip was uploaded online and has since generated reaction with calls for investigations and action.
Some people can be heard telling him to kill all of them if that is what his job is all about.
The man asks him to go and record a statement at a nearby police station but he refuses and warns him that he (the officer) will also kill him.
The officer vanished towards Uhuru Park. Some of those involved in the shouting were later detained and released by fellow police officers who accused them of inciting the public against them (police).
Central head of DCI Seroney Kiberenge said they are investigating the shooting incident with an aim of taking action.
"It is true someone was shot and we are on the case to know the circumstances," said Kiberenge.
The Independent Policing Oversight Authority (IPOA) wants witnesses to the incident to provide information for them to take action.
"IPOA calls upon witnesses to an alleged shooting incident where a police officer was caught on video walking away after shooting a lady," read part of a tweet the authority posted.
Witnesses said there were many fans scrambling to get into the venue even if it was late when the incident happened. The victim is admitted in hospital in a stable condition.