Kidero asks for Senate's help over Sh72b debt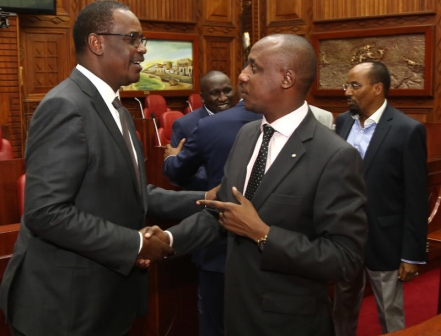 A dispute between the Nairobi City County government and the State over a Sh72 billion debt is now before the Senate.
Nairobi Governor Evans Kidero Thursday appeared before the Senate Finance Committee, where he was asked to shed light on the debts owed to the county by the National Government.
Governor Kidero narrated to members of the Mandera Senator Billow Kerrow-led committee how all efforts to recover the billions from the Government and State corporations has hit a dead end, adding that services in Nairobi have been paralysed because of the debts. The Department of Defence owes the county the largest amount - Sh61.50 billion - for its land in Embakasi.
Other debtors include the Kenya Broadcasting Corporation (Sh2.67 billion), the Kenya Culture Centre (Sh1.48 billion), the Kenya Railway Corporation (221.3 million), and the National Assembly (48.66 million).
"We have raised the matter with the highest office in the land. We write notices every month, but we have not received any payment. The Senate, as a custodian of the counties, should help us recover the debts because we cannot auction the property of the State.
"The county is currently facing cash flow problems and is unable to meet its financial obligations, which include payment of salaries," explained Dr Kidero.