Gambling is Kenya's next big scandal, Raila Odinga now cautions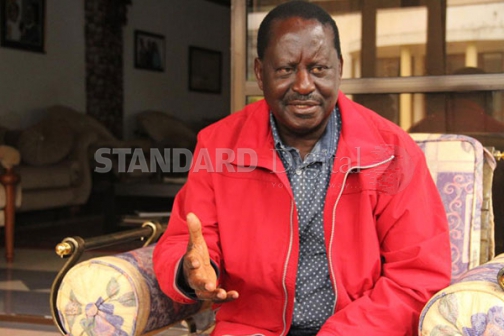 NAIROBI: The battle for billions of shillings in Kenya's vibrant gambling industry has taken a new twist.
By close of business yesterday, several betting companies were privately but vigorously lobbying MPs in an apparent bid to control the outcome of an initiative by the legislators to regulate the industry.
And former Prime Minister Raila Odinga weighed in on the matter, terming gambling "a hustler philosophy. . . the next big scandal".
Speaking exclusively to The Standard on Saturday from his Nairobi home, Raila blamed runway gambling on the glorification of "hustler philosophy" which extols quick primitive accumulation of wealth at the expense of other values. He said the hustler philosophy cannot grow the country but would instead kill the economy and impoverish millions while creating only a handful of hustlers.
Intricate web
He claimed senior people in the Jubilee administration are "deeply involved" in sponsoring creation of gambling monopoly, and in allegedly shipping the loot out of the country.
"If you got an average of six million people betting an average of Sh100 a day, that's about Sh600 million. It's no wonder they are able to buy stake in Hull City and buy kits for Southampton and Arsenal. It is no wonder money is being poured on our (CORD) leaders to sway them into Jubilee. We want proper regulation to make the industry competitive, ensure taxes are paid and our people are shielded from getting addicted to gambling," he said.
Sportpesa, which signed a sponsorship deal with Hull City, has disputed the Sh6 billion figure. The betting company said in a paid-up advertisement in local dailies that the sponsorship amounts to £3 million per year (Sh400 million) for a period of three years.
"The sponsorship amount is £3 million per year. The sponsorship amount and any other international sponsorships are based on revenue projections from the international business," reads the statement.
Betting firms and other interest groups, we established, are pushing for reconstitution of the parliamentary select committee to have friendly MPs sit in the team. Even as betting companies fight to protect their interests, MPs are fighting for membership in the parliamentary committee that would develop a policy framework on betting which would be considered by the entire House.
The membership of the committee has now risen from 11 to 13 after legislators Asman Kamama and Badi Twalib were included.
This happened even as details of the intricate web behind the current clamour began to emerge. At the centre of it are new entrants in the market who feel other betting companies have dominated the industry to the exclusion of newcomers.
They believe regulations which are stringent on dormant firms would provide them a catch-up opportunity. Prominent personalities both in government and opposition are behind some new market entrants.
"This thing will explode. It will be fireworks on Tuesday. There is a lot of money in circulation. Gambling operators want their people in the committee, others want their competitors who are making a lot of money punished. Some MPs want to be included in the committee because they think there is money to be made. If you want to know, some people are prepared to steer the matter in the way investigations on the pyramid scheme was done. Well, there was a committee that investigated that scheme, what happened to the report? There are so many interests," said a senior MP who wished not to be named.
Gambling has in recent days grown into a multi-billion shillings industry in Kenya, generating deep controversies.
It has taken its fair share of blame in commercial immorality, suicide cases, divorce, increased insecurity and general degradation of society values as people seek easy wealth.
On Thursday, National Assembly Minority Leader Francis Nyenze caused a storm in Parliament when he said the 13-member committee had been hurriedly put together. He termed the formation of the committee "suspicious" and went ahead to say he "smelt a rat".
"I have seen a lot of interests in this motion. Surprisingly, something that can be handled by our departmental committee is now to be handled by a select team. There are interests here," he said.
Nyenze was the chairman of the taskforce that in 2009 investigated the collapse of pyramid schemes where Kenyans were duped into losing billions of shillings.
In the current storm, there are reports to the effect that a Bill on regulation of gambling had been submitted to the House Business Committee. But Benjamin Lang'at, the chairman of the parliamentary committee on Finance, denied knowledge of such Bill.
"My committee has not submitted anything like that to the House Business Committee. That is farfetched," said Lang'at.
New regulations
But The Standard on Saturday independently established that a Bill seeking to introduce new regulations in the betting industry was published on June 11, 2015.
The National Treasury Bill, Betting, Lotteries and Gaming (Amendment) Act signed by Leader of Majority Aden Duale was published and submitted to the departmental committee on Finance.
"That was a National Treasury Bill and is set to go for a second reading," said Duale. On Thursday, Muhoroni MP James Oyoo said the manner in which the committee had been constituted was suspicious and called for reconstitution of the same.
But Duale termed the allegations around composition of the committee as "sideshows" by people who are opposed to regulation of the betting industry.
"The Gaming Law in this country needs to be reviewed and reinforced. By its very nature, gambling has many incentives that at times attract deceitful, dishonest and disorderly conduct from operators. Gambling is a demerit good and, as is the practice worldwide, demerit goods are subject to heavy taxation or direct control to reduce consumption because of their potential harm to the consumers," said Duale.
Deputy Minority Leader Jakoyo Midiwo said there are forces at play whose only objective is to scuttle a bid to regulate the betting industry.
"We are talking about people minting billions of shillings from poor people. As we try to protect Kenyans, we are aware that the beneficiaries of these schemes will want to fight back," he said.
Fresh battle over next IEBC chiefs
The battle for selection of new Independent Electoral and Boundaries Commission has started in earnest with CORD leader Raila Odinga spelling out terms for recruitment of the team.