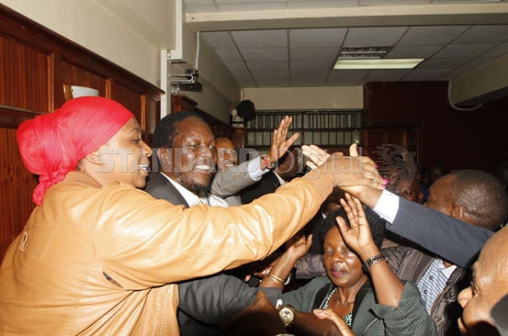 NAIROBI: There was drama at Milimani Law Courts as eight MPs and their supporters burst into song and dance following a decision to grant them bail.
MPs Moses Kuria, Junet Mohamed, Ferdinand Waititu and Senator Johnstone Muthama held hands as they danced along to the popular 'Bado Mapambano' tune that has become synonymous with political rallies.
They also sung 'hata wakinifunga, sitarudi nyuma, hata wanipige mateke, sitarudi nyuma'.
As soon as Chief Magistrate Daniel Ogembo stepped out after delivering the ruling, the MPs and their supporters -- mostly from the CORD coalition -- burst into song and dance.
They turned the court room into a dance hall as their supporters hurriedly processed bail.
Read More
The MPs put aside their their political differences to celebrate their release, with Kakamega Senator Bonny Khalwale leading the songs.
Senior Counsel Dr John Khaminwa had urged the magistrate to allow the eight MPs to settle the matter out of court since they had shared the "same roof" while in custody.
"This country is bigger than us and we can sort out our differences amicably and arrive at a solution," Khaminwa said. Since the eight lawmakers were now friends, he said, nothing could stop them from reconciling other than a lengthy trial.
Khaminwa further asked the MPs to observe the rule of law and respect for courts at all time and learn to restrain their supporters from engaging in acts that breach the law.
Before delivering his ruling, Ogembo also took his time to ask the MPs to desist from acts that can plunge the country into chaos.
"Other than cash bail or bond deposited in court for your release, you must also ask yourselves where we are taking our country," Ogembo said.
When the the magistrate took a break, the MPs pledged to forgive each other. Muthama and Kuria were overheard pledging to bury the hatchet.
All the eight MPs had been released by 6pm.
Yesterday, security at the Milimani Law Courts was heightened as the eight MPs and their supporters awaited the hearing of their cases.
Anti-riot police had formed a ring around the court room long before day break owing to the sensitivity of the cases.
The anti-riot police were served their breakfast at the court's parking yard as early as 6.45am in readiness for the day's activities.
Due to fear of looting, most businesses around the courts remained closed - even small traders who sell their wares right outside the courts stayed away. Those who entered the courts compound were not allowed to leave until the case was over.
On standby were two anti-riot police vehicles over fears that CORD and Jubilee supporters may clash.
The usually busy courts were a no-go zone for ordinary people as police took over from Lavington Security Guards. Most relatives and friends of the MPs were locked out of the premises.
At one point Lawyer Evans Ondieki had a bitter exchange with the police when they barred him and his clerk from entering the premises. He was finally let in after producing his national identity card.
"I am an officer of this court and that alone identifies me. We should not be treated as strangers yet we are here daily representing our clients," said Mr Ondieki.
Lawyers and members of the public whose cases were scheduled for yesterday were also blocked from accessing the courts. Chief Magistrate Daniel Ogembo who was handling the MPs case was also forced to adjourn all other cases he was handling.
Journalists who had not carried their Press cards were locked out, with a number of judges and magistrates forced to adjourn their cases.