Nairobi: Raging waters in flooded river carry away two Kangemi pupils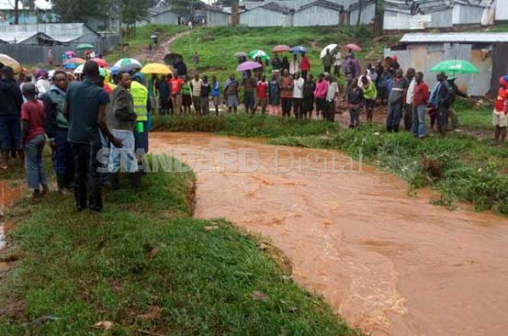 Two pupils drowned yesterday morning as they attempted to clean their shoes next to a flooded river in Nairobi. They were on their way to school.
Peninah Ismael, 13, and Mercy Wambua, 12, pupils at Kanyarosa Self-Help Primary School, were swept away by a flooded river in Kangemi slum.
Dagoretti OCPD Rashid Mohamed and the director of the school James Mutesi confirmed the incident.
The two pupils were among a group that had walked down a muddy road on their way to school when they stopped to clean their shoes.
As soon as they were swept away, their friends raised the alarm. A group of locals rushed to the scene in an effort to save them.
The body of Peninah was recovered while that of Mercy was yet to be found by the time of going to press.
"Efforts are being made to retrieve the body, assuming it has not been swept down stream and far away," said Dagoretti OCPD.
The river had swollen following a heavy downpour that was experienced in Nairobi on Wednesday night.
Peninah's body was taken to City Mortuary.
Meanwhile, hundreds of passengers were stranded yesterday morning as train services on the Syokimau route were suspended due to network failure between the control room and other stations.
Computer error
Kenya Railways said there was a computer error that led to the suspension. The passengers were advised to seek alternative means to their destinations, leading to a transport crisis.
There was a heavy traffic jam along Mombasa Road for hours yesterday.
And at least 30 more families have been displaced by floods in Namanjalala and Maridadi in Trans Nzoia County. About 1,200 people had been displaced in the areas last week.
Rains in the region have rendered close to 350 families homeless after their houses were submerged by raging waters from River Sabwani, which burst its banks nearly three weeks ago.
Displaced victims who are in dire need of humanitarian support have urged the Government and other well-wishers to assist them.
Last week, the County Government of Trans Nzoia donated Sh5 million worth of foodstuffs, clothes, mattresses and utensils among other aid material to the victims.
But Deputy Governor Stanley Tarus said the amount, which is part of the fund earmarked for emergencies in the county, was not sufficient to cater for the high number of victims.
Dr Tarus said the number of displaced families could rise as the rains continue to pound the region and challenged the national government to release the funds set aside for mitigating effects of El Nino.
He said the county administration was already working in liaison with the Kenya Red Cross to mitigate the effects of the heavy rains.