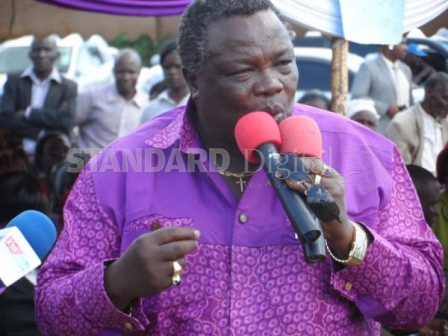 The Central Organisation of Trade Unions (Cotu) wants 40 per cent pay increase for Kenyan workers.
Cotu Secretary General Francis Atwoli (pictured) complained that some individuals are stealing public money while workers were languishing in poverty.
"The country is losing billions of shillings in individuals' pockets while Kenyan workers who are living in hardship are struggling to make ends meet. We are willing to work with the Government but they should be ready to listen to our woes and respect workers," said Atwoli.
He said corruption was rampant in the country, adding that the money lost through corruption could otherwise benefit the country in many ways. "I applaud President Uhuru Kenyatta for his efforts in the fight against corruption. When money is stolen by corrupt individuals, stand with us (the President) and we will help you chase the thieves away," Atwoli said. Atwoli, who invited President Kenyatta to the forthcoming Labour Day celebrations, said workers are the leading taxpayer but they have been ignored due to bad advice.
He called on Christians to pray for the nation and urged corrupt leaders to confess their sins instead of standing at the pulpit and addressing congregations. He said: "We must go to church all the time and not during Easter and Christmas celebrations only, and pray for our nation.
Read More
"Christians should go to church, and Muslims to mosques. People can also pray with their families but not in political rallies. Politicians in prayer rallies have their own agenda and God will not be remembered."
The secretary general said the Government should improve the houses of police officers because they work hard to ensure the country is safe. On education, he said Kenya should not introduce a new system of education and noted that the current curriculum should instead be revised.
"We should remain with the current 8-4-4 system and instead revise the curriculum," said Atwoli.