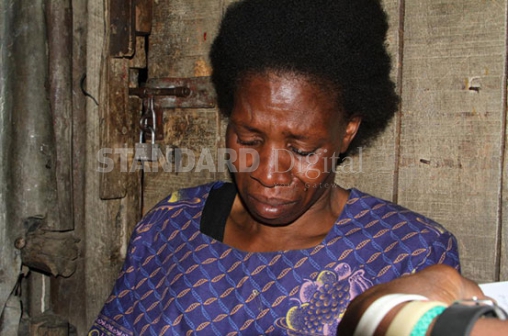 NAIROBI: A woman whose daughter was killed has claimed police were paid to have her eliminated.
Evaline Nafula said Administration Police at Fuata Nyayo sub-chief camp in Nairobi were paid Sh2,000 by her daughter's hairdresser identified as Emily, to 'work' on her after framing her for stealing her phone.
The hairdresser, who has since gone into hiding, admitted having paid the police. She claims they were to retrieve the phone, not to kill the girl.
Mercy Nanjala, 25, is said to have been frogmarched by an elder to the sub-chief's camp on March 8 to solve the case on the phone only to be returned to her mother's house in a vegetative state.
A neighbour then hired a taxi to rush her to Mbagathi Hospital, where she died.
"The hospital said the doctor-in-charge had to give the go-ahead for treatment to be administered. All they did was put her on drips," said Nanjala's mother. The darkness in her one-room house in Fuata Nyayo slum yesterday reflected the sombre mood that had engulfed her family as she described the ordeal. "Her body had turned dark on one side from her head down to her ribs. One of her eyes had been gorged out and her tongue was hanging out," said Nafula.
Nafula added the only exhibits they had were her daughter's inner wear that were soaked in blood. She added the exhibits were snatched from her by an officer, who claimed they were needed for investigations. "What investigations yet they have not even come to see us? They even chased us out of the postmortem room at City Mortuary and no one has communicated to us about the results. I know my daughter was raped," said Nafula.
It is alleged that on the fateful day, Phyllis, the deceased's sister, was made to wipe her sisters "mess" at the AP camp, where the ordeal had happened. "When she arrived at the camp, she was made to mop the mini cell twice to clean out the evidence. The police kept telling her to drag her sister outside to get some sunlight as then she would have strength to walk home on her own. It was utterly inhumane," she said amid sobs.
POSTMORTEM RESULTS
However, Nanjala never walked again. She was put on a motorcycle to her mother's house and when things got worse, she was sent to Mbagathi, where she passed on.
"I carried her on my back. She could not walk, talk or open her eyes. Her clothes were wet from a mixture of urine and blood," said a neighbour and a family friend, Irene Amagove.
According to the office of the sub-county AP commandant John Macharia, it was not the first time Nanjala was found in the wrong: "Again, it is procedural that when the community is baying for your blood, we have to detain you until the area is calm, which was the scenario. Nevertheless, the matter is under investigation and all the officers who were on duty have recorded statements with the CID and Independent Police and Oversight Authority," said Mr Macharia.
Area OCPD Nehemiah Langat said once the results of the postmortem are presented to him, "the truth will come out and those responsible will face the music."
However, according to text messages seen by The Standard, there was cold war between Nanjala and her salonist. In one of the texts, the woman is threatening Nanjala's friend, Amagove, demanding to know if she also steals husbands and phones like her friend did.
The salonist is said to have also been sending threatening messages to Nanjala's mother, who now claims her life is in danger.