Kenya's Media asks Senate to reject draft law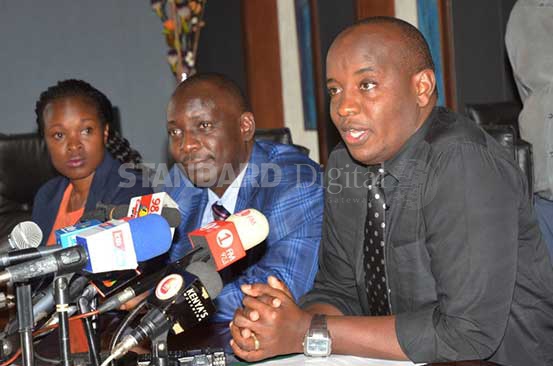 NAIROBI: The media has asked the Senate to reject the draconian bill passed by the National Assembly on Wednesday.
The Kenya Editors Guild, Kenya Union of Journalists and Kenya Correspondents Association asked the Senate to reject the restrictive provisions that would interfere with the freedom of the media.
"We urge Senators to restore sanity by proving themselves the voice of reason in the country's legislative process. The Senate is the ultimate keeper of conscience of the nation. We expect the Senate to live up to this reputation," the statement partly read.
The National Assembly passed the bill despite mover Adan Keynan (Eldas) seeking to delete Clause 27, which forces journalists to seek permission from Parliament before publishing its proceedings or those of any of its committees and Clause 34, which introduces the offences of defamation and 'scandalous libel' on Parliament.
Clause 27 reads:" A person shall not broadcast, televise or otherwise transmit by electronic means the proceedings of a House or a committee of Parliament or any part of those proceedings except by order or under the authority of relevant speaker or chairperson of a committee of Parliament..."
It emerged that not only was Mr Keynan asked to drop the contentious proposed law, media stakeholders had met National Assembly Speaker Justin Muturi and some of the top political leaders four times to have the clauses in the Parliamentary Powers and Privileges Bill, 2014, deleted. The meetings bore no fruit.
UNCONSTITUTIONAL LAWS
The statement read by Editors Guild Chairman Linus Kaikai continued:" The provisions are so draconian and altogether unconstitutional that a simple right to information will land journalists and the public in jail if they are deemed to have contravened patently unconstitutional laws."
Editors Guild vice chairman, who is also Standard Group's digital editor David Ohito, said that media players will have to move to court if the bill becomes law. "We have been in this war. We shall fight on the airwaves, social media and in the corridors of justice. We are in for a long fight," Mr Ohito said.
According to the bill, a person who contravenes the provisions will be fined Sh500,000 or serve a two-year jail term or both.
"Some of the members of the House have been caught with their hands in the public purse, including filing false mileage claims of up to Sh2 million a month per individual. Many corporations and business people have made complaints of committee members demanding bribes in the tens of millions of shillings," they noted.
This is the fourth time in slightly above two years the 11th Parliament has tried to muzzle the media.
Legislators beat hasty retreat on media bill
Fear of a backlash from courts, the Senate and the public yesterday forced the National Assembly into a hasty retreat over a bill that seeks to imperil freedom of the media and cushion MPs against internal corruption probes.