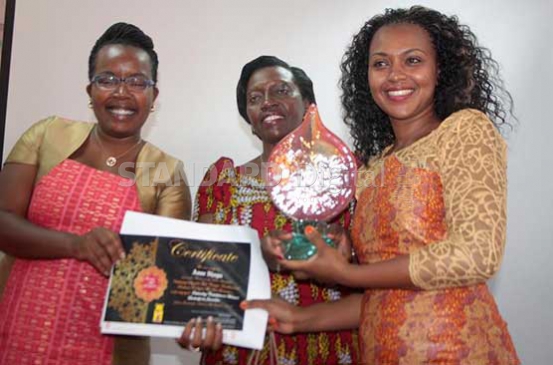 NAIROBI: Radio Maisha presenter Anne Njogu has won an award for her outstanding contribution in media.
Ms Njogu bagged the Women in the Red Leadership Award for being an outstanding contributor to women's leadership through journalism.
The popular host of Staarabika, a mid-morning show on Radio Maisha, was commended for taking a stand and reporting stories from across the country on her 'Women in the Red' feature.
The feature is a series of 10 portraits of women and girls from across Kenya who are making a significant contribution in business, technology, agriculture, community affairs and other areas where women are traditionally underrepresented.
The feature was part of Anne's weekly show, which focuses on women every Wednesday.
Speaking after the awards ceremony in Nairobi, the radio host expressed her joy saying the award was a motivation to her.
"I feel more challenged to tell more stories. I went to various counties to tell stories of women who are making tremendous change in their communities but no one has recognised them," she said.
Other nominees for the same award were Lilian Kaivilu, a business and development journalist and blogger, Violet Otindo, a seasoned journalist with K24 and Mina Reeve, co-founder of Nai City Young Entrepreneurs.
The awards ceremony was organised by Women and Girls Lead Kenya in honour of the International Day of the Girl Child, which was marked yesterday.