Governor Evans Kidero's 10 ministers to get own streets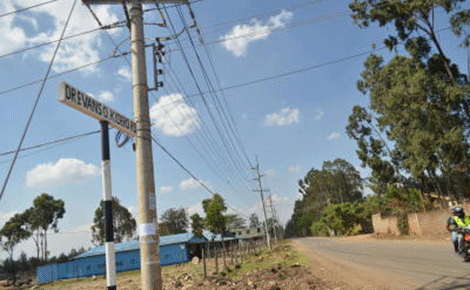 Dr. Evans O Kidero road.
Kidero is not only a household name in Nairobi, but a street name as well.
Nairobians on this road in Karen that links Lang'ata Road to Bomas of Kenya—near Galleria Mall—will now have a fixed address.
But it appears the naming of the road has not gone down well with many Nairobians. Kenyans on social media expressed outrage soon after the Dr Evans Kidero Road sign was put up, with some terming the naming of the street as political.
However, City Hall is furious that the gesture to honour the "popular" governor has been criticised by Nairobians. The county government has told The Nairobian that it will continue naming city roads after county officials and other prominent personalities.
"The governor was elected by popular vote. What is wrong in naming one road after him? Indeed, I am intending to honour the first cabinet of Governor Kidero by naming roads after them and if I can't do that, I can as well honour (late) Prof Wangari Maathai with a road or Nelson Mandela. So I have just started," transport secretary Evans Ondieki said.
Ondieki said he "acted within the law" and will not hesitate to name other people after city roads, including the county executive members and national and international heroes.
"It is everyone's right to express their opinions freely without politicising the process, but you have to respect my bold and courageous decisions. Others just talk, whereas I act, since actions speak louder than words. Those opposing the idea don't live there and never voted for us, so I am happy that I decided to let people criticise my action," he told The Nairobian.
But even as Ondieki was responding to the backlash on social media, it emerged that City Hall was unaware of the decision.
The defunct city council had powers to assign names to roads. Although, the current county governments may have the same functions, the criteria to be followed is not clear.
According to a top County Assembly official, street naming is not enshrined in the County Governments Act but is undertaken by a county cabinet committee.
Kinuthia Wamwangi, Chairman of the Transition Authority, told The Nairobian that street naming is an area that has not been looked at keenly in light of the current Constitution.
Meanwhile, Ondieki has insisted he will honour several Kenyans, despite the backlash.
Behavioural change only way to halt road carnage
Separately in Nyeri and Vihiga counties this week, traffic policemen had to literally flee from angry locals who accused the officers of soliciting for bribes from motorists and consequently paralysing business at centres close to where they set up mobile traffic courts.