Messy traffic slows down Kenya's iconic superhighway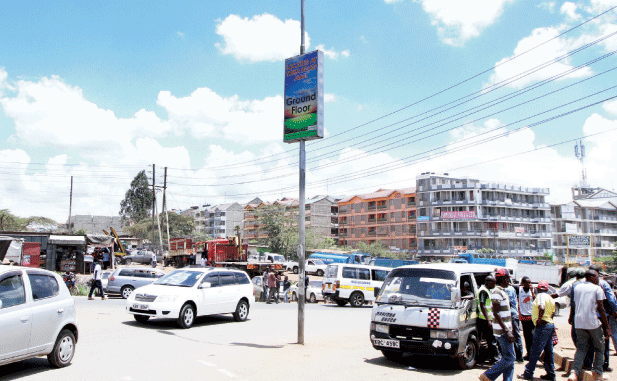 This lamppost is a dangerous obstacle in the middle of the road at Roysambu. [PHOTO: MBUGUA KIBERA/ STANDARD]
By PATRICK MATHANGANI and JOE KIARIE
Nairobi, Kenya: As motorists leave Kamiti Road to join Thika Superhighway at Roysambu, an unlikely barrier confronts them.
Standing smack on the tarmac is a long post, complete with a street lamp and an advertising board. It is about six metres high.
Those who see it for the first time are often startled, for one can hardly understand why such a dangerous obstacle would be erected on the road. It has been there for several months now and luckily, no motorist has smashed into it yet.
"It will kill someone," says Peter Chege, a driver who operates a minibus matatu on route 44.
Absurd as it is, the lamppost is emblematic of the woes on the superhighway, trumpeted by authorities as one of its kind in East Africa but faulted for a long list of design and structural problems.
Citing designs that take speeding drivers into each other's path, motorists we spoke to describe driving on the road as a risky affair.
With a high accident rate on Kenya's roads, the Superhighway is another addition to an unwanted evil responsible for terminating thousands of lives annually.
The problem of the lamppost on the tarmac arose when the nearby Thika Road Mall was built. There was no way for drivers leaving the mall to join the superhighway unless one drove all the way to Zimmerman and back.
Speed bumps
The solution was to construct a maze of roads to lead vehicles into and out of the mall. In this process, a small roundabout was built and the road expanded into space where the post was. The contractor did not remove it and it has stood there since.
Streetlights on the highway went off a long time ago, some bumps have not been removed, and footbridges lack in areas busy with pedestrians.
Many sections lack deceleration or acceleration lanes, and some openings serve as both entries and exits into the freeway and service lanes. The areas are clearly marked with white paint, which direct motorists into each other's paths.
This is the case when driving from the underpass past Pangani towards the city centre, near Guru Nanak Hospital. It has been identified as a major cause of traffic snarl-ups that at times stretch as far as Muthaiga.
Motorists Association of Kenya chairman Peter Murima describes the design-mix-up at Pangani a recipe for disaster.
"It is dangerous when a road design allows vehicles to simultaneously join an expressway from a service lane and vice versa," he explains.
He adds: "This has not only been causing traffic jams but can equally lead to a disastrous vehicle pile-up."
Even with the knowledge that the road is wide with up to 12 lanes in some sections, those responsible have left pedestrians at the mercy of speeding drivers.
For example, there are no footbridges at the entrance to Mathare, Kenya School of Monetary Studies (KSMS) and at Roasters, all busy sections for pedestrians.
"We lost three of our regular customers. They were hit when attempting to cross the road," says Bryan Ochieng, who operates a motorbike taxi near KSMS.
Like at Roasters, the area has a zebra crossing that is hardly of any help on a highway.
Ochieng and his colleagues told The Standard on Saturday that speed bumps at the crossing area do not help as vehicles keep smashing into each other when those who do not expect to find bumps suddenly slow down.
Constant jams
"Bumps and pedestrian crossings are not supposed to be anywhere near a freeway," says Murima.
The bumps have been blamed for traffic snarl-ups on the superhighway, especially in the mornings.
With constant jams rocking the superhighway, motorists are increasingly using the rough and dusty route from Kasarani through Baba Dogo to evade it.
Other motorists, especially those from Juja, Thika, Ruiru and adjacent city suburbs prefer to use Kiambu Road and re-join the superhighway at Muthaiga.
The nearby section near KCA University is also a danger spot; it lacks a footbridge despite a high population of students.
But if you thought lack of footbridges is a big deal, wait until you see the one at Castle as you enter Thika town. The bridge takes pedestrians as far as one side of the freeway and ends before they cross the service lane. Those crossing the highway are literally "dropped" in the middle of the road and left to cross the service lane despite oncoming cars.
Acceleration lanes allow vehicles to gain or reduce speed when joining or exiting the freeway. Without them, it means vehicles joining a new lane (at less speed) will find speeding vehicles behind them, a recipe for a disastrous pile-up. These are missing in many areas.
And there are long stretches without bus bays. For instance, there is no bus bay between Pangani and the Central Business District (CBD), which forces matatus to drop passengers on the service lane near Guru Nanak Hospital.
Passengers alighting in Ngara alight on the expressway, exposing themselves to grave danger.
Blocked drainage
During recent rainy seasons, some sections of the road have been heavily flooded, leading to multiple vehicles breakdowns and lengthy traffic snarl-ups. The problem has been blamed on blocked drainage outlets, and in some cases lack of proper channels to drain floodwaters.
Flooding is a serious issue in road designs as it can cause a phenomenon known as "hydroplaning". This is the loss of steering or braking control when a layer of water prevents direct contact between tires and the road, runway, or other surface.
National Transport and Safety Authority chairman Lee Kinyanjui agrees that bumps are the main cause of traffic snarl ups. But he says some of them will not be removed soon.
"It is true we do not need bumps on an expressway; but we have no option but to retain them since some motorists have been literally flying on the road leading to quite a high number of accidents," he explains.
He says more footbridges will be built and the Government will roll out a thorough awareness programme on speed limits and use of footbridges before the bumps can be removed.
"We will prioritise footbridges; we need to add more overpasses. We also want to ensure that even the current footbridges are more user friendly as there have been complaints that they are too steep, especially for expectant women and the disabled," he explains.
Kinyanjui admits there are some structural and maintenance issues on the road but says they will all be fixed in due course.
"There is no way we can allow a Sh30 billion road project to degenerate in just one year. You will see a lot of maintenance and rehabilitation work being undertaken in coming weeks," he adds.
General usability
A maintenance contract recently awarded to Intex-Sinhydro Joint Venture will cover areas such as lighting, vandalised guard rails, blocked drainages, overgrown bushes and ensure general usability of the Superhighway.
Kenya National Highways Authority is still compiling data on key areas that require rectification of structural and design correction but is non-committal on when work would commence.