Retired President Daniel Arap Moi unveils new Imara Daima Railway Station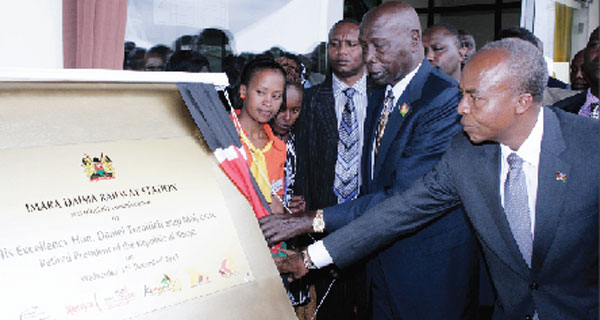 Retired President Daniel arap Moi unveils a plaque when he opened the new Imara Daima Railway station in Nairobi, Wednesday. The opening of the station is part of a series of events to mark [email protected] celebrations. [PHOTO: COLLINS KWEYU/STANDARD]
By JAMES WANZALA
Nairobi, Kenya: Over 2,000 residents who commute daily from Industrial Area, Imara Daima, Embakasi North and Mombasa Road to the Nairobi CBD have a reason to smile.
This follows the commissioning of the Imara Daima Railway Station yesterday by retired President Moi.
The new railway service will also help ease vehicular traffic on the busy Mombasa Road. Imara Daima becomes the third modern digitised rail service to be opened after Syokimau and Makadara railway stations.
The security at the new railway station has been enhanced with installation of CCTV cameras. The station, which will also have a parking space for over 500 cars, has a fully automated ticketing system.
The charges of the train from Imara Daima to the CBD will be Sh100 during peak and Sh80 off-peak for return ticket. Commuters with prepaid cards of up to Sh3,000 will earn 10 per cent bonus.
Kenya Railways acting Managing Director Alfred Matheka said the opening of the three stations signals Kenya Railway's regeneration after eight years of inaction.
Matheka said Kenya Railways is set to modernise the existing metre gauge railway network under the Nairobi Metropolitan masterplan and to build 26 new modern railway stations and lines across the city to areas like Athi River, Thika, Embakasi and Limuru.
"We will also introduce new rolling stock and a new railway line linking Embakasi Railway Station to Jomo Kenyatta International Airport to ensure easy access to the airport," Matheka said.
The Imara Daima Railway Station is part of the wider Nairobi Commuter Rail Project, which is part of the Nairobi Metropolitan Transit Master Plan. The masterplan is designed to provide integrated transport solution for Nairobi County and surrounding suburbs and satellite towns, which will include rail, road, rapid transit bus and metro.
While opening the station, former President Moi asked the Ministry of Transport to come up with more stations to cover all routes. "This is the mode of transport Kenyans should be using because its safer, convenient and faster," Moi said. "This will help save the economy huge amounts of cash it uses to build roads."
Moi also requested Kenya Railways to promote the use of trains to allow for easy movement of goods and services across major towns to save money and time.