Will President Uhuru Kenyatta renege on his word?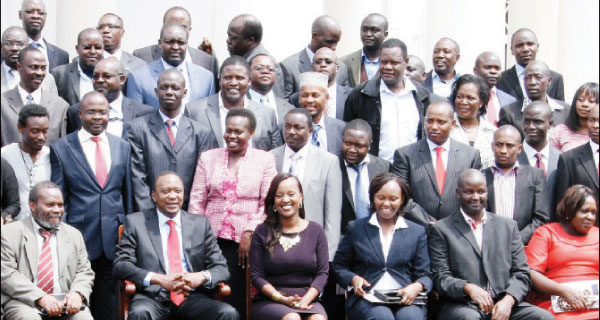 President Uhuru meets editors at State house
By MOSES NJAGIH
and GEOFFREY MOSOKU
"You occupy a special place through which you can guide public debate for the benefit, not just of the media or Government, but the whole country and all citizens. Help us lead our people better, devolve resources and services better, make the education of our children better, provide better healthcare to our people and make agriculture a better enterprise, among other issues".
Those were the words of President Uhuru Kenyatta during a breakfast meeting with Editors Guild and Media Owners Association officials at State House on July 12.
Uhuru and his deputy William Ruto pledged the Jubilee government's commitment to openness, transparency and accountability.
But alas! Today, all eyes are on the President as Kenyans wait to see if he will sign a draconian Bill, hardly two months after he promised to protect Press freedom.
After the National Assembly passed the Kenya Information and Communication (Amendment) Bill, Kenyans, and notably media players, will be waiting to see if Uhuru will approve of the assault on free press.
In July, Uhuru and Ruto assured the media fraternity that their administration would ensure freedom of the Press, saying "a free media is at the heart of true democracy".
Uhuru said the Government would endeavour to facilitate media to effectively support democracy by promoting prudent governance.
"In an ideal world, the media should provide a realm for debate and a lubricant to the effective functioning of democratic processes," the President said.
Public good
On that day, Uhuru said his administration was not interested in Government control of the media, adding that it would be a disservice to the role of the media in nation building.
"What we want is openness and transparency that offers benefits to Kenyans," President Uhuru said.
But the spirit of these promises by Uhuru will be eroded if he proceeds to assent to the controversial Bill, as it would negate what he termed as his wish of having the media as "true partners" in development.
The President said the success of the country's democracy lied in treating information as a public good, to which all citizens have equal rights.
President Kenyatta said: "We can, and we will disagree, but we cannot afford not to work together in mutual respect... As a Government we will try as much as possible to do our bit, but we need you as partners". The President then emphasised that gagging the media would not only be detrimental to their operations, but would greatly hurt the public and their constitutional rights to information.