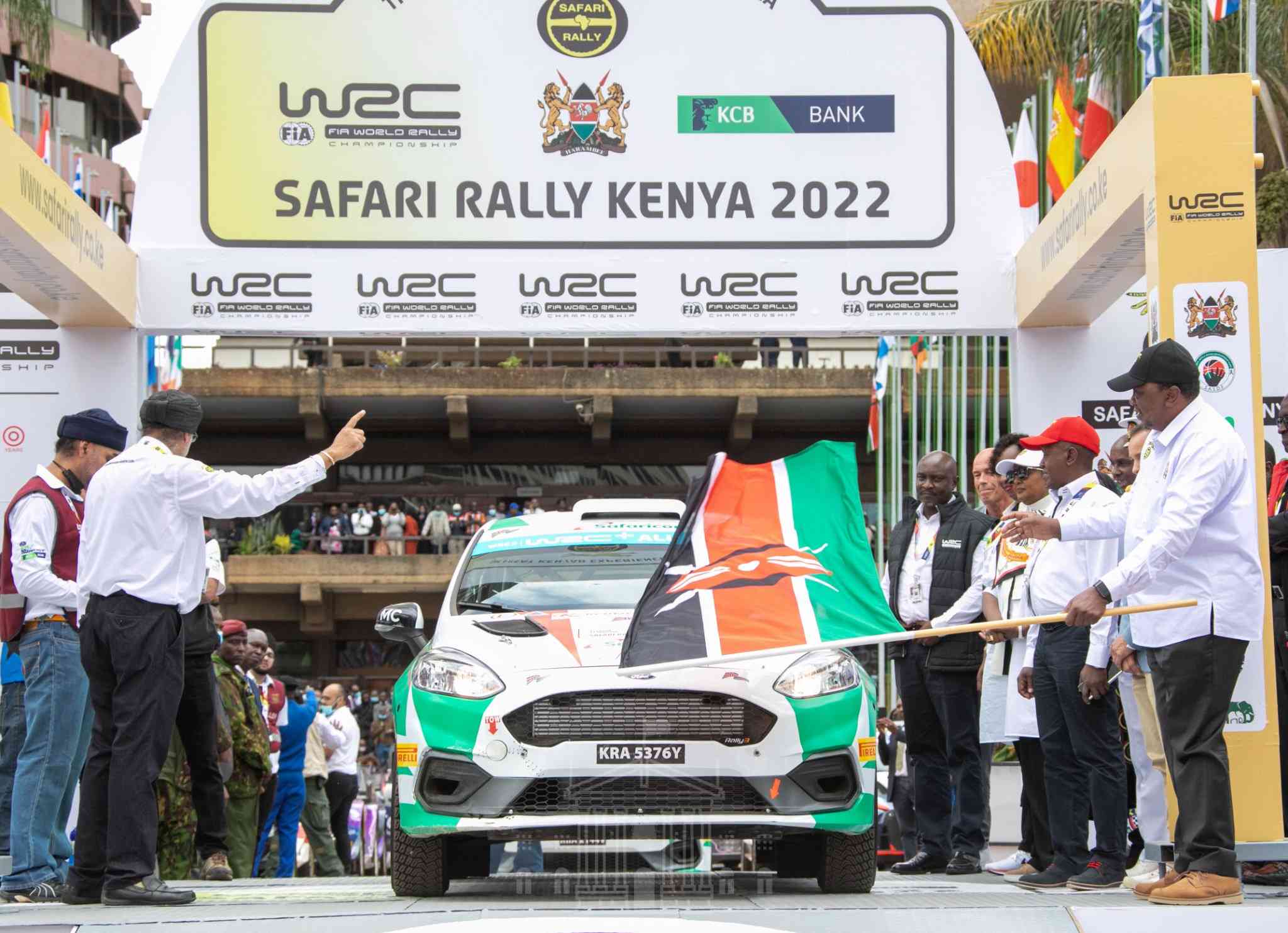 Pomp and fanfare marked the flag-off of the 2022 Safari Rally by His Excellency President Uhuru Kenyatta at the Kenyatta International Convention Centre in Nairobi this afternoon.
First off the ramp was the FIA Rally Star Programme driver McRae Kimathi with his co-driver Mwangi Kioni in an M-Sport Ford Fiesta R3.
Kimathi was hailed by the President for representing the country in the other legs of the global series already held in Europe, writing his name in the annals of history as the first Kenyan to ever complete a rally on snow, in Sweden.
Coming second was the duo of Lioness Rally champion Maxine Wahome with her navigator, Murage Waigwa, in a similar brand of car.
Wahome is among the few women in the gruelling championship that will traverse 19 tough stages in Nairobi and Mombasa.
An all-women crew of Lisa Christoffersen and Pauline Shegu, Urshlla Gomes, the wife of Zambian rally ace Leroy and Isabelle Galmiche, the navigator of former nine-time WRC champion Sebastien Loeb, are the other ladies battling in the competition.
"This event has a special place in our heritage. The competition tells the story of our diversity and splendour. It is tied to the history of our sport in modern Kenya," President Uhuru said.
"I take pride to have led the team that brought the Safari Rally home, after a 19-year hiatus. We feel honoured to be granted the chance to host the event till 2026," the President underlined.
Uhuru said the sport displays resilience, skills and endurance that are gradually attracting millions of local fans to the game.
"It showcases the diversity of our wildlife and the Savannah, Safari Rally unifies all Kenyans against other trials,' he said.
As Kenya is headed for the general elections on August 9, the President urged citizens to use Safari Rally as a vehicle to promote peace.
"From the rally, we learn that our competition is not our enemy, how we run the race is more important than the results," he underscored.
Uhuru noted that the championships attracted 78 million viewers in over 158 countries last season, injecting Sh6 billion in our economy.
"The 2022 contest will be bigger and better, as spectators are already euphoric about the sport in all the counties.
"I want to thank the world governing body FIA for helping Kenya to make the competition a success in Kenya,' the President said.
Sports CS Amina Mohamed thanked the President for facilitating the return of the Safari Rally home after a 19-year hiatus.
"As we hold the championships, we will plant 19 million trees as part of our program to offset the carbon footprint," said Amina.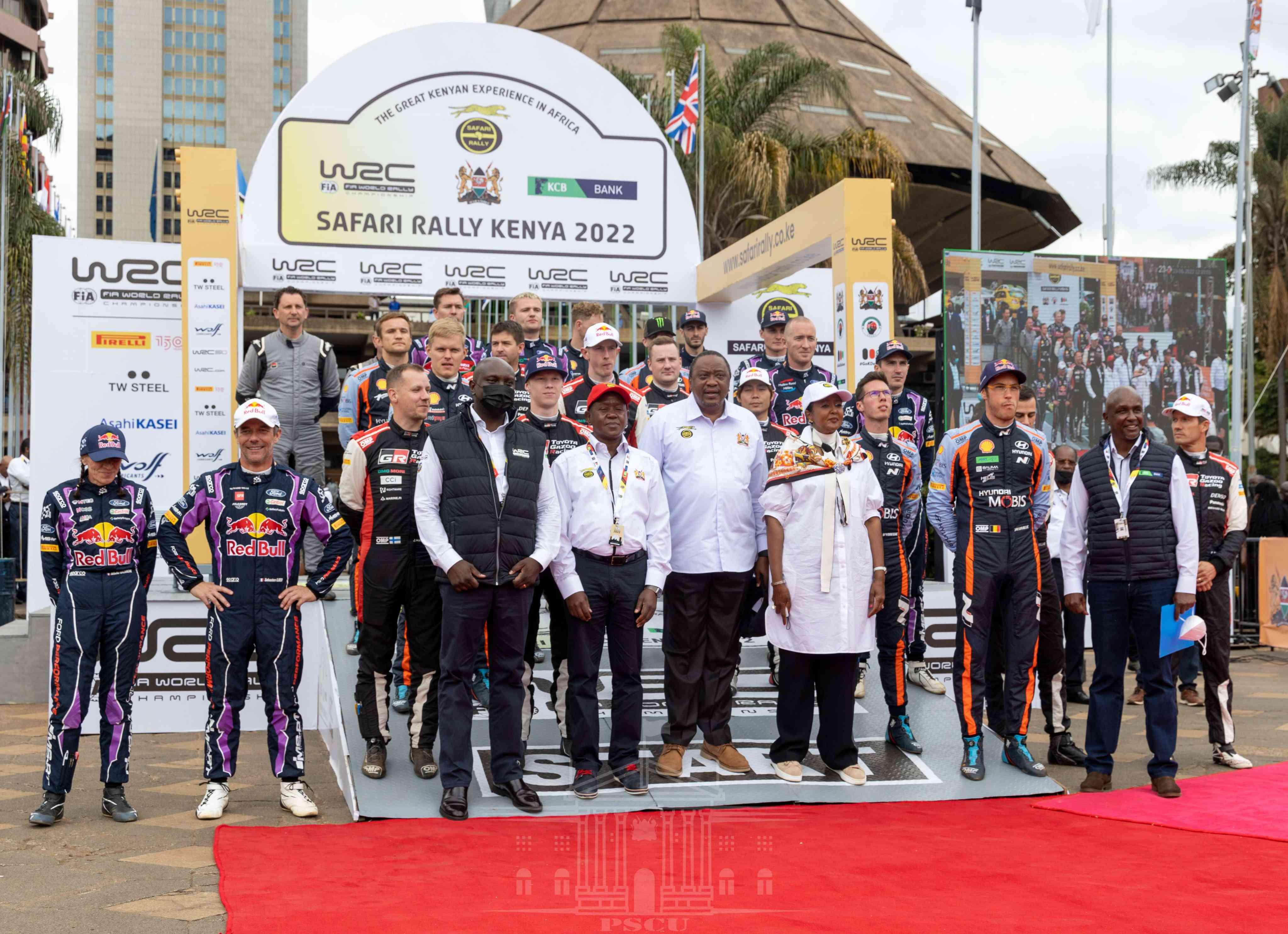 WRC SAFARI RALLY SCHEDULE:
Wednesday 22 June
Shakedown
Thursday, June 23 (1 stage - 4.84km)
Stage 1: Super Special - Kasarani – Start Time: 12: 08 pm – 14:08 pm
Friday, June 24, (6 stages - 129.04km)
Stage 2 to Stage 7 – starts at 6:00 -8:00 am
Saturday, June 25 (6 stages - 150.88km)
Stage 8 to Stage 13 – starts at 6:06 -8:06 am
Sunday, June 26 (6 stages - 82.70km)
Stage 14 to Stage 19 - Final stage start time 12:18– 14:18 pm