French teacher by day, boda boda 'hustler' by night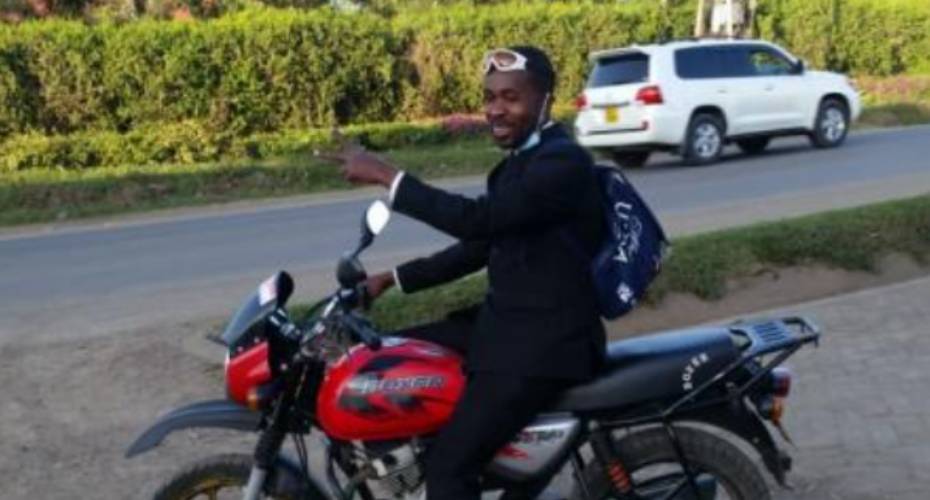 Brian Baraza, like most Kenyans, leads a double life. If you meet him looking dapper in a three-piece, well-tailored, black suit matched with a black tie, you wouldn't guess his side-hustle.
Baraza, a resident of Rongai town in the outskirts of Nairobi, is a teacher of French by day and a boda boda rider by night. During the day, he enjoys the ambience of Olerai School, where he joins other teachers to deal with curious learners. Teaching is Baraza's main hustle.
But when night falls, he ditches fancy suits and formal settings to join noisy adults fighting for that one pillion passenger! Tough job.
Baraza, 37, started teaching in 2003. "I taught both English and French but I chose to follow French after I graduated from Alliance Française," he says, adding that "between 2007 and 2008, I had the privilege to teach in high school."
Currently, he teaches five to seven classes a day. After school, he takes a 10-minute break at home before hitting the road to earn extra coins from the boda boda hustle.
"I leave school at 3:40 pm, go home for 10 minutes then proceed to my other work as a boda boda rider," he tells CityBiz, adding that rest is not a luxury he can afford.
On why he needs the second job, Baraza explains: "The salary range in private schools is always Sh35,000- Sh50,000. After bargaining, we end up with Sh38,000 gross salary and when deductions are made, you pocket Sh31, 000 - Sh34, 000."
"If you have a family where you pay school fees and health cover aside from feeding your household, that money won't be enough," he explains.
Take a quick survey and help us improve our website!
Take a survey
To break even, Baraza purchased three boda bodas. One of them is leased to a rider based in Rongai who pays him Sh400 daily. He operates the second bike, but had to sell the third one when business was low.
Besides seeking to overcome tough economic times, the father of two decided to become a boda boda rider to improve customer care in the industry.
"Most boda guys fail to understand that this is a business and it requires ethics. They do not know that they have to treat people nicely so as to get better deals from the customers," he says, explaining that he makes "at least Sh300-Sh400 every evening from my boda."
Looking back, teacher Baraza says it was a risk worth taking, as "without the boda, I would not have managed. The money I earn as salary was very little and even if I decided to join chamas, it wouldn't have helped much because of accrued debts."
He adds that the little cash from the boda boda hustle helps him settle his debts and takes care of small needs in the house.
"When my salary comes, I use it to plan ahead and not pay bills," Baraza says.
For nine years now, Baraza has tasted both the warmth of French classes and the biting cold nights on the road chasing clients. He started his boda boda hustle in December 2012 after experiencing a bathroom accident.
"While bathing, I slid and broke my toe when it got stuck in an Indian toilet. I got a tendon cut and couldn't walk," Baraza told CityBiz.
Worried, he thought the worst would happen at work because of the injury and he had to think of a solution.
"I used my sacco savings to buy my first boda which I used to commute to school after my injury. Meanwhile, people would ask me to ferry them to different places." With this, he saw an opportunity and has never looked back.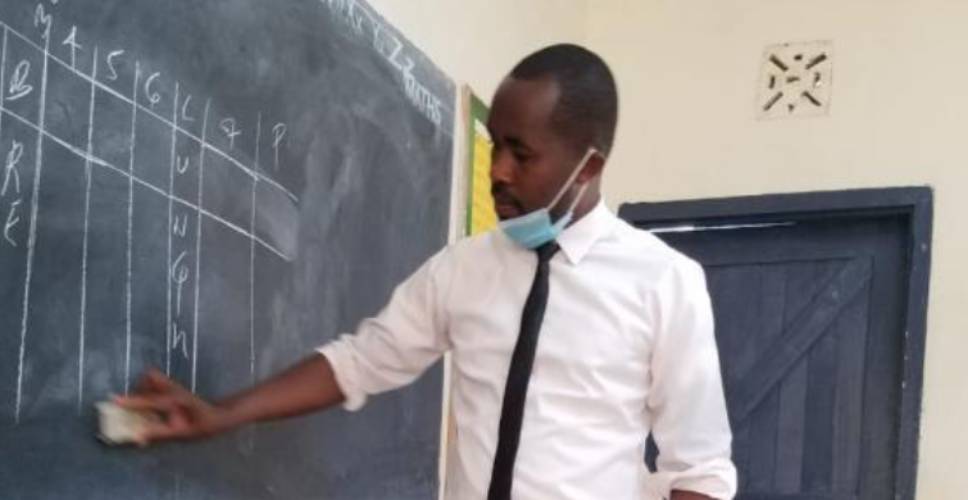 Baraza says that challenges in the boda boda business keep changing.
"Initially, we were dealing with police crackdowns. Now, the business is crowded and the influx in the number of riders means a decrease in cash flow. I don't make a lot of money because many people are in this business," he says.
Meanwhile, at the beginning, Baraza had a hard time juggling work and family.
"My wife did not take it lightly because after school, I am expected to be home with my family enjoying quality time but instead, I was out chasing clients," he says.
Even though his wife eventually understood his game plan, they still had to deal with mistrust and fear of being misunderstood.
To buy the motorbike, Baraza used Sh125,000 from his savings. Service and maintenance of the bike costs Sh1,000 per month.
Ideally, the bike should fetch Sh1,200 a day but he makes half of that because he works part-time.