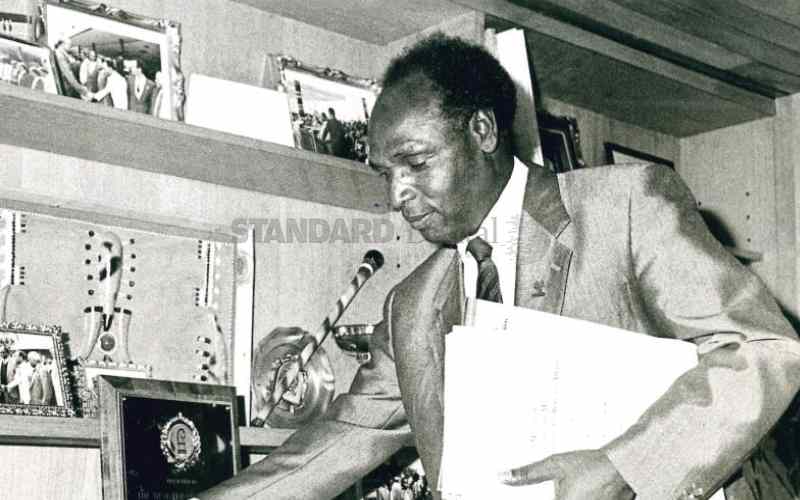 In his autobiography, Troubled But Not Destroyed, Rev David Gitari, who was the Anglican Bishop of Mt Kenya East Diocese, recounted a violent clash between James Njagi Njiru and his political rival, Nahashon Njuno. Gitari claimed Njuno narrowly escaped death when Njiru attempted to shoot him with a pistol in a bar in Kutus Town in Kirinyaga. The two MPs had disagreed over where the district KANU party headquarters should be.
According to Gitari, Njiru found his fellow MP having drinks with colleagues and shot at him, but the bullet missed its target. A frightened Njuno and his friends ran for dear life in every direction. "The matter was investigated by police but to the best of my knowledge, no action was taken against Njiru," wrote Gitari.
A more embarrassing incident occurred sometime later, when the two leaders had a physical confrontation in Parliament. It was 13 October 1981 and both were assistant ministers – Njiru in the Ministry of Health and Njuno in the Ministry of Transport and Communication. The two faced off and even exchanged blows before they were separated by MPs who heard the commotion in the lobby. Njiru ended up in hospital and managed to evoke sympathy from the public when a photograph of him recuperating appeared in the local dailies. He blamed Njuno for ambushing him.
Njuno, on the other hand, went about boasting to the press that Njiru was lucky he (Njuno) had used only his left jab during the fight. Had he used the right, he asserted, Njiru would have been a dead man. The incident elicited sharp reactions from all corners of the country and became the subject of public debate.
President Daniel arap Moi, who was barely three years in power at the time, pardoned the two leaders and asked Minister for Internal Security Godfrey Gitahi (G.G.) Kariuki, to reconcile them. The President seemed to have a soft spot for Njiru – he Njiru's ability to fight political battles and silence KANU critics, and it was time to reward him by creating a special ministry that came to be loathed even by those close to Moi – the Ministry of National Guidance and Political Affairs.
In October 1988, Njiru was re-elected as Kirinyaga KANU Branch Chairman, thereby reaffirming his power. Just the mention of his name was enough make top civil servants in the district tremble. Any Government employees suspected to be close to 'enemies' of the ruling party found themselves in trouble. It was either dismissal or disciplinary action for such individuals
But to the people of Ndia Constituency and Kirinyaga District at large, he was viewed differently. Known for his generosity, he was a darling of the people. Through his ministry, he helped many in his constituency to get Government jobs. Whenever his vehicle was spotted in the village, cheering crowds would rush to welcome their MP and demand that he address them. He was known to be cordial and warm-hearted when dealing with ordinary people in Kirinyaga, but ruthless when fighting those who he perceived as political foes. But he did try to mend fences with people whose paths he had crossed and when he died, many eulogised him as a generous and kind-hearted leader.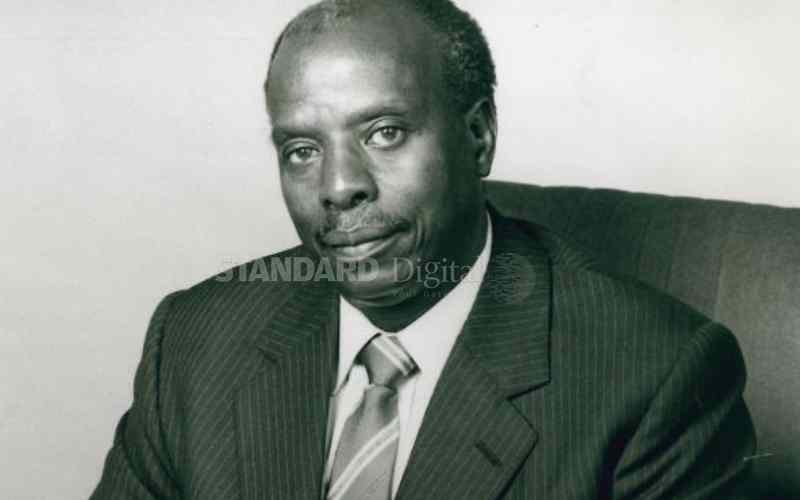 JEREMIAH KIEREINI: Taking the heat at the helm of the civil service
As Permanent Secretary for Defence, Jeremiah Kiereini was supposed to work closely with then Vice President Daniel arap Moi, who at that time chaired the National Security Committee. In 1971, the PS moved into a Government house in Woodley Estate next to the Nairobi Golf Club along Kabarnet Gardens. His next-door neighbour was Moi.
Kiereini would often drop in for a cup of tea at Moi's house, and the VP would similarly visit him and share a meal with his family. They frequently spent time together talking about various issues concerning the country. This friendship would culminate in Moi appointing Kiereini as Head of Civil Service and Secretary to the Cabinet when he became President in 1978 after Mzee Jomo Kenyatta's death.
It was normal for Moi to hire and fire senior Government officials through announcements on the 1pm Kenya Broadcasting Corporation radio news bulletin. The announcement that Kiereini had been appointed to replace Geoffrey Kariithi was made in this manner and presented an embarrassing situation for the former as the two had lunch at the Red Bull Restaurant on the material day. Kiereini knew about the impending announcement but his boss Kariithi did not.
As the two, accompanied by Attorney General James Karugu and Principal of Kenyatta College (later Kenyatta University) Joe Koinange, walked back to their office after lunch, people started congratulating Kiereini – and that's how Kariithi found out that he had been replaced.
The following year Parliament, at Moi's behest, created the position of Chief Secretary, elevating the position of Head of Civil Service to the level of Cabinet Minister. Some Members of Parliament were opposed to the creation of this post, claiming it was too powerful and that the officeholders could misuse it.
"We are lucky that Kiereini is not a power-hungry man. Just think of what would happen if this post was given to someone with greed for power," Busia South MP Peter Okondo said in the House.
Finally, after several unsuccessful attempts, Kiereini was allowed to retire in July 1984. So relieved was he that when the announcement was made over the radio, he was quoted as saying, "That night I slept like a baby."
-Moi Cabinets is published in two volumes by the Kenya Yearbook Editorial Board