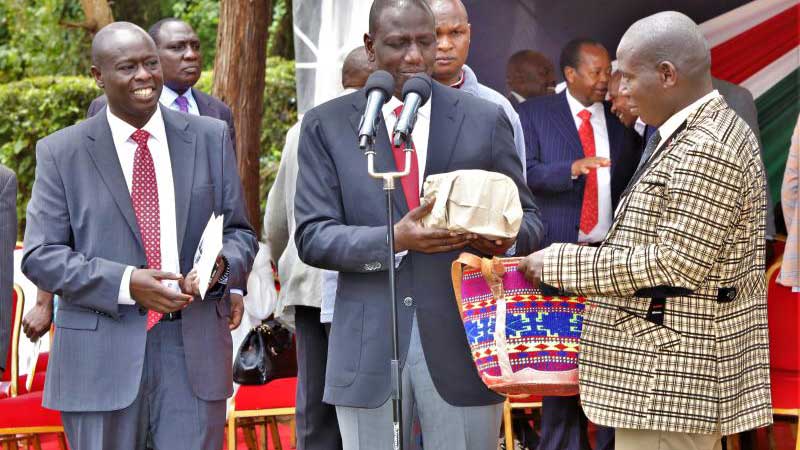 A recent tweet by former Kakamega Senator Boni Khalwale took me by surprise. In it, Dr Khalwale proudly announced he had laid the foundation stone for a hall at the Amalemba Catholic Church. That was unremarkable. Then this stunner followed – Sh500K of the Sh1.3 million raised had come from DP William Ruto. In July, several media reported that Mr Ruto had donated Sh60 million to various harambees in the preceding six months. That staggering amount was eight times Ruto's salary in as many months. Like in Kakamega, Ruto's largesse goes either to churches or schools. This is the question – are churches complicit in receiving odious, possibly illegal, money?
Ruto is a most "generous" giver. On April 6, he reportedly gave Sh15 million to Murang'a High School. On June 9, he gave Sh3 million to Immaculate Primary School in Nanyuki. Barely a month later, he donated Sh5 million to Kairuri Catholic Church in Embu. In May, he gave Sh2 million to Holy Cross Catholic Church in Nakuru. In July, he gave another Sh1 million to Baricho Catholic Church in Kirinyaga through Agriculture Cabinet Secretary Mwangi Kiunjuri. It rains money – the churches might as well call it manna from heaven – wherever Ruto shows up to a fundraiser in God's house of worship. Either Ruto loves God more than all of us or something is seriously wrong.
Morally compelled
I haven't done a forensic audit yet, but much of the loot is directed at Central and Western Kenya, two regions that figure to be pivotal in deciding the 2022 presidential contest. They say the way to a woman's heart is through her stomach. Good food begets many wondrous things.
Ruto figures that he can pry the votes of reluctant electorates in certain regions through the "bribe" known as a harambee donation. But he's targeting their softest spots – the Church and schools. Surely, he calculates, who could be against "generous" giving to God and education? He must believe that those who take his money for God will be morally compelled to vote for him.
Read More
To be sure, Ruto gives to all denominations, although a large share is directed at the Catholic Church. In one of his giving orgies in July in Embu, Bishop Paul Kariuki – who in 2017 barred politicians from campaigning within the Church – heartily welcomed Ruto and his money. In the presence of John Cardinal Njue, his boss, Bishop Kariuki asked Ruto to continue giving. He attacked those politicians who will only start giving in 2022, the election year. He egged them on to "loiter" like Ruto and give now or be banned in 2022. It was a shocking marriage between the Church – with its head in Kenya looking on – and the obscene corruption of political money.
I was raised in the Catholic Church. I remember well its teachings of living a moral life and tending to the flock, especially to the vulnerable, as Pope Francis admonishes. I don't know where Ruto, and other politicians who give gobs of obscene donations to the Church and schools, get the loot.
It certainly isn't from their public known salaries. That's why we need lifestyle audits of those at the pinnacle of power like Ruto, as Jubilee's Uhuru Kenyatta promised. It boggles the mind how someone who has been only employed by the public all his life can amass and give out so much money. The numbers simply can't add up. The Church must know it's receiving odious, and possibly, illicit money.
Which begs the question – is the Church wittingly complicit in money laundering to cover up impunity and the looting of the public purse? Or is the Church simply turning a blind eye for the love of money? Doesn't the Good Book say that the love of money is the root of all evil?
If the money isn't clean – and the Church knows, or should know – it is complicit in an illegality and the culture of impunity and corruption. The Church is rightly given tax exempt status to do "good works." Knowingly receiving bad money and cavorting with, and encouraging more dirty giving, can't be spun as "good works." Cardinal Njue and the Church have ceded their moral standing.
Money can kill a democracy. When government fails to do or spur development, then the few who have looted from the public pose as saviors and benevolent financiers. In truth, they are simply "moneybags" who wantonly steal and return crumbs to us. The Church of Archbishop Ndingi and Bishop Alexander Muge fought for justice and against impunity. The Church today is a pale shadow of these moral giants. Will Cardinal Njue lead it back to moral probity? Who will speak up and save Kenya?
- The writer is SUNY Distinguished Professor at SUNY Buffalo Law School and Chair of KHRC. @makaumutua