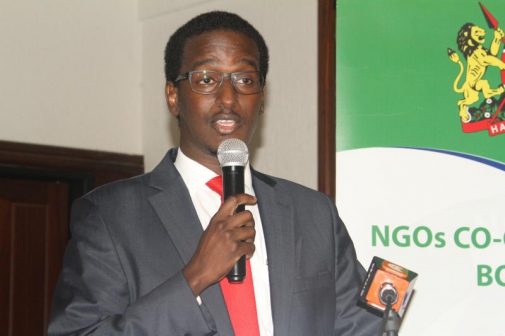 I do not like to write about people who are worth very little. When I write about someone, it is because they have an important role to play in society. Such a role could be positive, or negative. Today, I write about the NGO Coordination Board's CEO, one Fazul Mohamed.
Mr Mohamed appears to be a character right out of North Korea, the hermit kingdom. He's the dream automaton for the dictator. The dictator wouldn't be without foot mannequins like Mr Mohamed. However, the real story behind Mr Mohamed is how he ever rose so high in Kenya. Who is Mr Mohamed's patron? I am very bitter as I write this column.
Mr Mohamed's bosses—whoever they may be—have decided to cripple the most active civil society organisations. On top of that list is the Kenya Human Rights Commission—Kenya's leading civil society organisation—which I chair.
I don't exaggerate when I say the Jubilee regimes quakes in its boots when the KHRC clears its throat. You can tell by the amount of Twitter and Facebook ink that State House propagandist Dennis Itumbi—and his 36 bloggers—devotes to attacking us. However, Mr Itumbi and Mr Mohamed are reading from the same script. That tells me they are carrying water for State House itself. Logic is merciless.
Two weeks ago, Mr Mohamed and the NGO Coordination Board authored—and released—a defamatory document against the KHRC, its staff, and directors. The allegations in the so-called memo were textbook libel—total lies and fabrications. Among them these doozies—that the KHRC doesn't pay taxes; that the KHRC remunerates its directors; and that the KHRC keeps illegal accounts.
Read More
The memo maliciously—and criminally negligently—named several people who are not KHRC directors. It was the stuff of twisted fantasy from Nazi war criminal propagandist Joseph Goebbels. As it turned out, the NGO Board cooked up its report without ever contacting anyone at the KHRC. Equally worse, several reputable media houses carried the defamatory story without any verification.
The libellous fabrications against the KHRC and people associated with it by Mr Mohamed, the NGO Board, and the complicit media houses are actionable in court. Mr Mohamed, the NGO Board, and the complicit media houses could pay hefty damages for harming innocent reputations. Strangely, Mr Mohamed and the NGO Board had made similar groundless and false allegations against the KHRC last year.
The High Court absolved the KHRC of any wrongdoing and issued an order against the NGO Board. Mr Mohamed and the NGO Board are in contempt of that court order for going back into that poisoned well for another drink. The KHRC is seeking legal redress for this latest malignant, malicious, and sick action by the NGO Board.
Mr Mohamed is doubtlessly Jubilee's hatchet man. However, there's more than meets the eye. Mr Mohamed shouldn't be in office as the CEO of the NGO Board. He's a fraud and an imposter. He's got zero qualifications for that office. The Ombudsman established that Mr Mohamed didn't have the requisite academic qualifications because he didn't finish college.
Egerton University, where he claims to be an alumnus, apparently kicked him out on academic grounds. But to show you his cojones, Mr Mohamed got a court order to quash his firing by Devolution CS Mwangi Kiunjuri. Shortly thereafter, Mr Mohamed's patron protected him from Mr Kiunjuri by moving the NGO Board to Internal Security. He's obviously more powerful than Mr Kiunjuri.
It's campaign season and the Jubilee regime, which has no fuzzy and warm feelings for civil society, has decided to come hammer and tongs at us. It even targeted IFES, the American civic body that promotes free and fair elections. In unbelievable and ridiculous childish tantrums, Jubilee honchos accused IFES of seeking regime change.
The American embassy, which has cozied up to the Jubilee regime since selling out on the International Criminal Court cases, was shocked by the spurious charges. IFES aside, Jubilee believes Kenyan civil society is out to defeat it in the August polls. Even if that were the case—and it could be—civil society is free to exercise all the constitutional rights available under the law.
Let me confirm here and now that the KHRC—and the broader civil society—has no apologies to make to Jubilee if it chooses to take political positions. We fought for those rights to enjoy them. Jubilee didn't give us the 2010 Constitution—in fact, many of its key actors opposed it. We are going nowhere. Nor shall we be intimidated. Top Jubilee leaders like Prof Kithure Kindiki and Senator Kipchumba Murkomen should advise the ruling coalition better.