Reformist Mutunga's shoes will be quite difficult to fill
MAKAU MUTUA
By Makau Mutua | Jun 19th 2016 | 4 min read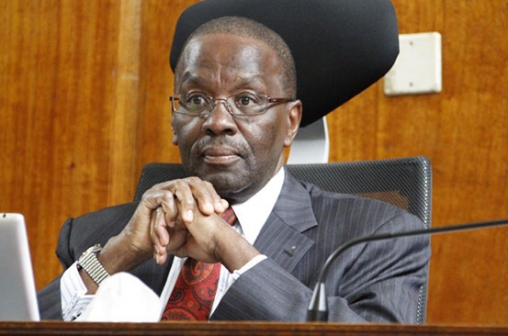 They say hypocrisy is the homage that vice pays to virtue. Translation — even Lucifer will genuflect before Jesus. But don't mistake the serpent's ministrations with affection for his antagonist. He's simply playing possum. That's why Chief Justice Willy Munyoki Mutunga — who ended his tenure a year early on June 16 — should revel in the applause, but not believe it. Many who bid him adieu were only too happy to see him depart the corridors of justice. That's because they want to return the Judiciary to the status quo ante. They didn't choose him to be CJ. No — the forces of democracy gave him the hallowed office against the wishes of state apparatchiks. But Dr Mutunga's legacy will never die.
Today, I write to memorialise the meaning of the Mutunga Era in the Judiciary. First, let's not make the mistake of intellectual simpletons. We need to bow to the basic fact that Dr Mutunga is a rare breed. I have met — and worked with — many historical figures.
But Dr Mutunga stands out in his humility and self-deprecation. He shuns power, wealth, and fame. In a country where thieves are celebrated, and murderers elevated — Dr Mutunga is the one public servant who forsook worldly possessions. Mark 8:38 asks: "For what shall it profit a man, if he shall gain the whole world and lose his own soul?" Methinks the author in the good book must have had Dr Mutunga in mind.
I should know — I am one of a few people who know the man well. He was my teacher at the University of Nairobi before his political detention under Kanu. In later years, we co-founded the Kenya Human Rights Commission. He's my earliest and most influential mentor. The simplicity of this intellectual and moral giant is the one thing that remains an enigma to me. He always roots for the little guy. He abhors hierarchy and disdains flamboyance, although he's tolerated my love affair with ties and suits. He has cutting wit — especially if you are given to pomposity. He's ruthlessly self-critical, and accepts the harshest critiques of himself. He always puts himself last. He's a rare breed.
Second, folks should know that Dr Mutunga didn't want to become Chief Justice. He laughed off the idea when it was first suggested to him. He was dead serious. And even after he was convinced to apply for the job, he almost backed out. That's because he's uncomfortable with state power. I've never told him this — but I believe he thinks that state power atrophies the hearts of men and women, and turns them into predators. It's possible that he was afraid he would become ogre in that office. That's why he worked so hard to demystify the Judiciary, and bring the temple of justice closer to common folk. This cultural transformation may be his most important legacy.
Third, Dr Mutunga lanced the boil in the Judiciary. I know our judges chafe at the use of such language. But they – and we – know the Judiciary has traditionally been aloof and marked by impropriety and illegality. Even the Judiciary's own internal reports – including the famous one by Justice Kwach – laid bare the demons within. It's that boil that Dr Mutunga will be remembered for lancing. But as I remarked to him recently, one or two things can happen when you lance a boil – you can either cure or kill the patient. The septic shock can be fatal. The body can also be cleansed and nursed to health. My hope lies with the latter for our democracy must live.
Fourth, Dr Mutunga did what no other Chief Justice had done. He brought justice closer to the people in the remotest reaches of the republic. He decentralised — devolved – the Judiciary. Access to justice is a cliché, but under Dr Mutunga, it became a reality. He revolutionised the way the courts work, and brought technology and empiricism to tame corruption, incompetence, and laziness.
He empowered judges, including a cadre of youthful progressives. He turned the Judicial Transformation Institute — under Professor Joel Ngugi — into a citadel of learning and reform. The institute must remain a pillar of change. Under Dr Mutunga, the numbers of female judges skyrocketed. He publicly tweeted his own wealth, and pleaded with colleagues to do the same.
Fifth, and finally, I believe there will never be another CJ Mutunga. But whoever succeeds him is bound by the energies that he unleashed. Those who believe that we can go back to the pre-Mutunga Judiciary are sadly mistaken.
You can't un-ring a bell that's been rang. The concept doesn't exist in science. The poor soul who succeeds Dr Mutunga shouldn't try to fill his shoes. Those are too large. He or she needs to cure the patient. Bon voyage CJ Mutunga.