Why presidential aspirants are ascending the Mountain from Githurai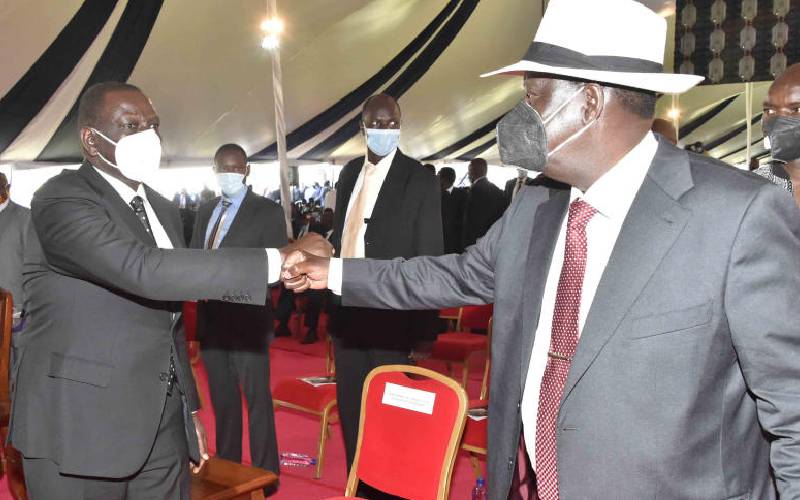 Some places acquire importance because they become political spaces. The nature of the activities that they host gives them societal values beyond physical geography. These places include Kamukunji and Githurai market. Githurai straddles Nairobi and Kiambu counties and hosts most of the Kenyan communities. Gaining ghetto cultural fame in 1998 when Mr Googz produced hit song, 'Wasee, Tumetoka Githurai,' it is socio-politically a sprawling zone incorporating Githurai 44 and 45, Zimmermann, Kahawa Wendani and Githurai Cable/Kimbo. It is also emerging, especially 45, as a political weathervane for the 2022 presidential candidates.
Kamukunji, with its colonial origins as public political space, has two-generational phases, roughly 30 years apart. It was one of the open fields for 'native' socio-political activities in racially segregated Nairobi. Part of Eastlands for colonial 'natives', it either neighboured or was not far from Shauri Moyo, Gorofani, Bondeni, Majengo/Pumwani, Burma Market, Bahati, Ofafa, Kaloleni, City Stadium and Muthurwa. Other open fields of note, like Ziwani, lacked Kamukunji's socio-political attraction. Shortly before independence, African leaders held rallies at Kamkunji because that was where large numbers of 'natives' could meet.
Since Uhuru Park and Jamhuri Park were unavailable for African rallies, Kamukunji acquired a cultural and political psycho-socio importance beyond its geographical location. Being in Kamukunji was symbolically to reach 'wananchi'.
Two factors explain the evolution of Kamukunji into a socio-political concept that defies geography and implies semi-open and occasionally unofficial activities. These are university students and Parliament. Some university students, in the 1960s and early 1970s, displayed intellectual exuberance and became part of the postcolonial political landscape. They met to plot demonstrations and to question national policies, and called their caucusing 'kamukunji'. Some of the students later went to Parliament where the term 'kamukunji' assumed semi-official status.
The struggle for multi-partyism revived and successfully linked 'Kamukunji', the location, with 'kamukunji' the socio-political concept. Wealthy Kenneth Matiba and Charles Rubia unsuccessfully applied for a permit to hold a rally at Kamukunji on July 7, 1990 which became 'saba saba'. The call revived Kamukunji as a political mental picture for mass struggle.
Roughly 30 years later, Kamukunji's symbolism no longer makes sense. With no visible oppression to fight, presidential aspirants are struggling to find fault in the system that has benefited them. As they struggle to generate political euphoria that might land them in State House, they occasionally discredit each other. Inevitably, some of the contenders; William Ruto, Raila Odinga, and Musalia Mudavadi have already campaigned in Githurai. Subsequently, the candidates seemed satisfied that they had done well in Githurai. They could even have sang, 'Wasee, tumetoka Githurai.'
While Kamukunji had symbolised struggle for Uhuru and return to multi-partyism, Githurai has great symbolic importance. First, it is both an entry point to and exit from Mount Kenya political zone. Second, it is a place many Kenyan communities call home. This means gaining acceptance in Githurai is gaining acceptance in the Mountain and the entire country.