Principle of checks and balances should be put into use to avoid conflict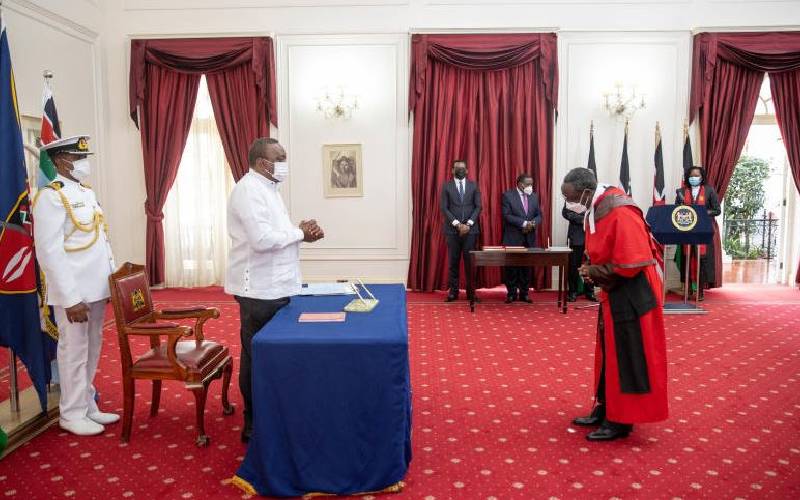 In the interests of the Kenyan state, the President and the Chief Justice should work together guided by the principle of check and balances.
The crafters of the State made the Executive precede the Judiciary and the legislature in the national pecking order. In creating the colonial state, conquerors and administrators came first. Courts came in to reinforce, but not compete with, the governor in running the state.
A debate cropped up over that sense of responsibility with internal and external demands for overhauls of both the mind-frame and the practice. The result was the 2010 Constitution.
Reportedly progressive, it had inherent weaknesses that the euphoria of the moment covered up only for them to emerge at the implementation stages.
Instead of outlining the principles of governance that the country should aspire to, it prescribed restrictive and enabling details. It tried to make the president a rubber stamp/robot in certain appointments.
In the appointment of judges, for instance, the president is told who to appoint, with no room for discretion in case there are reservations.
That rubber stamp mind-frame is in direct conflict with the president's responsibility as the mandated custodian of Kenya's national interests, security, and welfare.
Given that the whole edifice of the 2010 Constitution was founded on questioning the 'rule of law' practice, which was broadly against the existing 'rule of law' because it meant upholding injustice in the name of the 'rule of law', should the 'restrictive' interpretation outweigh other 'rule of law' considerations?
If the restrictive argument prevails, then the whole 2010 Constitution should be thrown out because it was essentially against the existing 'rule of law' mind-frame.
Kenyans should rise above technicalities and address the issue of whether the president should be a rubber stamp. Yash Pal Ghai, the Bomas constitutional craftsman should tell us why making the president a rubber stamp is good for the country.
Former Attorney General Githu Muigai and former DCJ Nancy Baraza can similarly philosophise on the matter.
Willy Mutunga, the first Chief Justice under the 2010 Constitution, should go beyond technicalities, and other thinkers, by expounding on checks and balances, handling of conflicting obligations, and whether or not the president should be a rubber stamp and why.
Chief Justice Martha Koome has a 'civil society' background and Mutunga is likely to become her benchmark. Within two weeks, she seemingly unlocked the gridlock in judicial appointments and added pressure on President Uhuru's team to explain itself.
How she approaches the checks and balances aspect of the 'rule of law' application so that it does not lead to injustice or to abdication of responsibility to national interest, in the name of restrictive 'rule of law' concept, will be worth watching.