Down, not out: Travel woes in face of Covid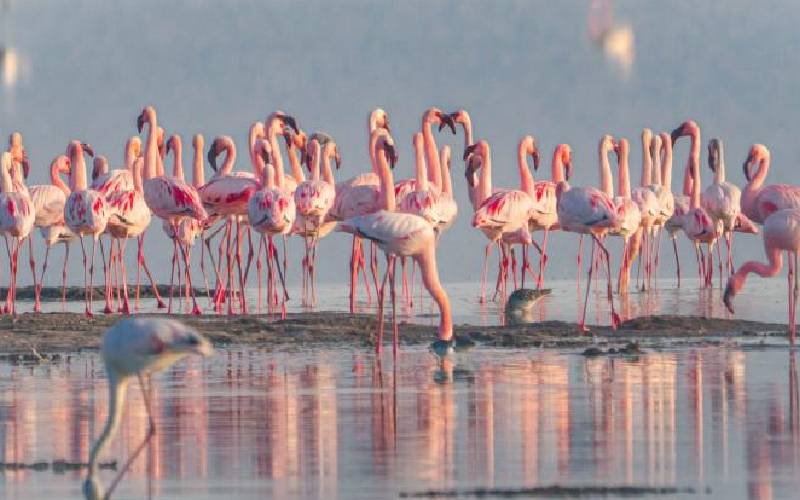 Empty hotels, deserted beaches and grounded planes - this was the foreboding scenario in Kenya's tourism industry for much of 2020 and the first half of 2021.
The deadly march of the Covid-19 pandemic brought to a halt Kenya's famed tourism industry, the second largest foreign exchange earner after agriculture.
In Northern Kenya, swimming pools at some of the country's top holiday camps became the new watering holes for elephants.
The eerie silence was also witnessed in the world-famous Masai Mara National Reserve, where lodge attendants reported cases of ferocious animals sleeping beside the tents where the moneyed hobnobbed.
"It was like the animals knew humans were absent and came to fill the void," said Jackson Looseyia, a veteran tour guide and proprietor of Tangulia Mara.
He had just had an encounter with elephants sheltering next to one of the tents during the height of the pandemic last year.
Yet, it is difficult to talk about Kenya without mentioning her tourism. In 2019, over two million foreigners visited Kenya with more than 60 per cent holidaying in wildlife conservation areas. In that year, tourists spent Sh163 billion and sustained over 1.1 million tourism jobs.
A brief report by the Tourism Ministry stated that between January and June 2021, Kenya recorded 305,635 total international arrivals.
As Covid restrictions eased in the third quarter of 2021, Kenya recorded another 217,873 tourist arrivals. Still, as the year comes to a close, it is clear that the numbers will be far from the pre-Covid arrivals.
According to the United Nations Development Programme, wildlife tourism supported 21.8 million jobs globally. In Africa, this percentage is higher, at 36.3 per cent.
However, a survey done by safaribookings.com in early December this year showed that most tourism-oriented countries in sub-Saharan Africa reported a 75 per cent decline in tourism bookings since the onset of the pandemic.
Edwina Ngigi from Africa Travel Waves Safaris says the pandemic created panic among international travellers who feared being caught up in lockdowns in Kenya and elsewhere as governments tightened their border
controls to limit the spread of the virus.
"Our potential clients' main concern is being locked down or quarantined in the destination country due to either testing positive with the virus or, in the case of a sudden outbreak, flights getting cancelled. They would rather remain in their own country," Ngugi told SafariBookings.com.
In a previous interview, Mike Macharia, head of Kenya Association of Hotelkeepers and Caterers, reckoned that hotels in Kenya lost close to Sh50 billion between March and May this year.
In May 2020, the painful loss in hotel business was brought home by the indefinite closure of Norfolk Hotel, one of the country's iconic establishments, after 116 years of operations. Radisson Blu, the Upper Hill hotel that took the country by storm is yet to reopen after shutting its door in December 2020.
In mid-October this year, news filtered in that yet another iconic hotel in Kenya, Treetops, was closing down after operating for 90 years. Treetops gained world acclaim in February 1952 when it hosted a young Princess Elizabeth Alexander Mary on the night before she became Queen of England.
For an industry that heavily relied on foreign visitors, it had to start looking inward and incentivize locals in reviving an industry that was on its knees. Domestic tourism numbers had grown from 3,645,144 in 2017 to 3,974,243 in 2018, a nine per cent growth. "The opening of travel will begin domestically," said Kenya Tourist Board head Betty Radier. "Here we should begin to show our preparedness and that we are ready to make sure that they are safe within our facilities."
Kenyans heeded the call and despite curfews and lockdowns, visited the parks and reserves in large numbers. Nairobi National Park saw local visitor numbers soar with some reporting traffic jams within the park. Masai Mara too saw a surge in the number of locals, some who were visiting Mara for the first time.
In a previous interview, Radier said it is too early to write off tourism just because Covid happened. "Tourism will be back but in a different form if Kenya goes beyond selling the traditional products such as the sandy beaches and bush experience. We have curated special products that guarantee personal satisfaction," she said.
In 2019, the ministry came up with 44 "Signature Experiences" or unique, authentic and exceptional events meant to resonate both with locals and foreigners alike. These included walking safaris in Karisia Forest, camping experiences in northern Kenya, outdoor adventure events such as abseiling and rock climbing at the Kenyan outback, bordered on one side by Mount Kenya.
Others are wildlife experience at the edge of the city while visiting an organic farm at the Ololo Safari Lodge and Farm, helicopter tour over Mount Kenya and combining it with fly fishing in nearby crater lakes and humpback whale tracking in Watamu.
"We want visitors, both local and international, to go beyond the beach and bush experience. Kenya has a diverse local culture that can be packaged to attract tourists all year round unlike the seasonal events such as the wildebeest migration. There is no reason why a foreigner would go through so much trouble in the days of Covid only to come and see a lion. Diversity is the next frontier in this business," said Radier.
It has been a rough two years for the tourism industry in Kenya. With days to 2022, another Covid-19 variant, Omicron, is on the march. What effect will it have on an industry that has been showing signs of recovery of late? Only time will tell.
The films that lit up the Kalashas
Kalasha Awards were undoubtedly a glamorous night ripe for networking, bringing together celebrated performers and their talented crews.