Cunning Harold steals village TV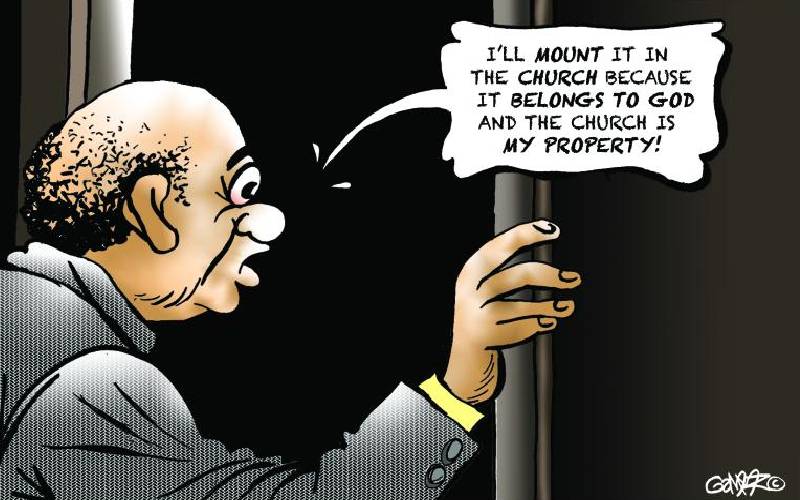 A senatorial hopeful last week wandered into Gitegi on a particularly rainy morning and immediately regretted it. His car, a wee contraption, got stuck in the mud.
In an instant, the senatorial hopeful, who I will call Little Known because I had never heard of him until then, saw a silhouette float to his window. "I can help you out for a fee," a balding man, who was now leaning on the side of the car and making Little Known uncomfortable, barked. The balding man, a pastor you might know, had been thrown out of a pub because he could not pay his bills.
Little Known agreed. He wanted to be out of this jungle before anyone else came out of their houses.
But Uncle Harold, staggering and unable to hold a footing, could not help Little Known. An altercation ensued as Harold kept slapping muddy palms on the windows.
Through the light drizzle, we picked the argument and soon, the whole village was gathered around the miniature car. Little Known stepped out to address us.
"If you elect me," he was squeaking through clenched teeth, shivering like Harold before taking a swig, "I will stop rains so your roads are not this muddy and impassable."
A few ignoramuses who still believe in politicians' promises clapped, and the rain pounded their heads harder.
"We want Faith!" Harold drunkenly screamed, and Sue gave him a look that shook him out of drunkenness.
But he was soon back in it. "We want Faith. Because only Faith can move mountains! Because it is mountains that bring the rain that makes wee cars get stuck." He was really in his element.
After the villagers had helped the youthful aspirant out of the mud, they needed something in return. After consultations, we all agreed that we needed a TV.
Harold was to accompany Little Known to town and come back with the TV. We did not want to take chances with a politician.
For the better part of the day, Harold was nowhere to be seen. He should have been back within an hour. By the time I went to bed, he was not yet in the house.
In the dead of the night, I dreamt that a bald, hefty man had scaled the fence through the window.
It was thus not surprising when I woke up in the morning and Harold was there, waxing lyrical over the developments in Nyeri town.
"They have painted the blue shop blue again. And the car that used to park outside Osman Allu, it is no longer there. The clouds over the town have disappeared. And…"
"Where is the TV?" I asked him. "Come. I will show you where it is."
In semi-darkness, we slipped out of the house. Like two thieves, we tip-toed, careful not to awake a soul. We crept underneath overhanging tendrils until we were behind Harold's church, Harold Assemblies of Holy Associates (Haha). We rounded the church, watching out for any signs of life in the neighbourhood.
In the faint pre-dawn light, I saw, to my shock, hang carefully on the wall like a master carpenter had been at work all night, a brand new 42-inch TV.
There was uproar when the village woke up and found that Harold now owned the television.
What is more, he named it The Kingdom, so that everyone was eager to "see The Kingdom".