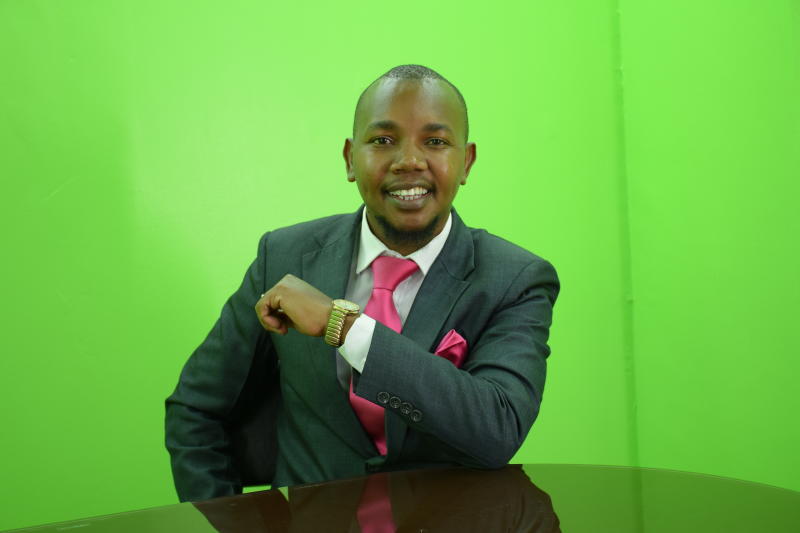 Joseph Murimi Nyambura, a lecturer at Pan Africa Christian University, derives joy from serving those neglected in society, or those who have found the going rough.
In his Githurai, Nairobi, backyard, where he was born, Murimi has been helping young people escape shackles of drug addiction and crime, enrolling them into his Save A Life organisation, for three years now.
He has been here before, and understands the pain of growing up in an underprivileged setting and getting to a point where everything in life seems to come to a standstill.
His life of service has seen him get two nominations for the Kalasha Awards, both for shows aimed at raising funds for the sick. They were both in the running for the best TV documentary.
"Somebody believed in me. It is now my turn to believe in others," he says.
Read More
He is a face of determination and purpose, but behind the gentle smile are years of painful struggle.
It is hard to tell what he has been through as he oozes joy, an exuberance that would resuscitate hope even in the most dire of circumstances.
Born in Githurai to a single mother, Murimi grew up in a poor background, even failing to enrol in high school after his primary education as his mother could not afford the fees. The young, devastated boy was unable to resist the sweeping wave of peer pressure and was soon into drugs.
"In Githurai, marijuana was, and still is, a commonplace drug," he laments.
His grandmother gave him Sh1,000 and told him to pay secondary school entry fees. Murimi took the money to a community centre in the locality and the managers let him join and stay as he juggled between learning and doing menial jobs to buy school items.
After a year, however, the centre was closed. He moved on to another centre which, after a year, was shut down. It was in a third institution that he registered and sat his KCSE exams.
He then registered for a certificate course in Information Technology in a Githurai college after failing to do well in his KCSE.
Unable to sustain himself, Murimi soon dropped out. He would buy clothes at Gikomba and sell them, but juggling between business and school was a thankless, impossible task.
It was at this time that he met a friend who introduced him to a Korean Organisation, which was intent on training students in IT.
"They charged Sh500 a month and taught us three hours a day. That was affordable and manageable," he says.
Enrolling in the school proved to be a masterstroke. Although the foundation was starting a broadcasting academy and the charge of Sh30,000 was more than Murimi could afford, his industry and determination earned him a free sponsorship.
The foundation was also starting a media house. He took a certificate course for a year and began as a cameraman for the company's new Christian TV, Good News Broadcasting System, famously known as GBS.
He would later do a diploma in broadcasting, followed by one in mass communication as his thirst for betterment refused to quench.
Soon, he was completing a degree, and is set to, at the end of this year, graduate with a Masters degree.
Murimi now teaches at PAC University, reveling in seeing young men and women go after their dreams under his tutelage. He is senior studio technician in the university. But that is not enough for him. Since 2010, he has been teaching photography and videography to youthful minds who, he is afraid, would sink into the abyss of drugs and crime if society gave them a blind eye.
"I am training over 70 of them now. I have trained more than 400. Two are already working with UTV, one in scheduling while the other is in production," says the jovial man.
Murimi used to do it solo until he realised he needed to register a community based organisation, birthing Save A Life three years ago.
In addition to his teaching, he founded a feeding programme that targets street families and other vulnerable groups. His pastor, psychologist and counsellor friends offer their services to these groups pro bono, and Murimi uses his UTV platform to, in addition to spreading the gospel, fundraise for the sick, a third venture he thrives at.
"When I was working in the mainstream media back in 2010, I met this needy child at Mathare slum who had a fracture on her arm and needed a surgery to have it fixed. She needed Sh200,000, which the family could not raise since the mother was a single parent with two children to take care of on less than two dollars a day. This challenged me and I came up with the idea of fundraising for the girl. This is how I started a TV programme designed to fundraise for the sick who cannot afford their medical bills," he says.
"I have met people who I have helped raise funds for in the past- some as long ago as 2012, and they remember me, and appreciate what we did."
"Oftentimes, the resources are not even close to enough," he says. "Some people want to join thinking there is a lot of money we rake in, only to find that, on the contrary, we give, not receive. They end up quitting."
Also, it is not everyone that they extend their generosity to that replicates with gratitude. Sometimes, they feed street families, but the beneficiaries end up stealing, or vandalising, some of their equipment. He has learnt to be patient and to handle such situations gracefully.
Murimi hopes that he can reach more people, and that more youths can get empowered. He hopes to cover all of Kenya, make people buy his idea and make effort towards making one another better.
"If everyone trains someone, then we are on the right track. Everyone should pull someone up, reach out to make someone somewhere better," he says.
Murimi, who is married to Juliette and is father to two girls, Promise and Peace, remembers his mother and grandmother fondly. "My grandmother is a gem," he says. "The sacrifices my mother made are immeasurable."
He says these two ladies taught him the act of humility and generosity. He grew seeing them share the little they had with others who were worse off.