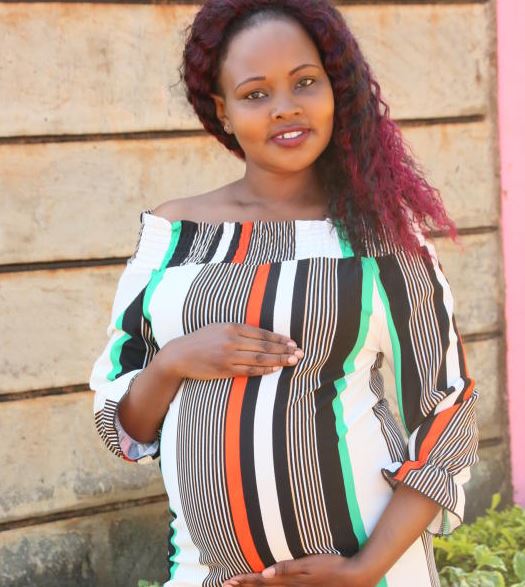 Eva and David were both born with HIV and knew their status under entirely different circumstances; but destiny made their paths to cross and cupid shot arrows through their lovelorn hearts.
Ms Eva Kawira (pictured) was abandoned at Mbagathi District Hospital by her relatives when she was eight years old. Her mother had passed away due to HIV-related complications, and left her in the care of her 12-year-old sister and a younger brother.
"At Mbagathi, we were sharing beds and I witnessed some children dying in our ward," Eva recalls.
"This scared me. Each night, I thought I would be next. I could almost see the Grim Reaper walking around the beds and taking his pick."
At this time, Eva didn't know what was ailing her.
"One day, a woman was visiting children when she stopped by my bed. She empathised with me and asked if I could let her to help me. I agreed."
It was only later that Eva, 24, learnt that the lady was Asunta Wagura, the executive director of Kenya Network of Women with Aids.
"Asunta organised and I was transferred to St Mary's Hospital. Thereafter, I temporarily lived with her before she took me to a children's home that her organisation ran."
This was after Eva was rejected by other homes because of her HIV status and poor health.
At age 10, Eva learnt that she was HIV-positive. The news was broken to her at Maragua Hospital. She says that when the counsellor told her she was HIV-positive, it wasn't hard for her to handle. "But there were times that I thought I would die," Eva confesses. "I think the death scenes in Mbagathi still haunted me."
"At 10 years old, I was put on anti-retroviral therapy which helped me regain my health, go to school and be the productive person that I am today."
David versus Goliath
David - whom Eva affectionately calls, Davey - is the firstborn in a family of three. His mother and second born sister are both HIV-positive.
David, 27, joined Maasai Mara University in 2012. During orientation, they were told, among others, to know their HIV status.
"I brushed it aside because, deep down, I knew I was HIV-negative."
In 2013, the college was infested by mosquitoes. David was getting recurrent bouts of malaria and flu, whereas his roommates were unscathed.
One day, David went to a VCT just when they were about to close for the day.
"It's too late," the lady counsellor told David, "come back tomorrow."
"I told her that I wanted to know my HIV status right there and then," David says. "She tested me, and it came out positive.
I wasn't shocked. This shocked the counsellor. I told her that I'd heard that people managed HIV, and I'd do likewise."
David called his mother and told her about the test result.
"She wasn't shocked. I think she suspected it all along. Maybe, just maybe, this chucked a humongous weight off her shoulders, which she'd been carrying for 20-plus years. She told me to go home, where she encouraged me."
Afterwards, David's mother got courage and took their last-born sibling for a HIV-test, which turned negative.
David was put on medication immediately after he was tested, even before he got results of my CD4 test.
Two weeks later, David was told his CD4 count was 54.
"I didn't know if that was a good or bad thing. They sent me to Narok Referral Hospital where I was started on ARVs."
The ARVs' side effects were so severe that David was taken to his rural home in Maragua by the college's ambulance and bedridden for two months.
In Maragua Hospital, tests revealed that David had tuberculosis. He was put on TB medication.
"In total, I was taking more than 10 drugs a day. Visitors would cry when they came calling, but I would ask, 'What's wrong?' I wasn't psychologically shaken. I ate. But the food came out undigested."
During one of those long college breaks, David was informed about a support group for young people living with HIV, which held its sessions in Maragua Hospital.
It was here that Eva and David met and exchanged digits. One phone call led to another. And the rest is a love story.
Stigma in schools
In high school, there were students who knew that the children's home that Eva came from housed HIV-positive kids. Which was like a yoke around her neck. Some students started spreading rumours that she was HIV-positive.
"There was a day when our boarding school's administration decided to inspect the students' suitcases," Eva narrates.
"When teachers ordered us to open our suitcases, I refused because I knew the ARVs in my suitcase would blow the lid on my secret."
The teachers ordered her to kneel down as a punishment. They never bothered to ask her why she did not want to open her suitcase. They gave her two choices; open her suitcase or go on suspension.
"When I did not budge, they took me to the principal. I tried to explain to him that I could not open my suitcase because it had drugs. But he jumped to conclusions, and couldn't listen past the word, drugs. He slapped me and told me to write an apology letter."
"I told him that I wouldn't accept the punishment or go home on suspension if he didn't want to listen to my explanation. After some time, he cooled down and I told him that the drugs were ARVs. He felt so guilty. We became friends."
Eva says that schools are still relatively uneducated insofar as HIV awareness is concerned. She feels that teachers, out of sheer ignorance, contribute to stigma and discrimination of students who are infected and affected with HIV.
Eva adds that teachers need to have correct information about HIV. She explains that most times when teachers tackle the topic of HIV, many usually fall into the same old trap of drawing a person with HIV as pin thin.
"HIV-positive adolescents need our care and support so they can take their medications without fear. I want to tell people that many young people who are living with HIV are religiously taking their ARVs and have a suppressed viral load."
David was fortunate because he had caring roommates. They never stigmatised or discriminated him. Besides, the college administration was always in his corner.
"I returned to college after being bedridden for two months, but I fell ill that same month," David says.
"I was admitted in the college's clinic. I sat for my exams in that same state. I recovered miraculously. Since then, I've never fallen ill."
Triple zero champions
Eva works in Maragua Hospital as an OTZ Champion; which stands for, "Operation Triple Zero". This means that this champ has missed zero doctor's appointments, has zero viral load and has missed zero ARVs.
"It's no mean feat attaining these three," Eva tells me. "My work is to make sure adolescents living with HIV attain all three zeroes."
After finishing high school and moving out of the children's home to her sister's place, Eva frequented Maragua Hospital where she took the initiative to share her experience and counsel youths.
"I remember the case of a lad who was HIV-positive, and who made the hospital authorities to take note."
"He was bedridden and in denial. He had given up on life. I spoke to him and gave him hope. I kept visiting him. When he recovered, the hospital felt that I had something to offer to adolescents."
David's college holds life skill talks every Friday. He dishes his students the real talk about HIV.
The couple is expecting their first child around 18th this month.