It's a Madd world, but we're here 30 years and counting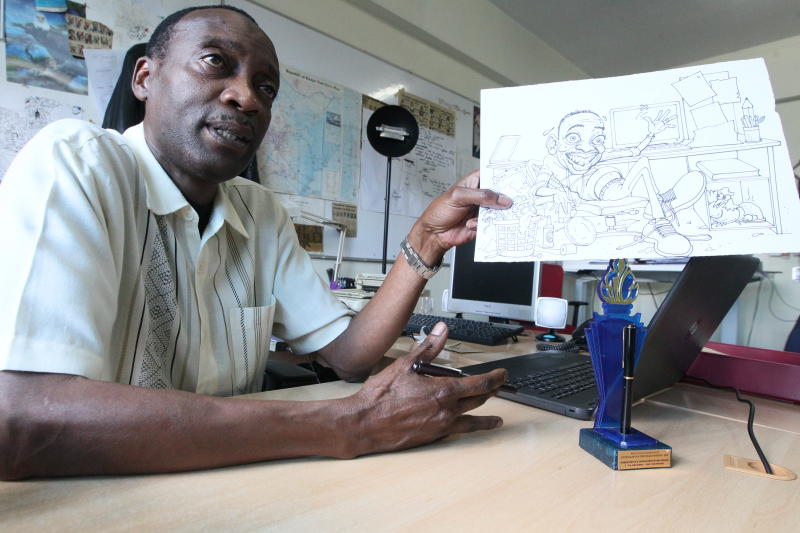 Drawing the line between Paul Kelemba and his alter-ego Maddo, the cartoonist, is no easy task. Humble, soft-spoken yet exuberant, Kelemba insists that he is a serious man when it comes to business.
Maddo's large, protruding eyes tell an interesting story, as do the three decades Kelemba has been drawing cartoons for newspapers. "I am naturally humorous, but that does not mean I am a comedian. I am a serious man when it comes to business," he says.
Kelemba's eyes are not that big really, at least not as it appears when he draws Maddo.
This month, his column Madd Madd World, which runs on the Saturday Standard, marks its 30th anniversary, 1,440 cartoons later. His is a history written with pencils on piles of white paper, brought to life in black and white and served in full colour.
Madd Madd World began as a weekly black and white quarter-page strip in 1989 with the Daily Nation, growing to a half-page, before Kelemba joined The Standard in 1992 where the series was blown to a full page in 1996. In 2003, it became a full-colour feature in the Saturday Standard.
But even as technology makes work easier for illustrators, especially those he has paved the way for, Maddo refuses to use a digital pad, sticking to his beloved Staedtler pencils and Rotring graphic pens, white A4 papers, black ink and a white eraser. He then uses Photoshop to process his drawings. It takes him three days to draw Madd Madd World, but the visualisation, he says, is a daily chore.
"A cartoonist has to process the society, analyse and package it in a humorous way. I have to talk to people, read a lot and take notes through it all," he says.
From the push for multi-party democracy, to the 1998 bomb blast in Nairobi, to the SGR; Maddo has drawn it all.
And he is a man of many firsts. In 1992, he became the first man to dare draw a caricature of President Daniel Moi, although he refuses to take credit for it.
"It was not as hard-hitting as people make it. I was (later) told by impeccable sources that Moi was pleased with it, especially as it depicted him running ahead of his competitors in the 1992 elections," he says.
That history-making cartoon was published by Viva magazine.
Still, that drawing of the President helped open doors to the much-touted freedom of expression, especially to editors and his fellow cartoonists.
"His greatest contribution has been in expanding the realm of what was possible when it came to harsh criticism of the State.
"Graphic artists like Kelemba set the pace, and newspaper columnists then followed suit, knowing that we were merely repeating what had already been declared in graphic narrative format," says Wycliffe Muga, a newspaper columnist and the cartoonist's friend of more than 30 years.
One key feature of his weekly column is his depiction of himself. The large protruding eyes have not aged a bit. "You must first laugh at yourself before you laugh at anyone else," he explains. The reference to his big eyes goes back to the 1970s while he was still a student at Kisumu's Victoria Primary School, where he was classmates with Ruth Odinga. His classmates called him Wang'e Dongo, Luo for 'the one with big eyes.'
"I hated it, but there was nothing I could do," he says.
His friend, the late Whispers aka Wahome Mutahi, equated his big eyes to those of a Nile crocodile and coined the nickname, Crocodylus Niloticus (scientific for Nile crocodile), referring to Maddo as such in his Whispers column, for which Kelemba was the illustrator.
"I protested because a crocodile does not have big eyes. He should have called me a frog instead. I hit back by calling him Kiparatitis Mleviosis, for his receding hairline," he says.
Whispers hit him in his column, he hit back through Madd Madd World. Their readers loved it. Theirs was a bossom friendship that outgrew their work relationship, that of a satirical columnist and his illustrator.
In fact, Whispers inspired his depiction of his family; while Wahome referred to his wife as Thatcher, his daughter as Pajero and son as Junior; Maddo called his better half Maddess, his daughters as Maddlettes and son as Maddo Junior.
His depictions of his family were not a true reflection of who they are, he says, and he has since stopped featuring them in his column. A self-trained artist, Maddo drew editorial cartoons for The Standard until 1997, when he quit to concentrate on Madd Madd World.
Career of choice
He started off in Mombasa as an accountant in 1980, but quit in 1982 to draw caricatures for an advertising agency and magazines at a time when drawing illustrations was not a serious career of choice.
Drawing, he says, was part of him and he is proud to have done his part in turning it into a lucrative career for many others. But his career has not been without its challenges. He lived in constant fear of the State when his friend Whispers was arrested by the dreaded Special Branch in 1986. The Special Branch also did a background check on Maddo at his former schools and on his mum in Kiboswa, Vihiga County, but found nothing.
Now 57, he is not showing any signs of putting down his pencils. He wants to beat the record set by his former colleague Edward Gitau, whose comic strip Juha Kalulu was published for 62 years until his death in 2016. Maddo now spends his time in his office in downtown Nairobi, doing what he loves.
He is also a founding member and director of Buni Media, which produces the TV comic series XYZ, and chairs the board of Ketebul Music.