I didn't manage my blood pressure well and got a stroke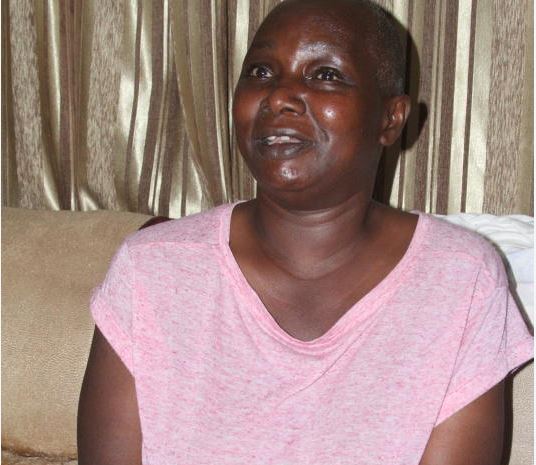 I was chatting with a friend at her workplace some time in 2008 when I first experienced a stroke. Well, I didn't know what it was then. I rose to fetch water for her when I felt dizzy, fell and had a convulsion. I also bit deep into my tongue before I slid into a comma and woke up in a hospital a week later.
Doctors explained that the stroke was caused by poor management of high blood pressure that I had suffered from for many years. I was admitted to the hospital for six more weeks as the doctors tried to stabilise my condition.
With my blood pressure stable at the end of the six weeks, doctors couldn't understand why my tongue still felt heavy and I could barely mumble things whenever I spoke. My left hand which was twisted when I experienced the stroke was still paralysed leaving my wrist stiffly folded. I also couldn't feel my left leg and had a throbbing headache on my left side. Basically, all my left side was paralysed.
Brain clot
A further scan revealed a clot in my brain. They prescribed medication which was to cost Sh5,000 every three weeks. We couldn't afford it. At that time, my son had just finished primary school and shelved the idea of furthering his education. He took jobs at construction sites instead to fend for the family. My husband, fearing the huge responsibility that lay ahead of him because of my condition, had taken everything and fled. I haven't seen him since. It also came at a time my only daughter succumbed to tuberculosis and left me with her newborn son. To date, it has just been my son, my grandson and I.
I only took the drugs for nine weeks and abandoned them since we couldn't afford them. But the little time I took the drugs helped and I was able to regain my speech significantly. Away from medication, I resigned myself to my fate and developed a deep devotion to prayer. This way, I was able to manage my stress and no longer needed drugs to manage my blood pressure. With time, I was also able to get out of bed and moved around the house. For the next 10 years, I didn't take any medication.
Comeback
But early this year, I was rushed to Coptic Hospital with very high blood pressure. I also suffered convulsions and facial paralysis. After conducting a number of tests, doctors told me that lots of fats had accumulated in my throat and around a vein in my brain. They warned that I faced the threat of paralysis on the right side of my body too. They prescribed drugs that amounted to Sh21,000 to remove the fats. Fortunately, my son, now an artisan and pursuing education at St Emmanuel Vocational Center raised the funds and bought the drugs. I have been using these drugs, together with others, to manage my blood pressure which I get at only Sh100 every month from Kibra AMREF. The hospital has done a lot to help slum dwellers who can't afford drugs at regular prices.
I also met a doctor at MP Shah Hospital who suggested that I go for therapy at least twice a week to get my hand in good shape. I would like to regain use of my hand so as to be able to help my son around, at least by doing my own laundry. But I have shelved the idea of therapy as it is too expensive. Each session costs at least Sh400. Apart from medication, I stick to a healthy diet and avoid salt, sugar and tea leaves, according to the doctors' instructions. I also try as much as possible to eat lots of fruits especially thorn melon to keep my blood pressure stable.
These days, I experience attacks at most once every month. They happen mostly at night when I am asleep with my grandchild. They are usually convulsions and I never realise until my grandson who is eight-years-old tells me about them in the mornings. I've also realised that they last for about 30 minutes after which I am fine. They also happen whenever I fail to take my medication. I fear that my life is hinged on medication.
My word of encouragement to people who have suffered stroke is to trust in God. This way, you will be able to wade through stressful conditions with ease. It is also important to manage blood pressure by going for regular checkups and avoiding stress.
CAN STROKE BE PREVENTED?
Source: Dr Yubrine Moraa, a physician at MP Shah Hospital
The answer is YES!
Primary stroke prevention refers to the treatment of individuals with no history of stroke while secondary prevention refers to the treatment of individuals who have already had a stroke.
Knowing your stroke risk factors, following medical advice and adopting a healthy lifestyle are the best steps you can take to prevent a stroke. These measures include:
Controlling high blood pressure. This is one of the most important things you can do to reduce your stroke risk. Lowering your blood pressure can help prevent a subsequent stroke. Exercise, managing stress, maintaining a healthy weight and limiting the amount of salt and alcohol can be utilised to achieve an optimum high blood pressure.
Quit tobacco use. Smoking raises the risk of stroke for smokers and non-smokers exposed to second-hand smoke.
Controlling diabetes. Diabetes can be managed by ensuring good diet control, exercise, weight reduction and medication.
Lowering cholesterol and saturated fat in your diet. Eating less cholesterol, especially saturated fat and trans fats, may reduce the plaque in your arteries. A cholesterol-lowering pill can be used in individuals with high cholesterol or in patients with increased risk.
Weight loss. Being overweight contributes to other stroke risk factors, such as high blood pressure, cardiovascular disease and diabetes.
Eating a diet rich in fruits and vegetables. Following the Mediterranean diet (DASH Diet), which emphasizes olive oil, fruit, nuts, vegetables and whole grains, has been shown to be helpful.
Exercising. Exercising for 30 minutes on most, if not all, days of the week reduces your risk of stroke in many ways.
Drinking alcohol in moderation. Heavy alcohol consumption increases your risk of high blood pressure, ischemic strokes and hemorrhagic strokes.
Avoiding illegal drugs. Drugs, such as cocaine are established risk factors for stroke.
If you have already had a stroke before the same measures mentioned above apply in preventing a future stroke. In addition, some medications may be prescribed depending on the underlying risk factors and cause of the stroke for secondary prevention.
Anti-platelet drugs. These drugs make platelets less sticky and less likely to clot.
Anticoagulants. These drugs may be prescribed if you have certain blood-clotting disorders, certain arterial abnormalities, abnormal heart rhythm or other heart problems. Other newer blood thinners are available in the market and may be used if your stroke was caused by an abnormal heart rhythm.