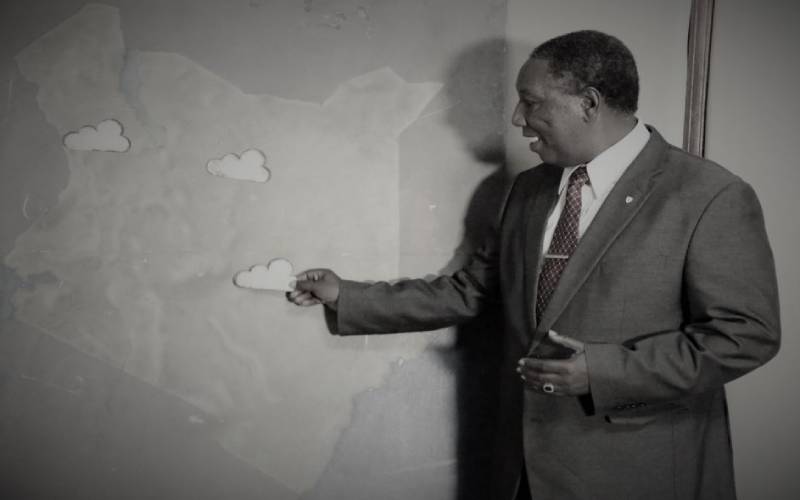 Lifestyle
Kenyans on a mega throwback journey to celebrate famous weatherman Nguatah Francis.
The Kenya Meteorological Department on Friday took Kenyans into a mega throwback journey when they announced that they are celebrating Nguatah Francis, popularly known as a weatherman from his days at the Kenya Broadcasting Corporation. "Today we are celebrating our famous weatherman Nguatah Francis' great achievement after retirement," wrote the meteorological department on twitter. While people know him as a weather journalist, Nguatah Francis graduated from the University of Nairobi with a Bachelor's degree in meteorology in 1984. He started working at the Meteorological Department and four years later he was seconded as a weather broadcaster to KBC.
SEE ALSO: Heavy rains expected in Nairobi, Western and Central regions over the weekend
Weather matters are things that do not excite most people but his prowess in delivering broadcasting weather patterns made it interesting to everyone.
Foreseer
Most of the time, the weather would behave exactly the way he forecasted. "Welcome to weather forecast, my name is Nguatah Francis," he would drawl in style after salutations and proceed to sweep off the viewers' feet with riveting Swahili glossaries on how it was going to be scathing hot or rain cats and dogs the following day. People would believe him! Unlike today's technological advancements that aid journalists in showing weather patterns in motion on touch screens, Mr Nguatah used an iron board that had the map of Kenya where he placed cloud placards that would stick on the board.
SEE ALSO: Make Met a parastatal and device creative means of getting funding
Sometimes the magnetic field would not work and the placards fall off on a live weather broadcast but he would shrewdly apologise to the viewers.
Lotto
Apart from weather forecasting, Francis Nguatah proved to be also a geek in gambling. Mr. Nguatah won himself a three-bedroom bungalow in Kitengela after taking part in a house competition gamble in 2011.
Extolment
The outspoken weatherman was awarded a Head of State Commendation last year by President Uhuru Kenyatta for his illustrious career. Today Kenyans are celebrating Mr Nguatah with messages and best wishes by remembering his achievements after retirement. Here are some of the messages conjuring the spirit of Mr. Nguatah in his prime days on the screens. "He must have been a good student of geography and Swahili language! 'Nyanja za juu kaskazini kusini mashariki mwa rift valley na maeneo yake'... All the best to this great Kenyan in his retirement! He reigned!" "Wish Nguatah Francis all the best. He could be a great advocate /educator on climate change issues. I'm sure he'll agree that back then the effects of climate change had not ravaged our country. Seasons were regular and agricultural production predictable." "News was never complete without him doing the Weather forecast... he always did it with an amazing zeal...!! We wish you all the best in life."