U.S Blackstreet's No Diggity and SWV's Weak to reign at Nairobi big concert Saturday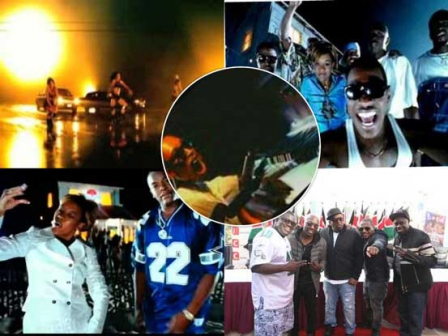 "I like the way you are walking, no diggity, " is a line that ruled the airwaves in the 1990's and this was America's R&B group Blackstreet whose self-titled album Blackstreet catapulted the youthful group to international acclaim selling millions of the music.
The group landed at the Jomo Kenyatta International Airport yesterday night ready to rock their Kenyan fans with original renditions of their music that many identify with to date.
"We are here to give you the very best and experience Kenya and we feel really at home here," said one of the four founding group member Chauncey "Black" Hannibal at a press conference held at the back of the Nairobi skyline the Kenya International Convention Centre.
The Blackstreet Boys coming to perform in Kenya's capital for the first time ever recalled how they were inspired to solemnise an earlier song about buying love by the Beatles, "Can't buy Me Love".
"I heard it then I thought I this wasn't right and I called Teddy and said why don't we calm it down this and we came with the song 'Money Cant; buy me love,'" said group member Chauncey Black.
Blackstreet Boys are known for their soulful songs including Take Me There, Don't Leave Me and Before I Let You Go.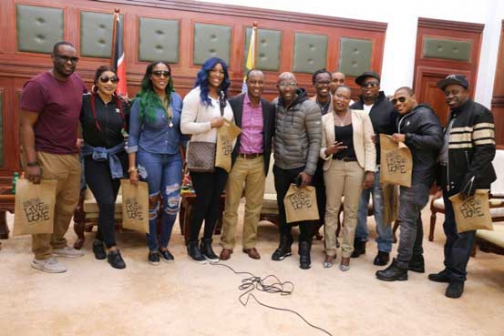 According to their bio by the respected MTV online platform Blackstreet was founded by singer, producer, and new jack swing pioneer Teddy Riley after the breakup of his seminal trio Guy.
Riley had taken a few years to concentrate on his booming production career, which saw him working with Wreckx-N-Effect, Bobby Brown, Michael Jackson, and SWV, among others. His itch to get back in the performing arena resulted in the formation of Blackstreet in 1991, which included singers Chauncey "Black" Hannibal, Levi Little, and Joe Stonestreet in addition to Riley.
Stonestreet was replaced by Dave Hollister prior to the recording of the group's self-titled debut album, which appeared in the spring of 1994.
On the strength of "Before I Let You Go," a Top Five hit on the R&B charts, Blackstreet was a platinum-selling hit even without much crossover exposure. Two more singles from the album, "Booti Call" and "Joy," were minor hits as well.
And this is going to be a double fete for Kenyan fans of American R&B music as sensational trio the SWV (Sisters With Voices) join their brothers on stage to give a lifetime performance Saturday night.
The blending will be easy given that both groups have worked closely with Teddy Riley.
"You will get really authentic old skool music from as you know it," said the sassy Tamara Johnson George – Alchetron during the joint interview at KICC.
Her mirth and warmth delivered in an effortless infectious smile.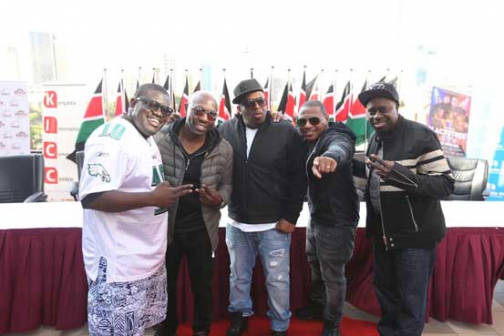 SWV rose up at the same time as Blackstreet Brothers and their songs Weak as well as rain are all time singles selling into millions of copies.
"we would want to have a great deal of Kenyan cuisine," chuckled Leanne Lelee Lyon who asked of Radio show host Maina Kageni, part of the hosting crew, to take them to Kosewe Ranalo's for true taste of Kenyan dishes after the presser.
The SWV also including Coco had broken up at some time to attend to individual tastes and careers but came together sometime in the mid 2000's and have since released two new albums including in last year's Still.
"It is amazing how we realised the stage was home and there was a great demand for our music and live gigs so did away with our small differences and came together" said Lelee .
A similar fate had befallen Blackstreet where till today Teddy has not yet re-joined the group.
"Teddy is still my best friend and it's my hope that he is going to join us soon and we come back together as a family as we used to," said Chauncey when asked whether the founder member would ever return to the group.
The two groups had earlier been entertained at the Governor's Parlour by the Deputy Governor Jonathan Mueke.
"I welcome you to Nairobi City which is the East Africa hub and we continue to play host to important international celebrities and personalities, "said Mueke who received the two top American music groups and assured them of their security and comfort
Mueke who lived In Atlanta Georgia in the U.S for ten years was full of nostalgia remarking he too lived with both the SWV as well as Blackstreet music while in the land of opportunity.
Not shying away from politics SWV disproved of U.S President Donald Trump policies with a boo sign as their brothers stepped into the murky politics of race in the Oscars.
"I think we need more diversity and African Americans need to pool together resources and make their own productions and that way a new path can be chatted," said Black as the rest of the group nodded including SWVs Lelee.
But Tamara broke ranks with the rest saying Africa Americans need to up their game so that their productions are of high standards.
"We can do better ad I think we just have to do a little better than we are doing right now in Hollywood," she said.
Sanchez could leave Arsenal
Arsenal fear that Alexis Sanchez has decided to leave the club with Arsene Wenger also on his way out of the Emirates.