Will Koome become the first woman to land top Supreme Court job?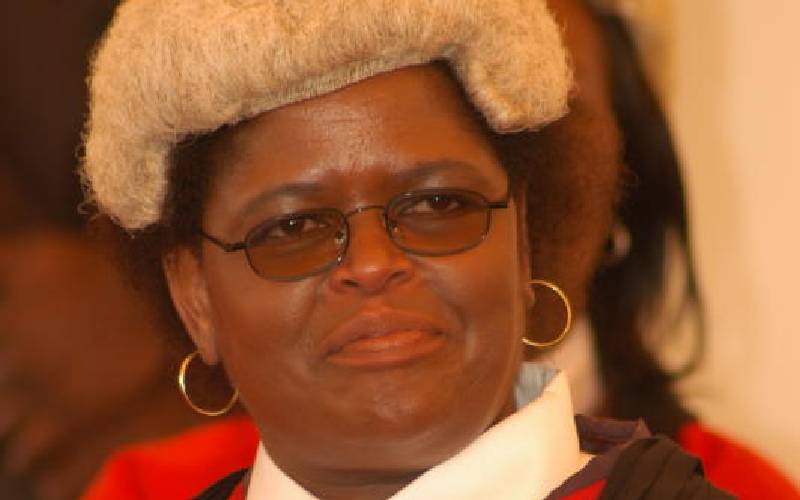 Court of Appeal Judge Martha Koome is seeking to become the first female Chief Justice in Kenya, as the battle to succeed Justice David Maraga enters the homestretch.
Justice Koome was a well-known face in the civil society movement before being appointed a High Court Judge in 2003 by former President Mwai Kibaki, a fete she has continued in defence of human rights, and which saw her win an international award last year for advocating for children's rights.
The United Nations gifted the Appellate Judge on October 2020 with a runner-up award as UN Kenya Person of The Year 2020, in recognition of her advocacy for the rights of children in conflict with the law as well as child victims.
But even as she seeks the Judiciary's top position, her past activism in civil society will not stop haunting her.
During her interview by Judicial Service Commission in September 2016 for position of Deputy Chief Justice, Koome was hard pressed by commissioners to explain how her past would impact on her job.
She defended her past engagements in civil rights for women and children, saying she would not favour anyone. "The inner me sees no gender when handling cases touching on male or female rights. I have distinguished myself as defender of human rights and leadership in upholding constitutionalism without regard to particular gender," she told the commissioners.
Born in 1960 in Meru County, Koome has a Master of Laws in Public International Law from the University of London (2010), a Bachelor of Laws from the University of Nairobi (1986) and a Post-graduate Diploma in Law from the Kenya School of Law.
Take a quick survey and help us improve our website!
Take a survey
She was admitted to the bar as an advocate of the High Court in 1987 and started as a legal associate at Mathenge and Muchemi Advocates until 1993, when she opened her own law firm and became the managing partner until 2003.
During her time as a High Court Judge between 2003 and 2011, Koome served in different capacities as head of Land and Environmental Division in Nairobi, Resident Judge in Nakuru and Kitale and at the Commercial and Family Divisions in Nairobi.
She was promoted to the Court of Appeal in 2012, and sits in Nairobi. She previously served in the Appellate Courts in Nyeri and Malindi. Koome has a cumulative 33 years' experience in the legal profession.
In support of her application for the CJ's position, Koome attached five writings that constitute major judgements she has delivered while at the Court of Appeal bench.
Among the major judgements she cited was the case where the High Court had stopped the Communication Authority of Kenya from developing and installing a Mobile Document Management System (DMS) to tap and eavesdrop on people's conversations.
Koome, alongside Appellate judges William Ouko and Daniel Musinga in April 2020 overturned the High Court decision allowing the Authority to continue developing the DMS on condition that they consult the public and other stakeholders.
Her second cited writing is a case where she sat on a bench that upheld that the Teachers Service Commission has a duty to ensure all learning institutions are safe, with proper guidelines so that teachers do not subject students to sexual harassment and defilement.
She presented an essay she prepared for Court of Appeal in October 2020 concerning sentencing of capital offenders following the Supreme Court abolition of the mandatory death sentence.
In her last interview, the judge said her vision would be to fight corruption in the Judiciary and to reduce backlog of cases by introducing an electronic system of filing and monitoring cases.
Koome is scheduled for the interview by the JSC on Wednesday April 14 and if successful, she will not only become the first female CJ but also increase the number of women judges at the Supreme Court to three.