Student teaches women with disabilities how to knit mats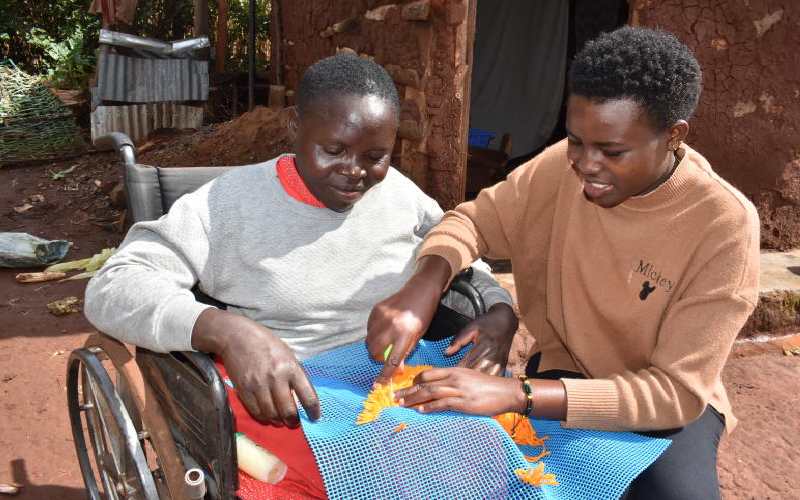 It is Sunday afternoon in Meru farm, Kitale, and Tabitha Njeri, 16, is holding a crotchet needle, mat board, a tape measure and knitting thread.
Villagers have nicked-named her "Njeri wa mats" owing to her business of selling handmade mats, which she started in March following the closure of schools to curb the spread of Covid-19.
The Form Three student at Bikeke Girls also teaches women living with disabilities in slums how to knit mats to eke a living. Her love for art prompted her 71-year-old grandmother to teach her how to knit sweaters and mats.
"Every evening, my grandmother would teach me how to hold a crotchet needle. I started by making simple products like table mats but with time, I graduated to floor mats," says Njeri.
Following the closure of schools, her father, who is a videographer in Kitale town, challenged her to do something to keep busy.
Njeri narrates that her father gave her Sh3,000 to buy a mat board and knitting threads.
"I was ready to start making mats since I knew the idea was going to work because I used to see people scramble for the mats my grandmother made," she says.
Njeri reveals that her passion for making mats started about six years ago, but she had not taken it seriously.
Her target is to knit 20 floor mats this month for a client in Eldoret, who placed an order after seeing the products posted on her Facebook page.
Njeri's elder sister, Mary Wakiuru, has been marketing the products online for a commission. She says her father prohibited her from owning a mobile phone saying it would divert her attention from school work.
"My sister is a good marketer, which is why I employed her. She has marketed my business online. She has reached many, sourcing 90 per cent of our orders," says Njeri.
Her excellent craft and willingness to teach friends and people living with disabilities has astounded many. Njeri cherishes using her time for the betterment of vulnerable members of the community.
For Caroline Nekesa who lives with disability, learning how to knit has empowered her. Nekesa, who lives in Moronjo village, Mitume slum, has been surviving on church donations and food supplies from friends.
"Nowadays, I feed my family, clear electricity and water bills with earnings from knitting mats. My life has been transformed. I can't complain," she says. The student finds fulfilment in seeing Nekesa generate income.
Not effectively guided
"Her strength is now in her knitting hands. Yes, she can't walk, but she has extra ability to think and make unique mats,'' says Njeri.
In Makutano kwa Ngozi, Cherangany constituency, Milka Gitonga, a mother of three who lives with disability, has also benefited from Njeri's initiative.
She has been relying on small-scale farming but now she supplements the income with knitting mats.
In a day, she makes three mats and sells each at Sh1,100.
"My target is to sell at least 20 mats in a week and make a profit of Sh22,000 every week. That's enough for my family," says Ng'endo.
Trans Nzoia County health officer Selfa Amuko believes parents and guardians have not effectively guided their children to engage in meaningful activities.